Impeccable samples, well-scripted velocity layers and more make up this whopping 40GB sample-based instrument focusing on operatic voices. Matt Vanacoro took it for a spin.
Having put both Voices of the Empire and Voices of Soul through their paces, I was curious to see what East West would be able to put together for their classical offering in this series. Voices of Opera is the latest and greatest from EWQL, and it is 40 gigabytes of pure vocal power packed into the Play instrument.
The Package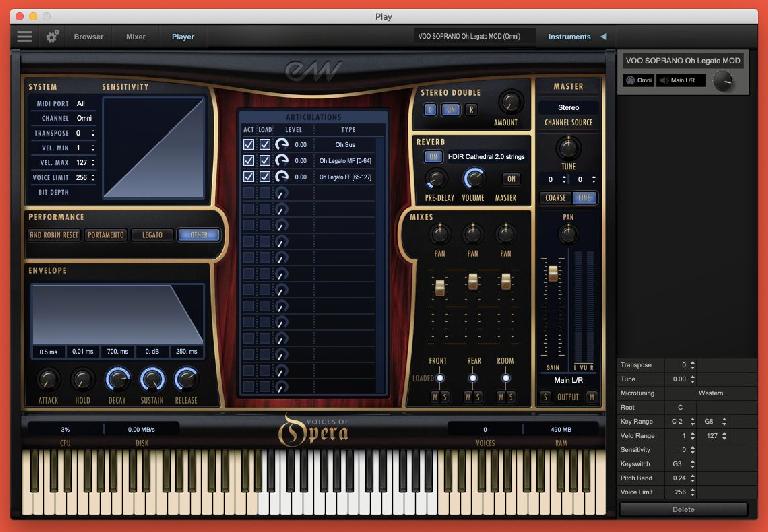 Voices of Opera is an instrument centered around the vocal prowess of Larisa Martinez and Carton Moe. Martinez and Moe are a soprano and tenor, respectively, and the main idea of Voices of Opera is that you have their vocalizations, words, and phrases at your fingertips. Voices of Opera runs in the Play engine, and you'll need a whopping 40 gigabytes of space for these 2 powerhouse singers. From the very first note you play, it's clear why. This is no collection of looped samples. Voices of Opera is a unique instrument with myriad layers, well thought-out instrument building, and impeccable sound.
The Voices
The vocal instruments themselves are divided up into 7 categories - sustain, staccato, legato, combo, words, phrases, and keyswitch. Those categories pretty much speak for themselves, and it was easy enough to find vowels to use as a pad, words to use to build a short phrase, or entire short phrases themselves. Actually, many of the phrases are from famous operatic pieces such as 'Ave Maria' and the like, so if you're ever in need of a hint of something ubiquitous, it's at hand. If you want to build something a little more 'inside', that's definitely possible as well.
It was easy to get lost in the simple playability of Voices of Opera, and I nearly didn't even begin to delve into the midi expression and modulation options - everything just sounded so legit on its own! That would have been a mistake, however, because it is in the mod wheel, velocity sensitivity, and keyswitching that Voices of Opera really shines.
Control Freak
The amount of control you have over the Voices of Opera's sound is just staggering. From round robin samples to sample selection via the modwheel, you've always got a way to make the phrases sound more realistic. In fact, I found that varying my velocity even when I was playing through the middle of a phrase helped keep the sound a lot more organic.
One of my favorite things to do in Voices of Opera is to utilize the keyswitches to rotate through phrases while holding a note from the previous phrase. The effect is haunting, and it makes you feel like you have 2 sopranos in the room with you singing a duet. I should note that my Italian is terrible and I haven't had to think about it since college vocal conducing class. I have no idea what I'm making Ms. Martinez sing here and I hope it doesn't offend someone.

All in all, if you want to add some classical flair to your compositions or film cues, this is an incredibly handy instrument.
Conclusion
I liked Voices of Opera, and to be honest - I expected to. East West hasn't dropped the ball on any of the instruments in this series, and they are incredibly hard to pull off. When you're dealing with a single voice at a time, you can hear every little detail and it's tough to 'hide' behind the ambience of a large group in a large room. Voices of Opera requires some investment of time to dial in, but it's most definitely worth the effort.