If you've dreamed of gettign the sounds and editing capabilties of the Roland Jupiter X and Fantom synths without the hardware and keyboard then Zenology is going to grab you.
Roland is placing a lot of effort and time into the ZEN-Core system. The ZEN-Core engine represents the heart of their modern flagship keyboards like the Fantom and Jupiter X series. With a combination of virtual analog synthesis and PCM sounds, the ZEN-Core engine is capable of some truly fantastic sounds. We already know this - many of us at AskAudio HQ spent a LOT of time at the Roland NAMM booth this year and we were quite impressed with the Fantom and Jupiter lines. Zenology is a collection of sounds from instruments that share the ZEN-Core architecture. You now have access to a bunch of that power in your DAW. I spent a month tinkering around, and I'm ready to report.
Opening the Door
Zenology seems to be a first step into the ZEN-Core doorway on your computer at this time. The user interface is quite minimal, offering some common tweaks you'd want to do with a sound like filter cutoff, resonance, attack, release, unison, and more. There is an effect engine available, and even that is quite simple - a single MFX slot for using some quite nice sounding effects.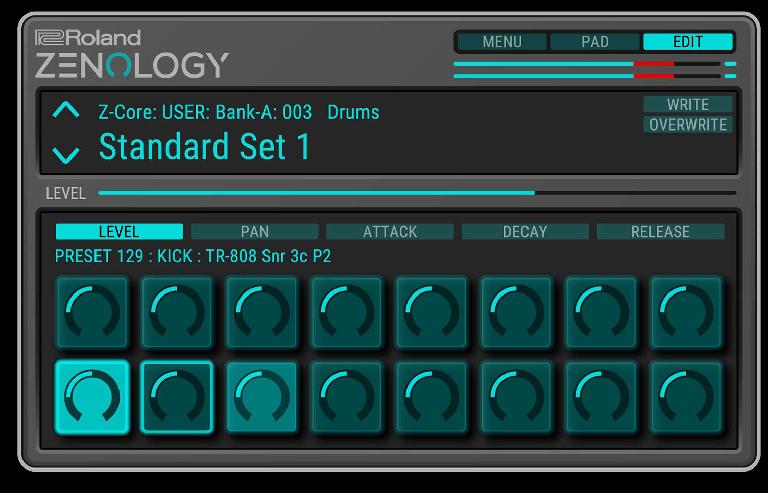 The sounds that ship with Zenology are quite fantastic. Honestly, with such a simplistic user interface, I found myself constantly surprised that such a rich and amazing tone was coming from such a small plugin with so few controls. Perhaps that's why it works so smoothly and uses so few resources system-wise. The UI is capable of changing, when I picked out a drum sound I was able to see a selection of rotary encoders that adjusted level, mix, and other elements of each drum. So the capability is there, and there are little 'hints' all over the place that Roland plans to build this out into a monster. Even the imagery on the website shows screens for synth editing and programming that are in versions coming down the line.
Plays Well With Others
Part of what makes ZEN-Core so fascinating is the idea of compatibility between synths, both hardware and software. You'll be able to use sounds from a Fantom in your DAW without having to go through a lengthy conversion process. Even the stage pianos like the RD-88 are compatible. As Roland's keyboards get more complex, they have even shown that they will expand the ZEN-Core engine to add in synth behavior modeling and new additions to the engine. This makes the investment in ZEN-Core pretty tantalizing, and even a little 'hard to pin down' whether this instrument is meant to be a synth, a sample library, or something in between.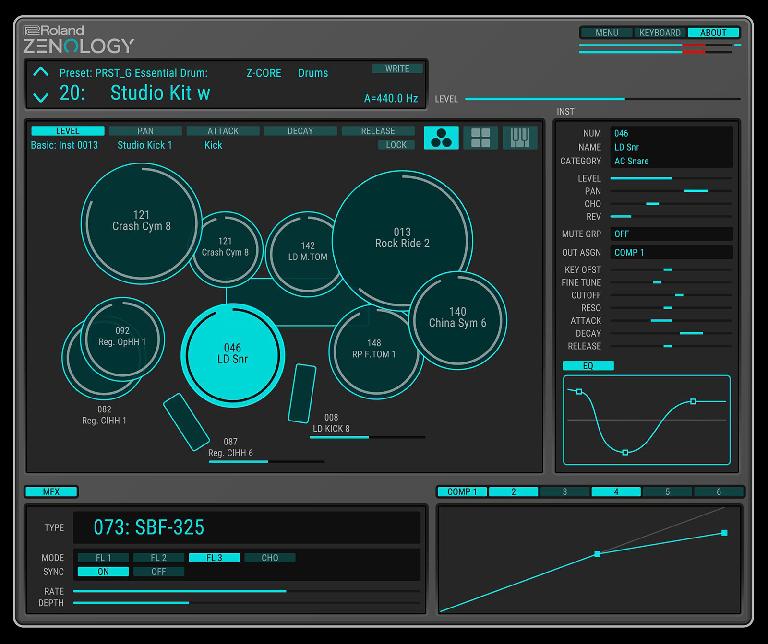 Conclusion
In its current state, Zenology is very 'what you see is what you get'. There are a LOT of sounds, those sounds are of a high quality, but you won't be doing a ton of scripting and tweaking like you do in some other major sample libraries. What you will get is a huge pile of great sounding patches from the Jupiter, Fantom, Groovebox, and Stage Piano series. You'll also get the ability to shuttle those sounds back and forth between hardware and software, and you get a glimpse at where Roland is going with its sound and engine development. With the core setup being free, there's really no reason not to try it out. The pro clocks in at $10 per month, but you also get a ton of other instruments from the Roland Cloud at that level.
Price: Free / $10 monthly sub / $20 monthly sub depending on what instruments you want.
Pros: A huge collection of sounds, nearly like buying a Jupiter X and a Fantom without the physical keyboard (granted also without the deep editing possibilities of those keyboards), light on the computer resources, snappy interface.
Cons: The UI seems minimal and a bit 'classic', I hope they clean it up as they build it out.