Envolution is a new plug-in from Sonnox that is a frequency-dependent envelope shaper. If the idea of manipulating your audio for extreme or creative results appeals then you must check this out.
Oxford, ENGLAND: Sonnox, leading designer of innovative mixing plug-ins, has today released a brand-new product, Oxford Envolution, a frequency-dependent envelope shaping plug-in to radically modify the sound of individual tracks, buses and even master outputs.
Envolution boasts comprehensive and independent control of transients and sustain, with 'Tilt' or 'Focus' controls to choose where in the frequency spectrum the effect is applied. This allows complete manipulation of the audio's envelope to produce creative and even extreme results.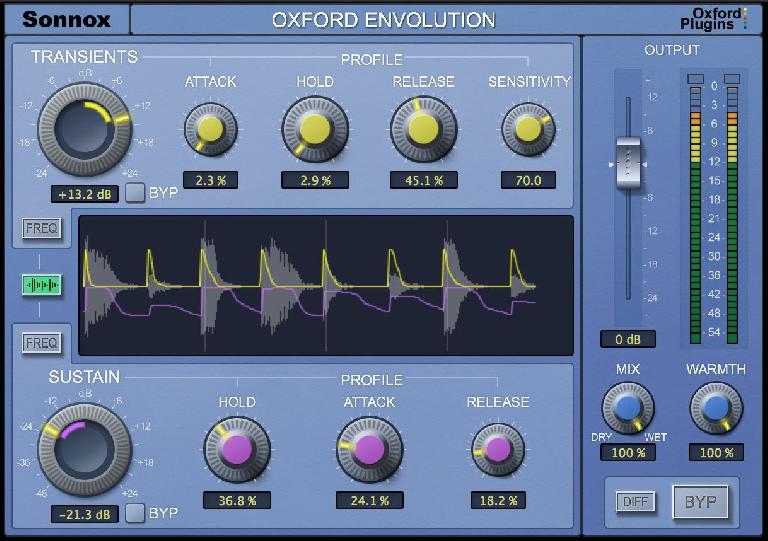 Transients can be boosted to add presence and punch, or reduced to create perspective; while the sustain section can easily make the ambience around a recording bloom, or can be cut back for quick and precise gating.
Senior Sales & Marketing Manager, Nathan Eames, comments, "With such a wide range of potential users in so many audio sectors, from post, music to live sound, we're excited about the creative possibilities that Envolution will bring. In keeping with all Sonnox designs, we've kept three core values in mind throughout the development process of Envolution – ease of use, an intuitive interface and most importantly – a great sound!"
Early feedback from users has been overwhelmingly positive:
"This plug-in is pure gold, absolutely love it. It will be my main weapon in 2016!" - StoneBridge
"I can change envelopes as I might do in the sampler if I had full access to the source material!" - Jonathan Campbell
"WOW!!! I'm seriously impressed with Envolution - from the comprehensive controls and the intelligent frequency selectors, to the gorgeous GUI."
- Simon Morrison
Envolution is available in Native format – AAX Native, Audio Units and VST - at a retail price of £170 GBP (ex VAT), and AAX DSP format at a retail of £275.
Watch a short overview video of Envolution in action:
To find out more information about Envolution, please visit www.sonnox.com