Get the sound of the legendary ARP Solina in your productions for a tiny fraction of the cost of the hardware - just $19.
Sono Elements has released SolinStrings, a software emulation of the classic Solina hardware synthesizer that featured on countless recordings over the past few decades. Here's what the developers told us about it.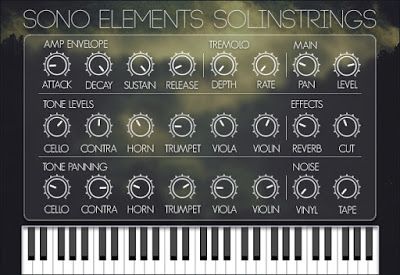 "Sono Elements SolinStrings features the sound of the legendary ARP Solina String Ensemble synthesizer. The Solina was a multi-orchestral keyboard created in 1974 by Eminent BV. The instrument was ahead of its time in its use of preset synthesizer sounds and has been used by such acts as Pink Floyd, The Rolling Stones, Brian Eno, The Rolling Stones, Joy Division, and the Cure. More recently, during the 90s, Air used it in their music to create their classic records Moon Safari. Sono Elements sampled the 6 sounds of the Solina and embedded them in a "no fuss" easy to use plugin."
Features
• The 6 original Arp Solina's tones
• Amplitude ADSR
• Stereo tremolo, lowpass filter and reverb effects
• Adjustable vinyl crackles and tape hiss
• Comes as a VST & AU instrument for MacOS & Windows7, 8, 10