Spectrasonics' Free Omnisphere 2.6 Update Brings Hardware Synth Integration, Upgraded Arpeggiator
Spectrasonics' mighty Omnisphere Power Synth gets a free update with hardware synth integration, a bigger arp, 600 new sounds and more. Here's how to get it.
Burbank, CA - March 27th, 2019 — Spectrasonics today released a significant update of their flagship software synthesizer Omnisphere. With version 2.6, Spectrasonics has added major new enhancements to Omnisphere's Arpeggiator and dramatically expanded the innovative Hardware Synth Integration feature with full support for over 65 Hardware Synths! The new update more than doubles the number of profiles and adds support for such iconic synths as the Roland Juno-106, Super Jupiter, Alesis Andromeda and the Roland D-50. The v2.6 update adds 600 brand new patches and is FREE for all registered Omnisphere 2 users.
Major Arpeggiator Update
Omnisphere's renowned Arpeggiator has received a major update in v2.6 with all new creative tools, making it one of the most flexible arpeggiators ever. The many innovations include inspiring new Pattern Modes, Step Dividers, Pitch Slides and the unique ability to have altered Chord Voicings and Chord Inversions per step. Also included is a new Arpeggiator Preset Library that showcases all the creative possibilities. Best of all, Omnisphere 2.6 can now capture the MIDI data of the arpeggiator as a standard MIDI file, which can be dragged to any DAW for further editing!
Expanded Hardware Synth Integration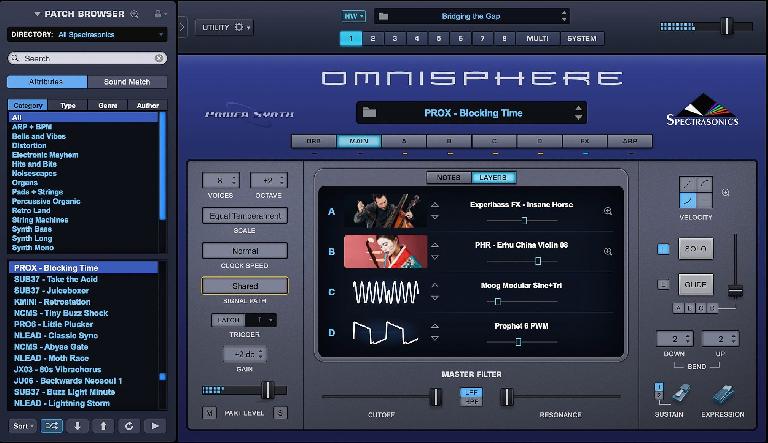 Omnisphere's ground-breaking Hardware Synth Integration feature bridges the physical experience gap between software and hardware, giving users intuitive control of Omnisphere by using the familiar layout of their hardware synth. With the new 2.6 release, many requested hardware synth profiles have been added, including support for over 65 popular hardware synthesizers from Moog®, Sequential®, Roland®, Korg®, Novation®, Nord®, Behringer®, Access®, Studiologic® and Yamaha®. The supported hardware synths cover a wide array of form factors and price ranges for different types of users.
New Sounds
Omnisphere 2.6 features a newly expanded "Hardware Library" with 600 new patches created by Eric Persing and the acclaimed Spectrasonics Sound Development team. Notably, the update takes Persing's classic sound design work from the original 1987 Roland D-50 into completely new sonic territory with Omnisphere's vast synthesis capabilities.


New Hardware Synth Profiles added in v2.6 include:
Roland Juno-106
Roland D-50/PG-1000
Roland MKS-80 Super Jupiter
Alesis Andromeda A6
Behringer Deepmind
Virus Indigo 1
Virus Indigo 2
Virus C
Virus TI
DSI Pro 2
DSI Prophet 08
DSI Mopho
Roland JP-8000
Roland JP-8080
Roland Gaia
Roland JD-Xi
Roland SH-201
Nord Wave
Nord Lead 3
Nord Lead 4
Nord Lead A1
Nord Stage 3
Moog Minitaur
Moog Sirin
Korg MicroKorg
Korg MicroKorgXL
Korg Minilogue XD
Korg MS-20i
Korg MS-2000
Novation Mininova
Yamaha Reface CS
Pricing and Availability
Omnisphere 2.6 is available now as a FREE update for all registered Omnisphere 2 users.

Omnisphere initial purchase price around £339 (street).