The Woodwind, Fragile String and Angular String Evolutions libraries are on sale for a limited time and available as a bundle for a discount. Here's what you need to know.
LONDON, UK: Spitfire Audio is proud to roll out ANGULAR STRING EVOLUTIONS, FRAGILE STRING EVOLUTIONS, and WOODWIND EVOLUTIONS — respectively representing reimagined versions of EVO GRID 1, EVO GRID 2, and EVO GRID 4, three of the British music technology company's classic sample libraries that introduced its ingenious 'evo' (evolution) concept as long, evolving chamber strings and woodwind performances, providing them with infinitely-inspiring micro-movements, realistic textures, and shimmers, now available as dedicated plug-ins with specially curated presets.
ANGULAR STRING EVOLUTIONS represents an extraordinary collection of long, evolving chamber strings, providing composers with a unique palette of inspirational tools with which to create ultra-minimal,realistic textures, shimmers, and micro-movements — from tense and spine-tingling to beautiful and moving, making holding listeners spellbound easier than ever.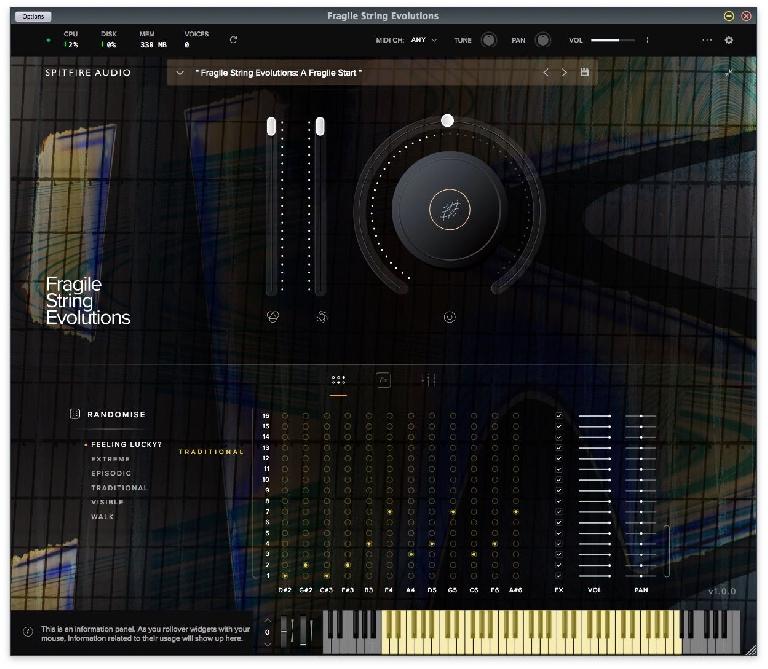 FRAGILE STRING EVOLUTIONS dates back to those same Air-Edel Recording Studios-hosted sessions with Nick Taylor, this time focussing on the more beautiful, tender, and moving tonal range of each instrument involved, resulting in 48 instinctive, lengthy evolutions, with an abundance of possible combinations. Another makeover makes these evos fit for 2019 by migrating them to the easy-to-use dedicated plug-in that is FRAGILE STRING EVOLUTIONS — this time with 13 new presets created by Stanley Gabriel above and beyond the original 10.


ANGULAR STRING EVOLUTIONS can be purchased for a time-limited introductory promo price of £199.00 GBP (inc. VAT)/$249.00 USD/€249.00 EUR (inc. VAT) until March 21, 2019 — rising thereafter to an RRP of £249.00 GBP (inc. VAT)/$299.00 USD/€299.00 EUR (inc. VAT) — from here: https://www.spitfireaudio.com/shop/a-z/angular-string-evolutions/
FRAGILE STRING EVOLUTIONS can be purchased for a time-limited introductory promo price of £199.00 GBP (inc. VAT)/$249.00 USD/€249.00 EUR (inc. VAT) until March 21, 2019 — rising thereafter to an RRP of £249.00 GBP (inc. VAT)/$299.00 USD/€299.00 EUR (inc. VAT) — from here: https://www.spitfireaudio.com/shop/a-z/fragile-string-evolutions/

WOODWIND EVOLUTIONS can be purchased for a time-limited introductory promo price of £199.00 GBP (inc. VAT)/$249.00 USD/€249.00 EUR (inc. VAT) until March 21, 2019 — rising thereafter to an RRP of £249.00 GBP (inc. VAT)/$299.00 USD/€299.00 EUR (inc. VAT) — from here: https://www.spitfireaudio.com/shop/a-z/woodwind-evolutions/