Find out if you've won a Telefunken Microphone in the latest AskVideo Turin Brakes SongCraft Remix Contest! Yep, the winners have been announced. Good luck and thanks for entering.
After a very successful remix contest featuring the Turin Brakes song, "International" made during the SongCraft video course, we're finally ready to announce the winners'¦as chosen by Turin Brakes and the Dubways crew.
Congratulations to all of you who entered'¦ the overall quality of remixes were excellent and here's the reaction video from the SongCraft guys followed by the results!
Winners
Prizes have been provided by Telefunken & AskVideo / macProVideo.
1st Prize: Fabio Martorana - Telefunken M82 dynamic mic + a 1 Year Online Subscription to macProVideo.com / AskVideo.com
2nd Prize: jokoo - 6 Month Online Subscription to macProVideo.com
3rd Prize: Fat Mavis - 3 Month Online Subscription to macProVideo.com
Whether you won or not, a big congratulations for entering from Turin Brakes, SongCraft, AskVideo and us too!

Prize winners: please contact us via our Support area to claim your prizes!
About The SongCraft Tutorial
You never know what's going to happen when you book a top indie band like Turin Brakes to compose and produce a song'"in-front of the cameras'"in a single day! It's a daunting challenge. However, like all the other courses in our entertaining "SongCraft Presents" Series, Ben Arthur and the band, along with the whole Dubway team, really came up with the musical goods!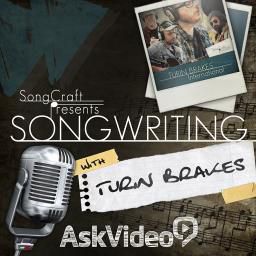 So yet again we filled our guerrilla, SxSW recording studio with all kinds of high-end mics, audio interfaces, instruments and cool software to get ready to rock. The band arrives'¦ Cameras roll'¦ Introductions are made and everybody gets down to the songwriting business at hand!
This 'docutorial' is both an exploration of gun-to-the-head creativity and an audio recording marathon all wrapped into one. You get to witness a song idea being born and nurtured from its initial spark of inspiration to a completely realized song. Then, all along the way, you go to school on pro recording and production techniques as Mike Crehore and Al Houghton do their engineering and production magic both in Austin and back at the 'real' studio for overdubs and mixing in New York City.
So sit back and see Turin Brakes and songwriter/host Ben Arthur as they face the ultimate, musical challenge of writing and producing a one-day song'¦ right before your eyes!
https://www.askvideo.com/course/songcraft-presents-songwriting-with-turin-brakes

About The Telefunken M82 Dynamic Microphone ($399 USD)
About macProVideo.com & AskVideo.com

macProVideo.com
is a high-tech, online video education community specializing in everything music from recording, mixing and music theory to expert training on world's leading audio software including Logic Pro, Pro Tools, Ableton Live, Native Instruments, Reason, Cubase, and more! Our entire library is available online, 24/7 so you learn what you want, when you want.
macProVideo.com.
What would you like to learn today?