Enter the world of creative guitar effects, from distortion and overdrive to outright fuzz. Rich Tozzoli explores how to use these tools to give your guitar tracks a real kick in the right direction.
Ok, I'll admit it. Even as a long-time guitar player, I always thought of fuzz as something from a Jimi Hendrix record. I guess it was just one of those sounds I had tried and didn't get the right tone out of'"so I never went back'"until recently. As a TV composer, I'm always looking for new sounds, so I put a fuzz plug-in on a guitar part, and now I'm sold! Let's talk a bit about fuzz and how you can use it as a creative tool to kick up your guitar tracks.
Distortion
If we take it into the world of pedals, a distortion pedal is basically trying to emulate the sound of a tube amp overdriving (think Boss DS-1 or Pro Co RAT). Hear the sound of a good Marshall or Mesa Boogie ripping loud and proud and you've got distortion. Taking it a step further, a distortion pedal like the Boss MT-2 Metal Zone can shred your head off with heavy and extreme tone.
Overdrive
Overdrive pedals are a subtle step below distortion, and can help drive your amp into a breakup (think Tube Screamer or MXR Distortion). I use a Tube Screamer on the front of most of my amps to just get a bit of extra kick, which is especially good for blues and rock tracks. The pedal adds a slight coloration to the amp while retaining finger touch. Of course, if you turn the Overdrive knob up, you can push a heavier, more aggressive tone. There are no tubes in a pedal such as the Tube Screamer, but the op amps inside are renowned for sounding like one.

Fuzz
Fuzz pedals, which get their edge from transistors, are the most non-natural sounding of the three, with a thick, heavy, square wave sound, almost like your speakers are blowing up. Some of the well known fuzz pedals are the Dunlop Fuzz Face, Maestro Fuzz-Tone, Electro-Harmonix Big Muff and the Vox Tone Bender. With the use of germanium or silicon transistors, they were the earliest form of '˜distorted' stomp boxes. I read an article where designer Denis Cornell (who built some of the original Dallas-Arbiter Fuzz Face pedals in the '60s) talked about a circuit that was designed to put an AC signal in and get a square wave out. That kind of says it all.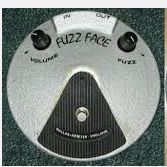 Plug-ins
Remember, fuzz doesn't have to come from a stomp pedal. There are many plug-ins available that do fuzz, and that's what got me started on my fuzz kick. I had a guitar line for a show that just needed something extra, so I placed the Waves Fuzz pedal inline and the part just came alive, literally jumping through the mix with an attitude. The Waves GTR Stomp lets you choose from a wide variety of effects, but the Fuzz pedal which I used features nothing but Sustain, Tone and Level. All that was needed on the pedal was a touch of Sustain around 11 o'clock, Tone up the middle and Level around 1 o'clock.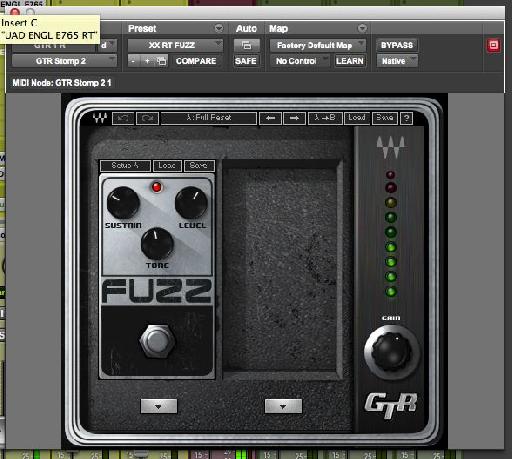 Track without Fuzz:

Track with Fuzz:
Stepping Out
After using that Waves Fuzz plug-in, I decided to add a fuzz box to my pedalboard. After a little research, I picked up an Electro-Harmonix Big Muff Pi with Tone Wicker. It's basically a classic Big Muff pedal, but with a few twists. Like the plug-in, the pedal is simple; it has a Volume, Tone and Sustain knob'"which increases the drive as you turn it up. But this pedal has a Tone switch and a Wicker switch. By turning the Tone switch off, your Tone knob is being bypassed which creates quite a bit of volume jump. Also, by putting the Wicker switch up to ON, it boosts some of the high frequencies. To me, these additional tonal options make this pedal more flexible in a guitar production application. Of course, you can use any pedal or plug-in you like to get a fuzz tone, and you can use a little or a lot, depending on what your sound needs.
In Use
At first, I started with just a little fuzz, using the Big Muff with the Sustain knob barely on. It adds just a touch of grit and saturation to the sound, which works great with slide guitar, especially on an old amp like this Gibson.
Slide guitar no pedal, Gibson amp: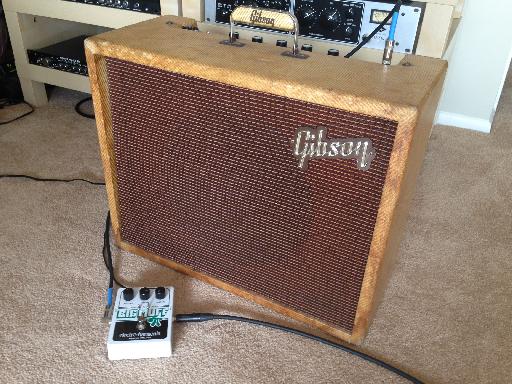 Turn It Up
By turning up the Sustain knob up, you start really pushing that square wave like Denis Cornell mentioned above. Riffs take on a new life with the Sustain pushed up. Even just having it on minimum, the fuzz has a cool sound.
Slide guitar with fuzz, sustain at minimum:
Pushing it up to 12 o'clock, especially with blues slide, gives it a gritty nasty feel that is inspiring to play.
Slide guitar with fuzz, sustain at 12 o'clock:
Plug It In

If you're using a plug-in that doesn't have this increased high end effect, you can of course place an EQ inline and turn up a some frequencies around 4 kHz and above. With the Wave Fuzz pedal, I tend to place something like the UAD Neve 1073 or my go-to Waves TG12345 channel strip and turn up the Presence knob with 4.2 kHz selected as the frequency.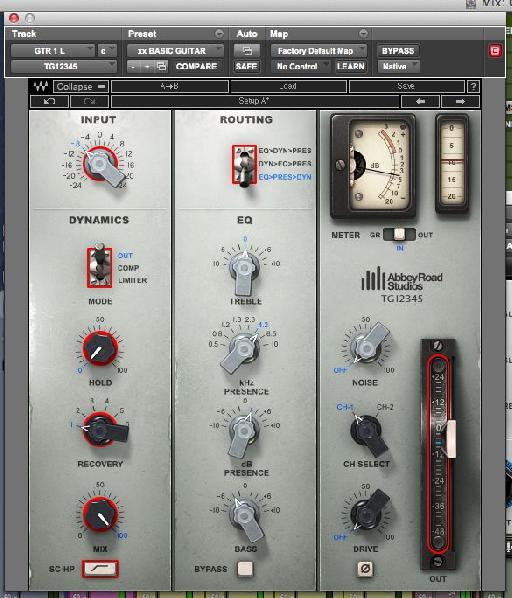 However, any good EQ will work to get the job done. If you want to make it even brighter, push the frequencies up to around 6 kHz and boost even more. While I'm at it, I'll sometimes pull down some of the lows around 100 Hz, which helps reduce any unnecessary low end.
Lean or Mean
Used wisely, fuzz can be a powerful creative tool to help take your guitar parts to a different level. Whether it's a lean sound with a touch added or a mean monster with a boatload kicked in check out some fuzz on your next batch of tracks.