While Soundtrack Pro is only available in the current boxed version of Logic Studio, it is still a useful audio editor to use! David Earl (aka sflogicninja) shows how to use it as a batch processor.
Soundtrack Pro ist eine der mächtigsten und unzureichend genutzter Anwendungen in der Logic Studio Suite. Viele Leute, die es zu öffnen zum ersten Mal denken, dass Soundtrack Pro können redundant, da Logic wird den go-to-Werkzeug für Mehrspur-Audio-Produktion.
Soundtrack Pro startete als Post-Produktions-Tool in der Filmindustrie. Nicht nur, dass es ein sehr fähiger Mehrspur-Audio-Editing und Mixing-System haben, hat sie eine phänomenale 2-Track-Audio-Editor als auch. Ich vergleiche das mit photoshop für Audio. Es verdient Respekt!
Heute Id gerne zeigen, wie Soundtrack Pro als Batch-Editor verwenden. Wir werden einen Sound in Soundtrack Pro geöffnet, Effekte anwenden, und erstellen Sie eine Batch-Editor mit einem AppleScript.
Schritt 1 - Öffnen Sie eine Audio-Datei in Soundtrack Pro
So öffnen Sie eine Audio-Datei in Soundtrack Pro, einfach auf die Audiodatei gedrückter Ctrl-Taste, und wählen Sie mit Soundtrack Pro öffnen: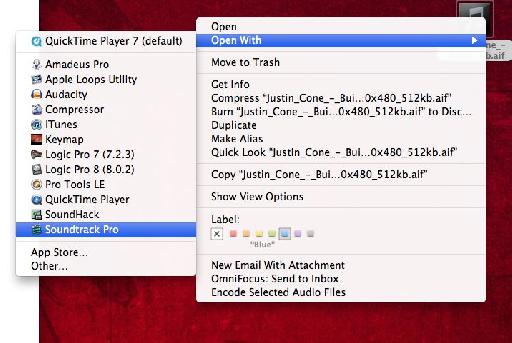 Sie können auch eine Audio-Datei in Soundtrack Pro direkt von einem Logic-Session mit der Tastenkombination Befehl Shift-W.
Einmal in Soundtrack Pro, bekommen wir eine klassische 2-Track-Audio-Editor: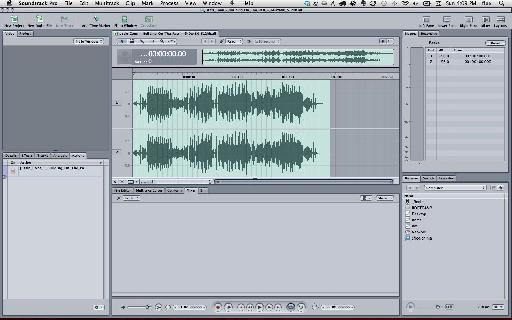 Schritt 2 - Hinzufügen von Effekten
Um einen Effekt hinzuzufügen, verwenden Sie den Tastaturbefehl Befehlstaste-A, um alle Audio-Datei auszuwählen, und gehen Sie zum Menü Verarbeiten. Wollten umkehren wählen: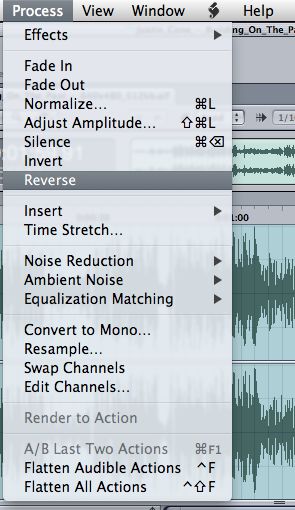 Nun ist die gesamte Audiodatei wird umgekehrt. Lassen Sie uns nun gehen nach Prozess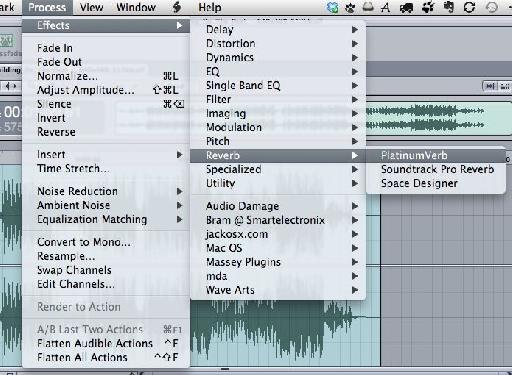 Nun sehen wir das Reverb Plugin. So wenden Sie die Reverb, wählen Sie Apply in der unteren rechten Seite des Plugin-Fenster.
Als nächstes können in umgekehrter Audio wieder! Drücken Sie die Leertaste, um die neue Reverse-Hall-Effekt zu hören.
Auf der linken Seite sind wir eine Liste der Prozesse, die wir anwenden gezeigt. Fühlen Sie sich frei, um erneut um die Liste der Prozesse. Es wird re-Prozess die Datei, und Sie können Reverb vor Reverse hören, nach rückwärts, oder deaktivieren Sie das Kästchen, und wir bekommen kein Reverb überhaupt. Das ist die Magie der Soundtrack: Wir sind mehrere Schichten, um den Ton angegeben.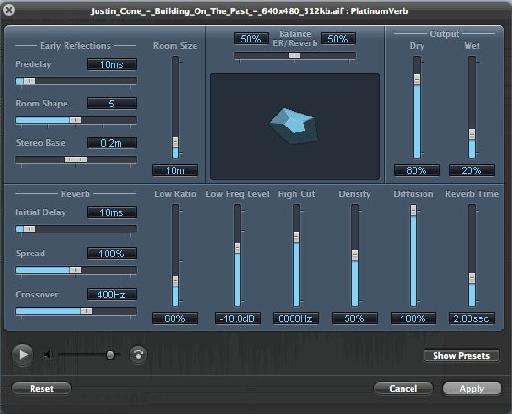 Schritt 3 - Erstellen Sie eine AppleScript
Jetzt, wo wir ein nettes kleines Verfahrens zur schnellen Herstellung einer Reverse Reverb haben, können fügen diesen Vorgang, um unsere
Zum
Nennen Sie diese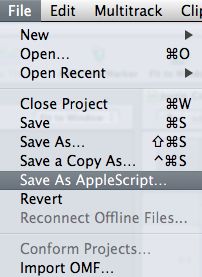 Jetzt können Sie diese Applescript aus Ihrem Zugriff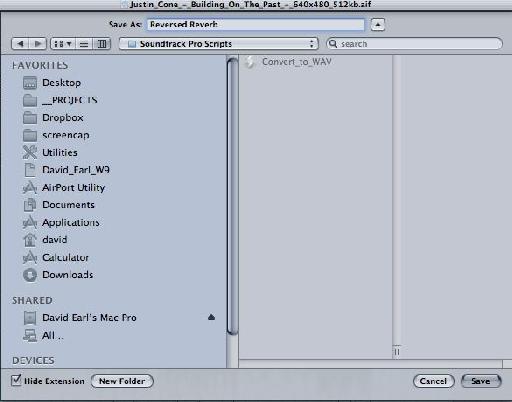 Jetzt können Batch-Konvertierung einen ganzen Ordner mit Audiodateien schnell und einfach.
Schritt 4 - Batch Konvertierung eines Ordners mit
Speichern Sie nun einen anderen

Wenn Sie einen ganzen Ordner mit Audiodateien über dieses Symbol zu packen, werden alle Audio in den Ordner automatisch die Einstellungen übernommen, die wir vorher erstellt. Keine Notwendigkeit zu öffnen Soundtrack Pro. Ziehen Sie einfach die Ordner von Audio-Dateien auf der AppleScript-Symbol, und beobachten Sie es! (Oder gehen Sie machen sich einen Drink)
Die einzige Einschränkung ist, dass Sie PCM Audio-Dateien verwenden müssen. Nicht OGG, MP3, oder jede andere komprimierten Format. Soundtrack kann nicht erkennen.
Viel Spaß!