While Soundtrack Pro is only available in the current boxed version of Logic Studio, it is still a useful audio editor to use! David Earl (aka sflogicninja) shows how to use it as a batch processor.
Soundtrack Pro es una de las aplicaciones más potentes y sub-utilizadas en la suite de Logic Studio. Muchas personas que se abren por primera vez creo que Soundtrack Pro puede ser redundante, ya que la lógica va a ser la herramienta de go-to para la producción de audio multipista.
Soundtrack Pro que comenzó como una herramienta de post-producción en la industria del cine. No sólo tiene un audio multipista muy capaz edición y mezcla del sistema, que tiene un fenomenal editor de 2 pistas de audio. Yo lo comparo con el photoshop para el audio. Que merece respeto!
Hoy Id como para mostrar cómo utilizar Soundtrack Pro como un editor de lotes. Vamos a abrir un sonido en Soundtrack Pro, aplicar efectos, y crear un editor de lotes mediante un AppleScript.
Paso 1 - Abrir un archivo de audio en Soundtrack Pro
Para abrir un archivo de audio en Soundtrack Pro, basta con Control-clic en el archivo de audio, y seleccione Abrir con Soundtrack Pro: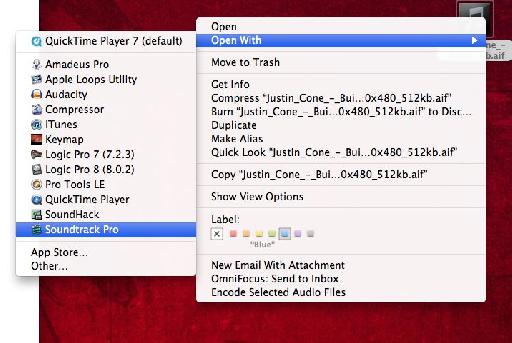 También puede abrir un archivo de audio en Soundtrack Pro directamente desde una sesión de Logic utilizando el comando de teclado Shift-W.
Una vez en Soundtrack Pro, tenemos un clásico 2-track editor de audio: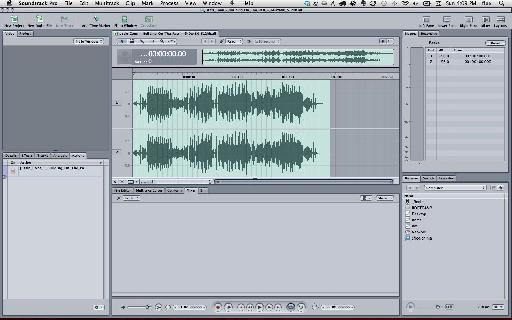 Paso 2 - Adición de efectos
Para agregar un efecto, utilice el comando de teclas Comando-A para seleccionar todos los archivos de audio, y vaya al menú Proceso. Se va a elegir Reverso: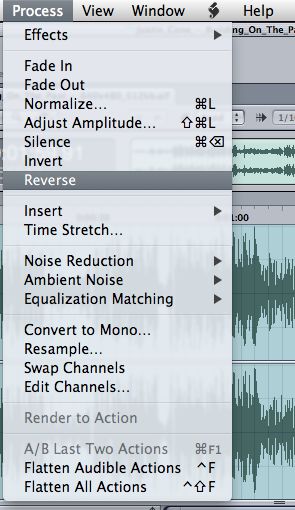 Ahora el archivo de audio se invierte. Permite ahora ir a Proceso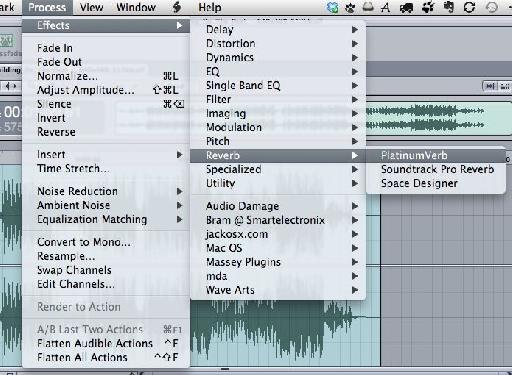 Ahora vemos que el plugin de reverb. Para aplicar la reverb, elija Aplicar en la parte inferior derecha de la ventana del plugin.
A continuación, le permite invertir el audio de nuevo! Pulse la barra espaciadora para escuchar la nueva reverb inversa efecto.
En la parte izquierda se nos muestra una lista de los procesos que se están aplicando. Siéntase libre de re-ordenar la lista de procesos. Va a volver a procesar el archivo y se puede escuchar la reverberación antes de invertir, después de invertir, o desmarca la casilla, y no recibimos ninguna reverb en absoluto. Esta es la magia de la película: se nos ha dado varias capas de sonido.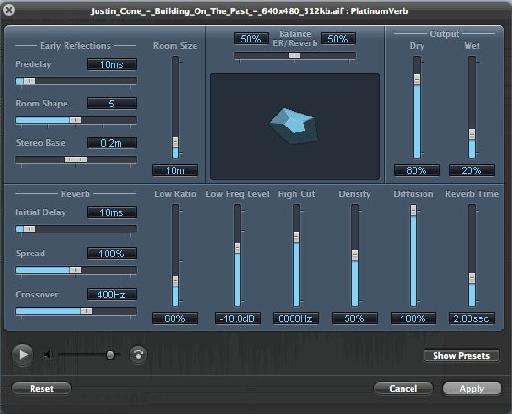 Paso 3 - Crear un AppleScript
Ahora que tenemos un proceso poco agradable para rápidamente hacer una reverb inversa, vamos a añadir este proceso a nuestra
Ir a
El nombre de este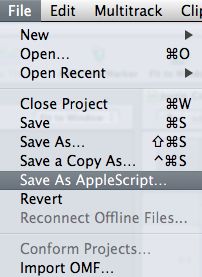 Ahora usted puede tener acceso a este Applescript de su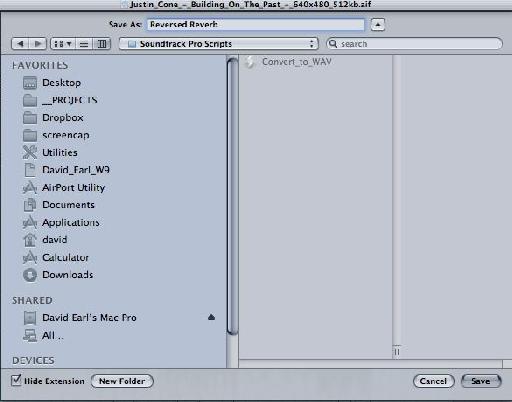 Ahora vamos a convertir por lotes toda una carpeta de audio rápida y fácilmente.
Paso 4 - Lote convertir una carpeta con
Ahora salvar a otro

Si coges una carpeta de archivos de audio sobre este icono, todo el audio en la carpeta tendrá automáticamente la configuración aplicada que hemos creado antes. No hay necesidad de abrir Soundtrack Pro. Basta con arrastrar la carpeta de archivos de audio en el icono de AppleScript, y verla pasar! (O bien, vaya hacerse una bebida)
La única salvedad es que se necesita para utilizar los archivos de audio PCM. No OGG, MP3 o cualquier otro formato comprimido. Banda sonora no puede reconocerlos.
Que se diviertan!