While Soundtrack Pro is only available in the current boxed version of Logic Studio, it is still a useful audio editor to use! David Earl (aka sflogicninja) shows how to use it as a batch processor.
Soundtrack Pro est l'une des applications les plus puissantes et sous-utilisé dans la suite Logic Studio. Beaucoup de gens qui l'ouvrent pour la première fois pensent que Soundtrack Pro peut être redondante, puisque la logique va être l'outil à consulter pour la production audio multipiste.
Soundtrack Pro a démarré comme un outil de post-production dans l'industrie cinématographique. Non seulement at-il une audio multipiste très capable montage et le mixage du système, il a un éditeur audio phénoménale 2-track ainsi. Je compare cela à photoshop pour l'audio. Il mérite le respect!
Aujourd'hui Id tiens à montrer comment utiliser Soundtrack Pro comme éditeur par lot. Nous allons ouvrir un son dans Soundtrack Pro, appliquer des effets, et de créer un éditeur de lots à l'aide d'un script AppleScript.
Étape 1 - Ouvrir un fichier audio dans Soundtrack Pro
Pour ouvrir un fichier audio dans Soundtrack Pro, tout simplement Ctrl-clic sur le fichier audio, et choisissez Ouvrir avec Soundtrack Pro: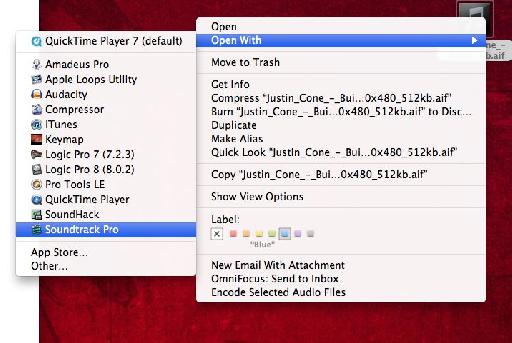 Vous pouvez également ouvrir un fichier audio dans Soundtrack Pro directement à partir d'une session Logic en utilisant le raccourci clavier Maj-W.
Une fois dans Soundtrack Pro, nous obtenons un éditeur audio classique 2 voies: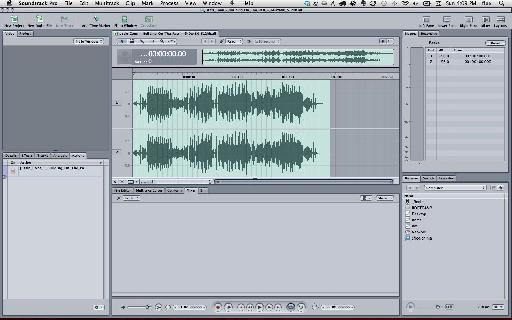 Étape 2 - Ajout d'effets
Pour ajouter un effet, utilisez le raccourci clavier Commande-A pour sélectionner tous les fichiers audio, et allez dans le menu Processus. Allaient choisir Reverse: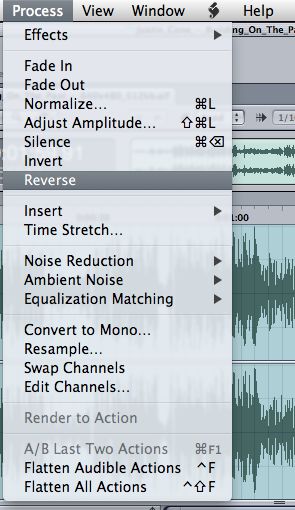 Maintenant, le fichier audio est inversé. Permet maintenant passer au processus de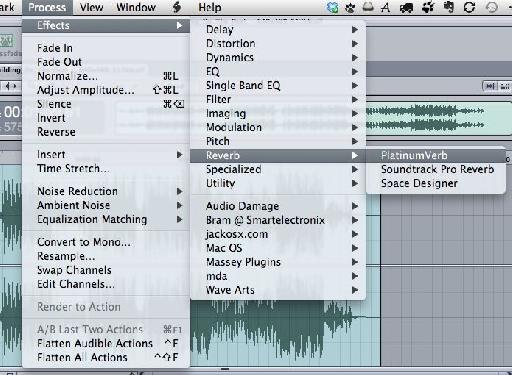 Maintenant, nous voyons le plugin de réverbération. Pour appliquer la réverbération, choisissez Appliquer dans le coin inférieur droit de la fenêtre du plugin.
Ensuite, laisse inverser à nouveau l'audio! Appuyez sur la barre d'espace pour entendre le nouvel arrière-effet reverb.
Sur le côté gauche, on nous montre une liste des processus que nous appliquons. N'hésitez pas à re-commander la liste des processus. Il sera re-traiter le fichier et vous pouvez entendre la réverbération avant inversée, après inversion, ou décochez la case, et nous ne recevons aucune réverbération du tout. C'est la magie de Soundtrack: on nous donne plusieurs couches pour le son.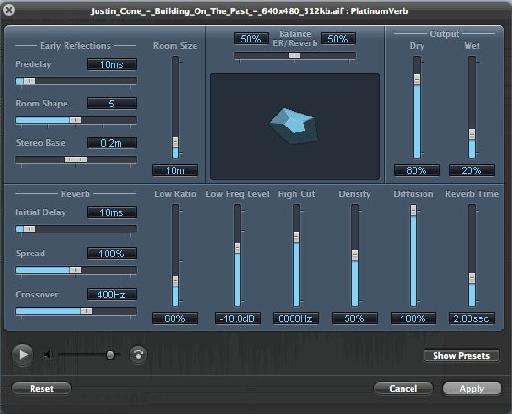 Étape 3 - Créer un AppleScript
Maintenant que nous avons un processus joli petit pour rapidement prendre une reverb inversée, permet d'ajouter ce processus à notre
Aller à la
Nom de cette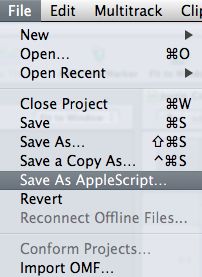 Maintenant, vous pouvez accéder à cette Applescript de votre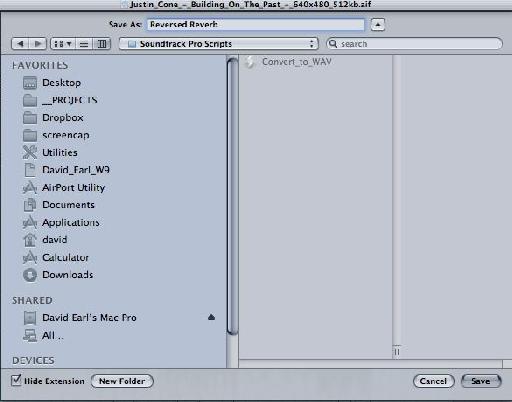 Maintenant passons à convertir par lots d'un dossier complet de l'audio rapidement et facilement.
Étape 4 - la conversion par lots un dossier en utilisant
Maintenant sauver un autre

Si vous prenez un dossier entier de fichiers audio sur cette icône, l'ensemble de l'audio dans le dossier auront automatiquement les paramètres appliqués que nous avons créé auparavant. Pas besoin d'ouvrir de Soundtrack Pro. Il suffit de glisser le dossier de fichiers audio sur l'icône AppleScript, et regardez-le aller! (Ou allez vous faire une boisson)
Le seul inconvénient est que vous devez utiliser des fichiers audio PCM. Non OGG, MP3, ou tout autre format compressé. Soundtrack peut ne pas les reconnaître.
Amusez-vous!