While Soundtrack Pro is only available in the current boxed version of Logic Studio, it is still a useful audio editor to use! David Earl (aka sflogicninja) shows how to use it as a batch processor.
Soundtrack Pro è una delle applicazioni più potenti e sottoutilizzate della suite Logic Studio. Molte persone che lo aprono per la prima volta penso che Soundtrack Pro può essere ridondante, dato che logica sarà il go-to strumento per la produzione audio multitraccia.
Soundtrack Pro cominciato come un post-produzione di utensili per l'industria cinematografica. Non solo hanno un audio multitraccia molto capace di editing e missaggio del sistema, ha una fenomenale 2-track audio editor pure. Lo paragono a Photoshop per l'audio. Merita rispetto!
Oggi Id piace mostrare come utilizzare Soundtrack Pro come editor batch. Stiamo per aprire un suono in Soundtrack Pro, applicare effetti, e creare un editor di batch con un AppleScript.
Fase 1 - Aprire un file audio di Soundtrack Pro
Per aprire un file audio in Soundtrack Pro, semplicemente Ctrl-clic sul file audio, e scegliere Apri con Soundtrack Pro: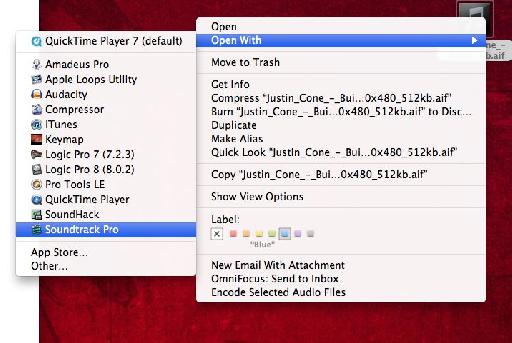 È anche possibile aprire un file audio in Soundtrack Pro direttamente da una sessione logica utilizzando il comando tasto Maiusc-W.
Una volta in Soundtrack Pro, otteniamo un classico 2-track audio editor: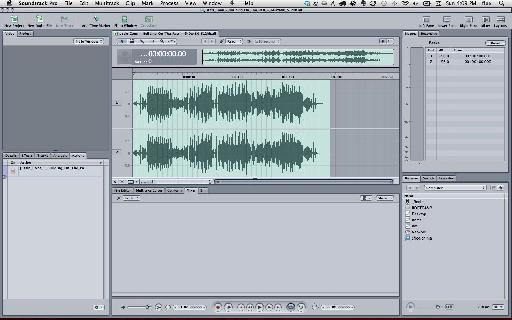 Fase 2 - Aggiunta di effetti
Per aggiungere un effetto, usare Comando-A per selezionare tutti i file audio, e andare al menu Processo. Il comando chiave Stavano andando a scegliere Reverse: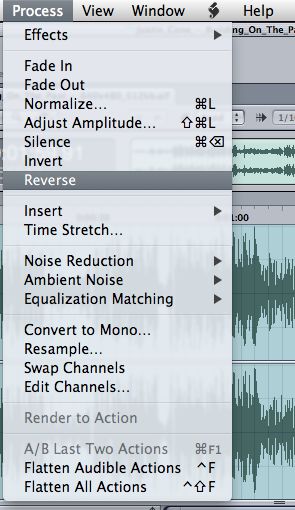 Ora il file audio intero è invertita. Ora lascia andare a processo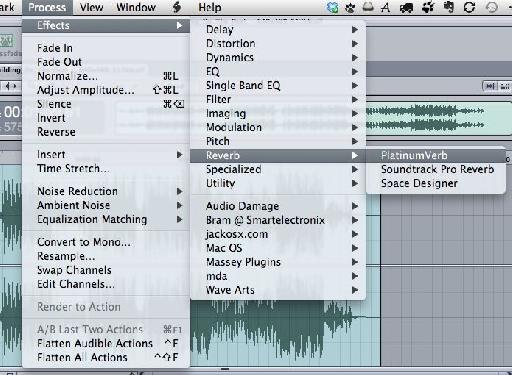 Ora vediamo il plugin di riverbero. Per applicare il riverbero, scegliere Applica nella parte inferiore destra della finestra del plugin.
Quindi, lascia indietro l'audio di nuovo! Premere la barra spaziatrice per ascoltare il nuovo reverse-riverbero.
Sul lato sinistro ci viene mostrato un elenco dei processi che stiamo applicando. Sentitevi liberi di riordinare l'elenco dei processi. Si ri-elaborare il file e si può sentire il riverbero prima retromarcia, dopo retromarcia, o deselezionare la casella e si ottiene nessun riverbero a tutti. Questa è la magia della colonna sonora: ci sono dati diversi strati al suono.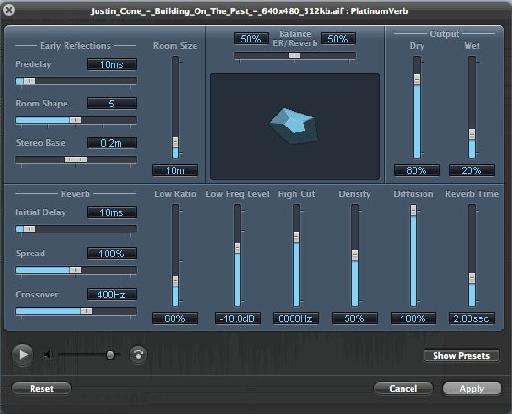 Fase 3 - Creazione di un AppleScript
Ora che abbiamo un processo bel po 'presto per fare un riverbero reverse, questo processo permette di aggiungere al nostro
Vai a
Questo nome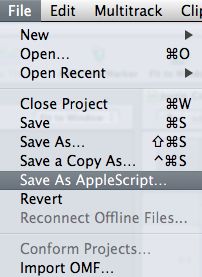 Ora potete accedere a questa Applescript dal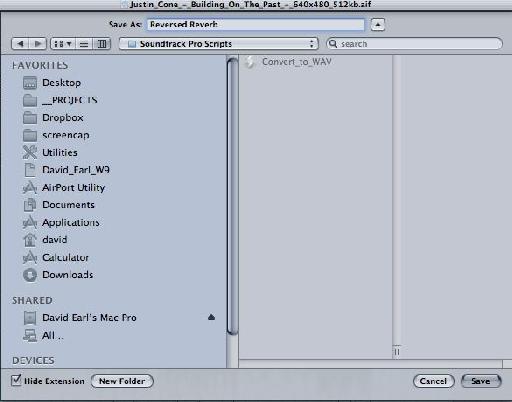 Permette ora di convertire in batch un'intera cartella di audio in modo semplice e veloce.
Fase 4 - Batch Convertire una cartella utilizzando
Ora salvare un altro

Se si afferra un'intera cartella di file audio su questa icona, tutto l'audio nella cartella avrà automaticamente le impostazioni applicate che abbiamo creato in precedenza. Non c'è bisogno di aprire Soundtrack Pro. Basta trascinare la cartella di file audio sull'icona AppleScript, e guardare andare! (Oppure farsi un drink)
L'unica avvertenza è che avete bisogno di utilizzare i file audio PCM. Non OGG, MP3 o qualsiasi altro formato compresso. Colonna sonora potrebbe non riconoscerli.
Buon divertimento!