While Soundtrack Pro is only available in the current boxed version of Logic Studio, it is still a useful audio editor to use! David Earl (aka sflogicninja) shows how to use it as a batch processor.
Soundtrack Pro é um dos aplicativos mais poderosos e sub-utilizados na suíte Logic Studio. Muitas pessoas que abri-lo pela primeira vez, acho que Soundtrack Pro pode ser redundante, uma vez Logic vai ser a ferramenta de go-to para produção de áudio multitrack.
Soundtrack Pro começou como uma ferramenta de pós-produção na indústria cinematográfica. Não só ter um áudio multitrack muito capaz edição e mixagem do sistema, ele tem um editor de áudio fenomenal 2 pistas também. Eu comparo a photoshop para áudio. Ele merece respeito!
Hoje eu gostaria de mostrar como usar Soundtrack Pro como um editor de batch. Vamos abrir um som no Soundtrack Pro, aplicar efeitos e criar um editor batch usando um AppleScript.
Passo 1 - Abra um arquivo de áudio no Soundtrack Pro
Para abrir um arquivo de áudio no Soundtrack Pro, simplesmente Control-clique sobre o arquivo de áudio, e escolha Open With Soundtrack Pro: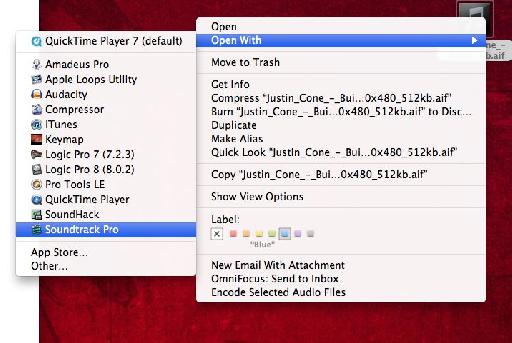 Você também pode abrir um arquivo de áudio no Soundtrack Pro diretamente de uma sessão de Lógica usando o comando Shift-W.
Uma vez no Soundtrack Pro, temos um editor de áudio clássico 2-track: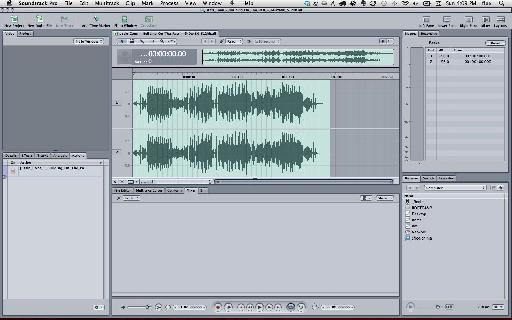 Passo 2 - Adicionando efeitos
Para adicionar um efeito, use o comando tecla Command-A para selecionar todo o arquivo de áudio, e ir para o menu Processar. Estavam indo para escolher Reverse: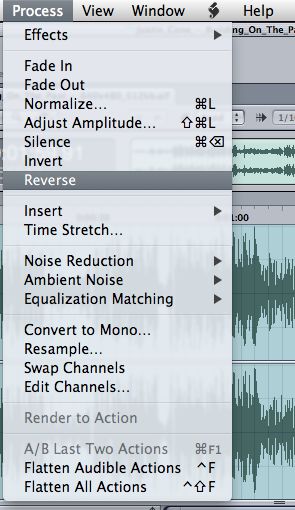 Agora o arquivo de áudio inteiro é invertida. Vamos agora passar para o Processo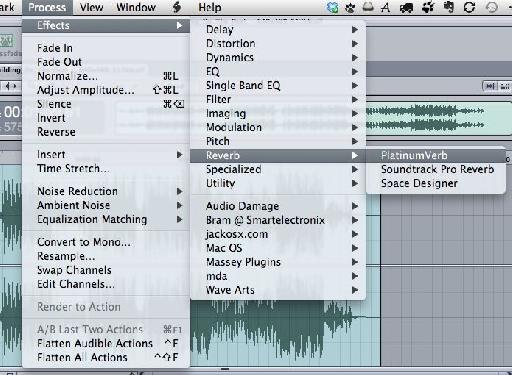 Agora vemos o plugin reverb. Para aplicar o reverb, escolha Aplicar na parte inferior direita da janela do plugin.
Em seguida, vamos inverter o áudio de novo! Pressione a barra de espaço para ouvir o efeito inverso reverb-novo.
No lado esquerdo, nos é mostrado uma lista dos processos que estão aplicando. Sinta-se livre para reordenar a lista de processos. Ele vai re-processar o arquivo e você pode ouvir antes de reverb inverso, depois de reverter, ou desmarque a caixa, e que não temos nenhum reverb em tudo. Esta é a magia da Trilha Sonora: recebemos várias camadas ao som.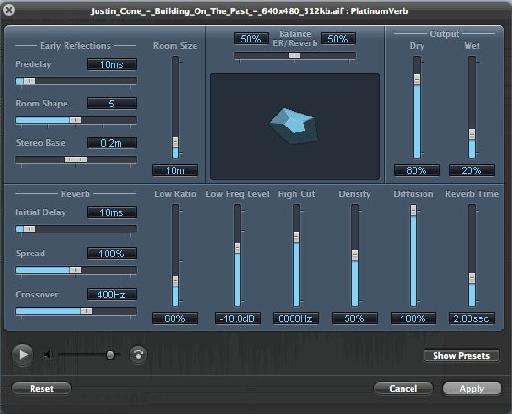 Passo 3 - Criar um AppleScript
Agora que temos um processo pouco agradável para rapidamente fazer um reverb inverso, vamos adicionar esse processo para o nosso
Ir a
Nome este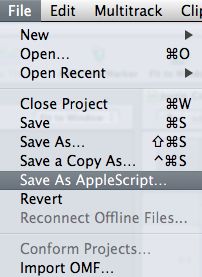 Agora você pode acessar esse Applescript de seu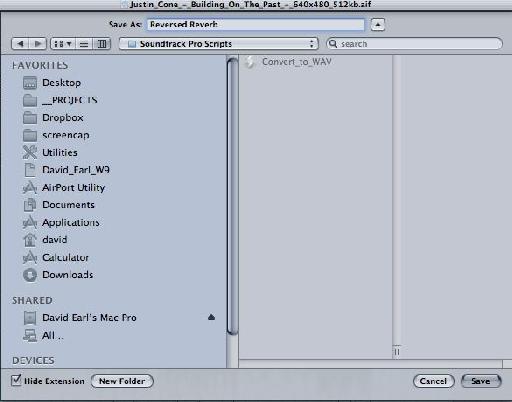 Agora vamos converter em lote uma pasta inteira de áudio com rapidez e facilidade.
Passo 4 - Batch Converter uma pasta usando
Agora salve outra

Se você pegar uma pasta inteira de arquivos de áudio sobre este ícone, todo o áudio na pasta terão automaticamente as configurações aplicadas que criamos antes. Não há necessidade de abrir Pro Soundtrack. Basta arrastar a pasta de arquivos de áudio para o ícone do AppleScript, e vê-lo ir! (Ou ir fazer-se uma bebida)
A única ressalva é que você precisa para usar arquivos de áudio PCM. Não OGG, MP3 ou qualquer outro formato comprimido. Trilha sonora pode não reconhecê-los.
Divirta-se!