iZotope are preparing of the release of a new version of RX. Aside from the name change (they've added "audio editor" to the title) there's lots of new features to get excited about.
When you purchase iZotope RX 4 today you will receive RX 4 as you'd expect. However, iZotope are currently putting the finishing touches on the new RX 5 Audio Editor. When RX 5 Advanced Audio Editor is released in October, they'll send you a free upgrade!
What's New in RX 5 Advanced?
De-plosive: Instantly eliminate every single plosive from any dialogue track, with total transparency. This is an industry first.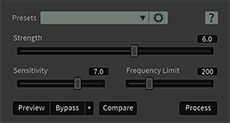 iZotope RX5 Audio Editor De-plosive
Leveler: Automatically creates a clip gain envelope to smooth any volume inconsistencies with the Leveler. Optimized with intelligent De-breath and De-ess algorithms, the Leveler automatically detects breaths and esses in a dialogue take, then applies transparent clip gain adjustments. This is an industry first.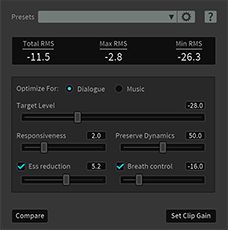 iZotope RX5 Audio Editor Leveler
[ad_unit]
What's New in RX 5 Advanced?
Instant Process tool: The one-click magic eraser for your audio. From unwanted cough to scene-interrupting siren, instantly paint away any audio problem directly in the spectrogram timeline.
Module Chain: Remove distortion, clicks, interference, background noise, smooth out inconsistent volume and ambience….all at once! Whatever the multiple editing tasks you need done, they can now be accomplished in a single mouse click that fires off all of your edits.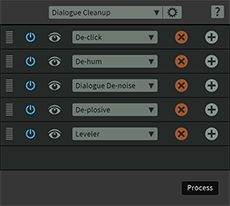 iZotope RX5 Audio Editor Module Chain
Seamless Integration: Sync and integrate the power of the RX Audio Editor with any audio and video editing software timeline using RX Connect. Clip-by-clip and handles support added for the most efficient Avid Pro Tools post production workflow available.
De-reverb: Reduce some of the reverb from a recorded space in order to make the dialogue useable. Salvage recordings of dialogue containing too much reverb/acoustic space without needing to spend time/money on a reshoot or ADR.
Customers who purchase RX 4 Advanced after August 8, 2015 will receive a free upgrade to RX 5 Advanced Audio Editor upon release in October.

Special upgrade pricing to RX 5 Audio Editor and RX 5 Advanced Audio Editor will be available for all previous RX customers upon the release of RX 5 Audio Editor in October.
Web: https://www.izotope.com/en/products/post-production/rx-5-audio-editor/