When Djing with Ableton, it's easy to let all your clips get disorganized. It's great that you can have hundreds of songs, hundreds of beats, stacks of melodies, and movie quotes all on one screen.
When Djing with Ableton, it's easy to let all your clips get disorganized. It's great that you can have hundreds of songs, hundreds of beats, stacks of melodies, and movie quotes all on one screen. Problem is, if you can't find the clip in the proverbial haystack, it's the same thing as not having the clip.
On the flip side, you can't turn up to a gig with only the few songs you plan on using to fill out your time slot. Just recently, a big name headliner rolled through town. I ended up on the bill with him, playing right after he did.
The Headliner

"Dj Unprepared" was a bit confused. He took the decks 30 minutes early, and started playing. He brought exactly one hour and thirty minutes of music. All neatly laid out in his arrange window in Ableton.
I'm supposed to go on at 1 am, but I know he's started early, so around 1230 I go up and check in on him.
"You're on after me? thank goodness! I've got 10 minutes left!" He points to his timeline on the arrange view. One big yellow clip, then absolute, total blank.
Okay then! Yeah, you really only have 10 minutes left.
I start setting up. His manager comes up. "You can't play yet!! I have a huge agent coming here at 1 am to catch "Dj Unprepared"!!"
I told her "You know, that's great, but unless you want the agent to walk in on awkward silence, I better set up."
She talked to the headliner, and sure enough, I was the one djing when the agent walked in the door.
I'm usually a 130 bpm type of DJ. I drop lots of peak hour sets. This headliner - an excellent musician - finished his set at 70 bpm, on a melodic and downtempo note. He had a full dance floor as well. He produces excellent music.
Fortunately I have my tunes organized by BPM and genre, and I had tracks that would match that sound, and mix in well. Had I faded him out and just started banging some 130 BPM tracks, it would have shocked the dance floor, and more than likely cleared the room.
Two Valuable Lessons

Lesson 1: Dj's need to come equipped with extra music. Since the headliner wasn't prepared to play even 20 more minutes, he missed an opportunity to have an agent see him at a gig.

Lesson 2: Have your music organized so that you can quickly find any type of genre and BPM.

Three Ableton Tricks to Organizing your Clips
Trick 1: Use empty clips with a distinct color and arrows to bracket collections of genres.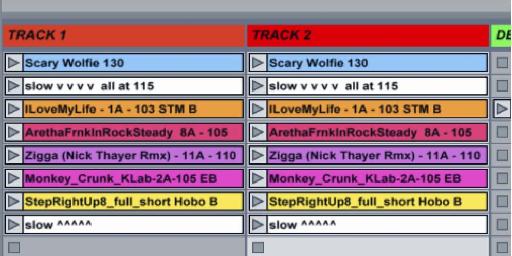 In this example, you see I have a section called "Slow vvvv all at 115". This is where I keep about 4 or 5 tracks that work for mixing in from slower tempos to my more upbeat sound.
The white clip goes on top and down below the group. That way, whether I'm scrolling up to it from below, or down to that section from above, I know what I'm seeing.
Trick 2: Put the BPM of your clip in the clip name.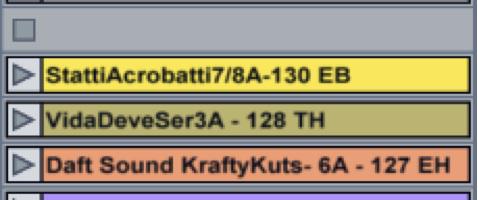 "but the bpm of the clip is shown in the sample box when the clip is highlighted..."
Yes, it is. But when you're about to take the decks, and some guy suddenly goes from tech house at 126 bpm, and decides to drop a dub step track for no reason at all as his last track, you'll want to quickly be able to scroll down and read clip names- and see the BPM right there.
In this example, I have a statti track that's 130 bpm, a Vida track thats 128 bpm, and A Krafty Kuts remix that's 127 bpm.
Trick three: Use Genre codes in the clip name.
Looking at the same image from Trick 2, You can see that I have two capitalized letters at the end of each clip name. These are genre codes.
EB means "Electro Breaks". TH means "Tech House". EH means, you guessed it, "Electro House". You don't have to use my abbreviations. Invent your own to suit your musical groupings. Keep them short though - they won't do any good if they are so long you can't read them inside the column view.
Some of you may wonder, what's with the 8A, 3A and 6A letter number combos? I use a program called Mixed In Key that identifies key signatures, and translates them into a number letter pattern for easy matching. It's complex enough to deserve it's own mention. I'll talk about that in a future article.