Add a new lease of life to your drum loops and create something fun, fresh and vital with these clever processing tricks. Here's how it's done.
When you don't have access to a real drummer or percussionist and you need some hot rhythms, many of us turn to loops for our productions. Available in every shape and style, they form an integral addition to my TV composing arsenal. But sometimes you need to shake things up sonically and add something a little different to them. Let's take a look at four unique plug ins that I use often to add creative flavor to an ordinary loop.
Get The Groove On
When I start with loop productions, I like to see how they fit initially in the context of the underlying rhythm section. So for the sake of this article, we'll use a bass and some percussion with the main loop, which helps set the foundation for the rest of the track.


Loop with Rhythm Section, no effect
Sonnox Oxford Envolution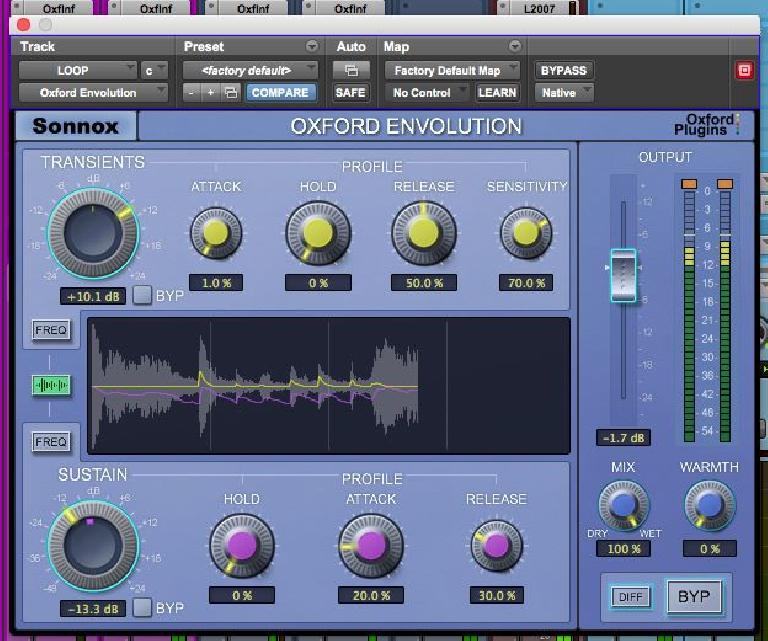 One of my main go-to plugins to quickly and easily change up a loop is the Sonnox Oxford Envolution. I use it in two primary ways - to either push the transients and sustain of the waveform, or pull them back. With that in mind, I primarily use only two functions on this plug in - the Transients and Sustain knobs (thought there are more controls available). To keep rhythms tight and clean, I will slightly push up the transient to make the initial hit of the waveform more impactful, then pull the sustain back, which gates the sound off in a musical way. By doing so, the overall rhythm can fit like a glove. From there, I can add my own taste of reverb, delay or room effect.


Oxford Envolution
Here, I've shortened the Sustain (purple) and pushed the Transient (yellow), while not touching any other knobs. If I wanted to push the tail or body of the loop, I could easily push up the sustain, which sounds almost like an 1176-style compression. The point is, with a few knob twists, a loop can take on a new life in a mix.
Sound Radix Drum Leveler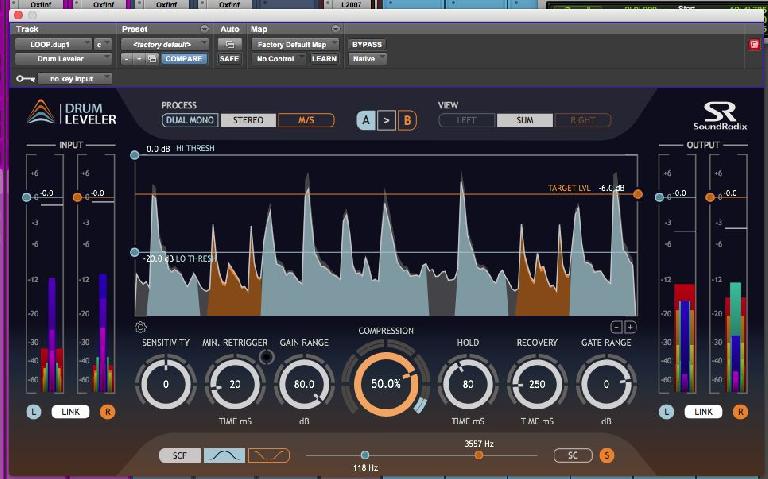 The drum leveler from Sound Radix lets you process each drum hit individually, even within a loop. Using compression and expansion, you could for example find only the kick in a loop, and add punch to just that element. But that's not how I tend to use it. I've found a unique sound can be had by activating the sidechain filter and leaving it on.


Sound Radix Drum Leveler
In the example above, I've done just that - enabled the sidechain filter and set the low and high frequency bands to 118 Hz on the low end and 3.5kHz on the highs. Then I will enable the automation on the low frequency band and move it up and down in real time with the basic tempo of the mix to create a flowing, moving midrange frequency sweep. The loop takes on its own character and the Drum Leveler becomes a creative frequency tool.
Fabfilter Saturn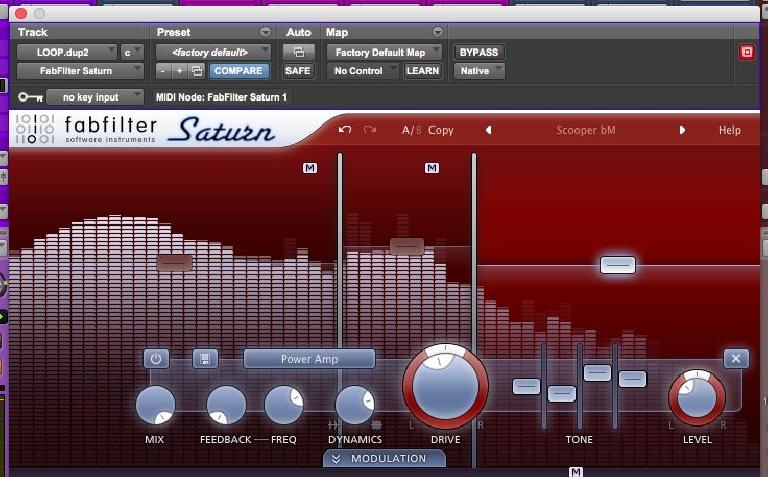 Saturn is a unique plug in for multiband saturation, filtering, modulation, distortion and even amp modeling. It's got some great presets that immediately let you take a loop and get something totally different out of it, but I like to start by creating a few bands to push or pull depending on the needs of the production. With the multiband display, it's easy to see where your audio is hitting and select accordingly.


FabFilter Saturn
In the example above, I've pushed the upper midrange section of the plug in and added a Power Amp sound to it, which is a slight bit of crunch. By automating the level up and down, it pushes that frequency band only, which adds a certain bit of edge to the high end of the loop (only what's included in that third band). This adds some sonic movement to the loop and creates some saturation. I've also adjusted the fixed four band EQ and cut some lower mids, pushed some upper mids up and just a touch of highs. Like anything else, I adjusted this based upon what I was hearing in context of how it fit into the entire underlying rhythm section.
Waves GTR3 Stomps And CLA-76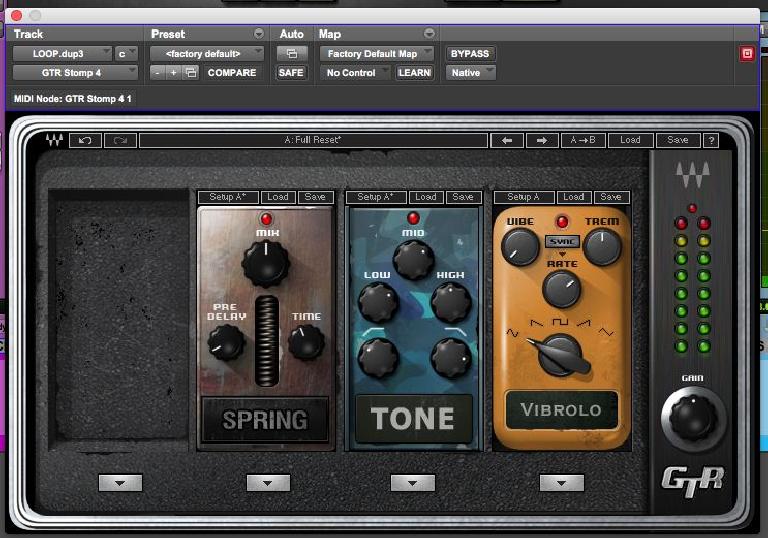 While you might think using the Waves GTR-3 Stomp is just for guitars, it's actually quite useful on a variety of instruments, including loops. You simply click on the dropdown arrow in each slot to select a stomp pedal, and dial it in to your liking. In this example I used a Spring for some ambient verb, with the Mix set to around 12 o'clock, a touch of pre-delay and just a second or two of time. Next, I used the Tone pedal to push up some Low and Mid frequencies, then the Vibrolux to add shimmer to the overall sound. You can get super creative with the GTR3 Stomp and loops, because there are 26 pedal options including Fuzz, Delays, Flangers, Doublers and more.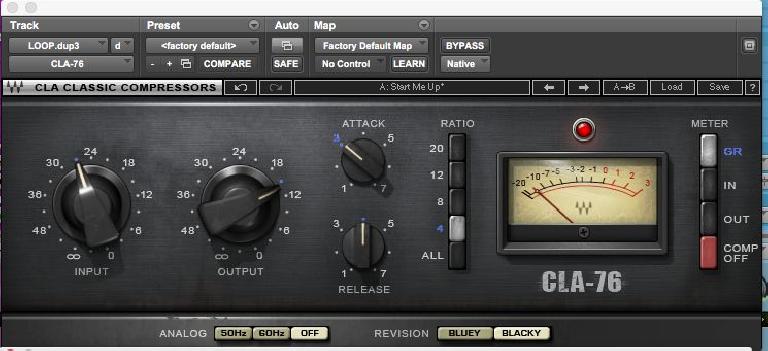 GTR and CLA-76
Since the output level was a bit low for my needs, I followed that up with the CLA-76 Compressor/Limiter, which helps push the sound out of the speakers. The CLA-76 is based on the great 60's Class A Line Leveling amp. You can select from two versions, which they call "Blacky and Bluey", each with their own subtle differences in character. For this loop, I used the Blacky and hit the Input gain fairly hard with the Attack at 10 o'clock and the release at 12. This gave the loop a sligh pumping effect, but drives it just right. The combination of the GTR-3 Stomp and the CLA-76 can take your loops to places you might not have thought of before.