Native Instruments tell us their new live performance DJ controller is packed with everything DJs need to mix across four decks.
October 16th, 2019 – Native Instruments today announced TRAKTOR KONTROL S3, the essential four-channel controller for DJs ready to break into the world of four-deck DJing, add a new dimension to the way they play, and take their sets to bigger venues.
From layering beats, to weaving in acapellas, performing with live vocalists and MCs, or playing back to back, the TRAKTOR KONTROL S3 encourages flexible DJing that expands the boundaries of performance.
The S3 sees a continuation of the club-standard design language introduced to the TRAKTOR hardware line last year, with upsized jog wheels, extended pitch and channel faders, and a clean-cut four-channel mixer section with full EQ, filter, and Mixer FX control.
Jog wheel light rings give dynamic visual feedback at a glance – with deck selection, activation, and track-end warnings.
Each deck is equipped with eight RGB pads for triggering Hotcues and loops, as well as one-shots or looped samples.
The TRAKTOR KONTROL S3 also features a high-grade audio interface, with main and headphone output dynamic range normally only seen on professional in-house club gear, as well as XLR outputs for plug-and-play connectivity with larger sound systems.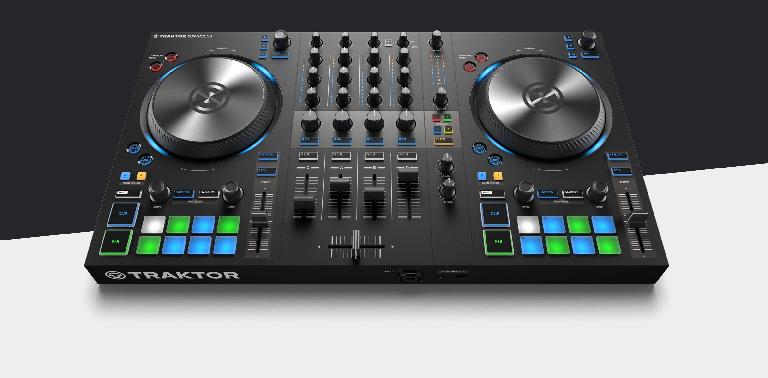 The TRAKTOR KONTROL S3 is bundled with the full version of flagship DJ software TRAKTOR PRO 3, and integrates with TRAKTOR DJ 2 for two-deck DJing on iPad or desktop.
Pricing and Availability
TRAKTOR KONTROL S3 will be available online and in stores in November 2019.
Price: 599 EUR, 649 USD, 69800, 499 GBP, 899 AUD, 799 CAD, 4699 CNY, 679 CHF
Pre-orders are open now via the Native Instruments website.