Winter holidays are a great time to take stock of all areas of your life, including your digital life. In this helpful article, Matt Vanacoro explores how to clean up and archive your precious files.
The holidays can be a tough time on the budget of the home studio owner if you have Christmas presents to buy AND studio gear to maintain. Having to choose between replacing a drive in your RAID storage array and buying your significant other something better than new socks can be a difficult choice. Note: I've had to make this choice, and I can confirm that my wife did NOT care that the new drive had a better seek time - and the socks I chose for her were REALLY comfy.
Here are a few tips, tricks and tools to get you on the road to good media management. With some smart choices, a little time an effort will go a long way towards making the most out of the storage space you have.
Video Files: Cleaning Up Your Act
No matter what software you are using to edit your video, (but let's be honest, it's probably Final Cut Pro OR Adobe Premiere), you probably have a scratch disk or folder where the software keeps its media. Render files and thumbnail files from previous projects that you may not have even thought about in a long time may still exist there, and video files eat up space on a hard drive like my cousin Kenny at the Thanksgiving dessert table.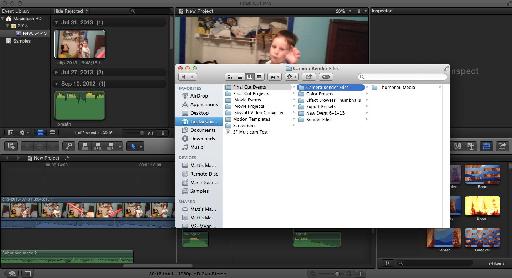 Finder Window : The render folder for video editing software is often organized with subfolders that match the names of your project media.
It will take a little digging and verification to make sure that what you're deleting is definitely something you won't use anymore, but it's worth the effort. I've dug into that render folder and found 5-10 gigabytes of files for projects that I'd delivered and (thought) deleted months ago. More often than not, the subfolders created in your scratch / render directory will match the names of your events / projects in your video editing software. For the most part, when you move an event to the trash, the files will follow. However, it's good practice to keep tabs on your movies folder. You can often find some orphaned files taking up valuable space there!
If you're using Final Cut Pro, you'll also want to make sure you don't have duplicate copies of your media lying around after you're done with your project. Final Cut Pro will often copy your project media to its own folder hierarchy while you're importing (converting it to ProRes 422 in the process). This can often leave you with the original media that you imported from your camera, and then a SECOND copy of that media that Final Cut Pro is using.
Photo Files : How RAW do you get?
If you are using a DSLR and running a modern '˜media' type project studio, shooting RAW is a must. The dynamic range of the photos, ability to make development edits in post production and the sheer power of RAW photo tools is something you won't want to miss. This power, however, comes at a cost. RAW files are huge. If you have a newer, larger megapixel camera, they're even bigger. A couple of hundred photos at full resolution in a modern DSLR can easily top 5-6 gigabytes.
Let me be clear; you should be shooting in RAW. You should edit those RAW files. If it was for a project you got paid for, or photography you are particularly proud of, you should save the RAW files. However, if you took two hundred photos of your family's groundhog day picnic, you may not necessarily need to keep all of those photos in their RAW format (or maybe you do, far be it from me to besmirch your groundhog day traditions).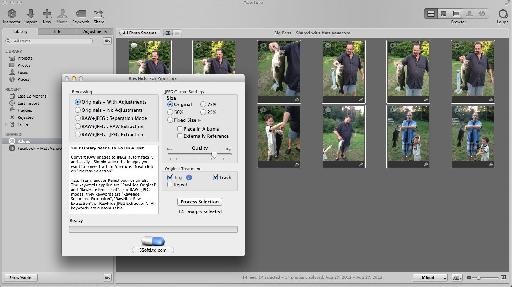 RawHide : RawHide is a tool that will take any group of photos in Aperture, apply adjustments, convert to JPEG and delete the RAW masters. A big timesaver!
You could spend the time going through your photo library in Aperture, Adobe Lightroom, iPhoto or whatever photo software you use to catalog your pictures. Or, you can use software tools to automatically apply any edits you made, convert the RAW files into (much) smaller JPEG files, delete the original RAW files and save you a bunch of space but still keep your photos looking great! Whether you do this using an automated tool like RawHide or manually, it's something you should get in the habit of doing as your photo library approaches the hundreds of gigabytes mark.
So take care of your media files this holiday season. With a little extra time you'll be digging into your wallet for The Best Socks EVER instead of another hard drive.