Ironically most video projects are pretty easy to organize in most NLE's... but what to do when you really have a non-linear or complex timeline to arrange? Iain Anderson discovers how FCP X can help.
For most kinds of edits in FCP X, it's pretty obvious how to arrange your timeline. Your primary storyline holds the main story clips, then you connect overlay shots (b-roll, coverage, alternate angles) above the primary storyline. But what if it's not simple? Let's take a look at some alternative strategies for arranging a timeline, to tackle a couple of more complex situations.

The Music Video
One of the staples of short-form video production, if you have a friend in the music business, you might have been asked or offered to make a music video to go with one of their songs. You might even have been inspired to make a clip for one of your favorite bands. While this was actually one of the simplest edits in FCP 7, it's not as straightforward in FCP X. The magnetic timeline can actually get in the way. While you always have the Position Tool ready to step in, if you want to abandon the magnetic timeline, there's no need to get that extreme just yet. You can have the best of both worlds.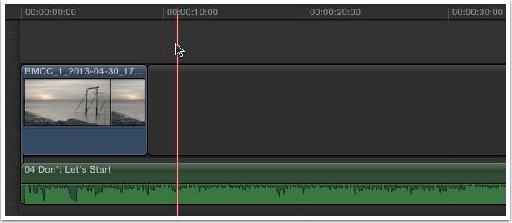 Don't start a music video like this!
Local Sync
FCP X is all about local sync. Rather than syncing clips up to a global timeline, clips are either on the primary storyline, or connected to some clip on that primary storyline. Music and effects are typically timed to a clip, connected to some visual cue, and connected below the primary storyline to stay out of the way of the clips above.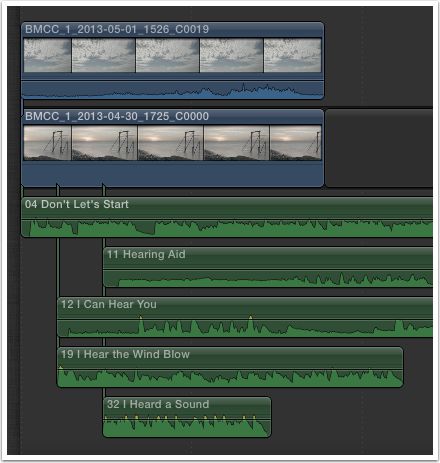 A reminder: you hear all audio at once, but you only see the clip on top.
This is a problem with the music video. Typically, you've got one big piece of music. If it's connected to a clip on the primary storyline, then the magnetic timeline will actively obstruct. Back in FCP 7, a clip placed two minutes down the timeline will stay put, syncing to the audio at two minutes. But in FCP X, if you put your video clips on the primary storyline, then any edits will ruin any sync you'd implied between the visuals and the audio.

The sync between the selected clip and the audio is merely implied and is easily lost.
Secondary Storylines to the rescue
The fix is easy once you know how. Put the audio clip as the primary storyline. Connect video clips above it, wherever you need. Still, you only usually need to sync if you can see someone singing. Anything else can be put in a secondary storyline, to give you the flexibilty of the magnetic timeline while maintaing local sync at several spots through the audio. You'd end up with several storylines, one at each point where sync is important.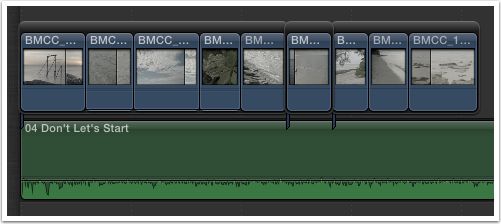 Audio on primary, several connected secondary storylines where sync is important.
Speaking of storylines, one great trick is to hold the G key as you drag a clip next to a connected clip '" they instantly form a new storyline. If they're connected and in the right spot already, drag a box to select multiple connected clips and press Command-G instead.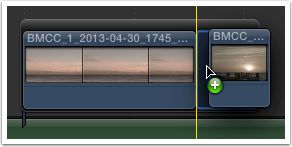 Drag a clip next to another while holding G.
Green Screen
A challenge I didn't see coming was a complex green-screen project with two people talking to camera, in front of a changing series of backgrounds. How do you put the background and any overlaid animations or images behind the green-screen clip and work well with the magnetic timeline? Surely, green-screen clips have to be connected to be above the other timeline clips?
Well, no. The solution is easy once you think outside the box.

Don't connect your green-screen clips like this.
Primary for the main clips, background clips connected below
Put the green-screen clips on the primary storyline just as you would for most edits. Apply the Keyer effect and remove the green background as usual. Now, connect your background clips below the primary storyline.

Green-screen on primary, background connected below.
Normally, you'd only connect audio clips below the primary storyline, as you can't see lower video with a primary storyline clip in the way. But that primary storyline clip has no background, and you can see through it just fine. It's also the driver for the edit, so you want the freedom to edit without leaving gaps, to easily rearrange clips, and to maintain local sync between what people are saying and the visuals you see behind them.
Conclusion
The magnetic timeline is a fantastic tool for storytelling, removing the complexity from what should be simple timeline edits. And that's a classic goal of user interfaces: the simple should be easy, the complex should be possible. Lo and behold, the complex is, actually, possible. You can enjoy a magnetic timeline for all kinds of edits, and you don't even have to resort to the Position Tool to do so.