Shooting and editing on the same day to meet tight deadlines? Iain Anderson shows how Final Cut Pro X can be used quickly and effectively for same-day editing in this revealing tutorial article.
There's a particular type of video that needs to be completed and shown as soon as humanly possible, and the best known example is the same-day wedding edit. Done well, a wedding video that can be shown during the reception of that same wedding has both currency and impact. A conference wrap-up video that features shots of speeches made that same day is another example, and a sports event must also be reported while it's fresh. Although it's not trivial to get the edit out on the same day, it's not necessarily that hard either. Here, we'll look at how to do it, through the context of a series of three same-day-documentary edits in a row. Wish me luck.
Three in a row?
Yep. For most of the last few years, I've been documenting the 48 Hour Game Making Challenge here in Brisbane, Australia. For two days, 20–30 teams battle to create a video game based on three words revealed at the start of the competition. In previous years, real-life intrusions and paid work has delayed final editing, and I've taken a month or so to finish the videos off. While I'm happy with what I've made (check them out: 2012, 2014 and 2015 on Vimeo, or everything on YouTube) this year I produced a video of each day, delivered on each day. The final editing might not be as tricksy as in previous years, but the videos were more current, and at the end of the weekend, the job was over.
Gather Your Elements
Whatever kind of same-day-edit you're going to tackle, you will need images, logos, videos, titles, bumpers, animations and transitions to complete the job. Gather everything together ahead of time, and if you can place them on a timeline ready for later use, that's even better. Create your animations, bumpers and fancy titles now too. It takes time—time you won't have later—to get them right, and quite possibly to render them.
Music is probably the most important element, especially if you're going to be editing to its beats. It'll take a while to create your own backing track, but it can take just as long to choose the right piece from a stock library. (One bonus of making your own music is that choosing 120 BPM sets up an easy rhythm for cuts at 2 and 4 second intervals.) Either way, you'll want a few variations to fit the music to your edit effectively. Find and test out sound effects too, if you need them.
List All the Crucial Shots
While this is job-specific, my list for the game-making challenge includes: opening speeches, word reveal, initial planning, game ideas from each team, artists drawing, coders coding, musicians composing, anyone sleeping, progress reports, important visitors, support crew, final prep, trash talk, judges judging, public voting, final awards.
For a wedding, your basic scenes will include: groom prep, bride prep, travel, arrival, the walk, ceremony, leaving, first dance, speeches. Within each of those scenes, there will be certain shots you have to get (exchanging rings, "I do", the kiss), so come ready with a printout and a highlighter to mark everything off. (You could even get technical with a Numbers spreadsheet on an iPad, but there's nothing more satisfying than swiping over a crucial shot with a streak of yellow highlighter.)
Not cutting cookies
For some kinds of predictable edits, you could, just maybe, complete the entire edit ahead of time with placeholder generators (Edit > Insert Generator > Placeholder to get started) in place of the real clips. Imagine a wedding timeline: "bride car arrival CU", "bride walk", "door opens", "groom turns head" all in a row. You could then replace all those shots with real clips using the magic Replace From Start (Option-R)shortcut.
While that's possible, it's not going to produce the most interesting edit, and it leaves you no flexibility to adapt to the actual event you're capturing. A "cookie cutter" timeline like this will produce bland, predictable stories rather than the original result that a little more freedom offers, and could create trouble if two ex-clients compare their eerily similar wedding videos. Instead, find a happy medium by preparing just a basic timeline with larger marked sections (prep, arrival, ceremony, photo shoot) and let the story fill the space in a more natural way.
Prepare your hardware
A same-day-edit is not the place to mess around with unfamiliar gear—you need to know it well. Charge all your batteries and pack backup cameras, cards, and hard drives. Sync the time and date on your cameras to make multicam syncing easier. Know the limitations of your lenses and get ready to switch as needed, and plan when you need to use support gear like gimbals and sliders. If you're not shooting alone, make sure your entire team is ready, with their own job lists for various parts of the day.
Capture Exactly What You Need
On most shoots, you'll want to capture as much as possible to make the edit run smoothly. But when you've got to deliver an edit on the same day, you'll want to be a little more frugal in what you shoot. As ever, if there's something interesting happening you need to be there, recording and in focus, but you don't need to shoot every element to death. Because the edit is going to be very fast indeed, the first relevant cutaway shot the editor finds is going to be the one that gets used. Every shot you record is a shot that needs to be copied and looked at later, so just be targeted, and perhaps a little less trigger-happy than usual.
If you're capturing interviews, be clear with your subjects about how long they can talk for. Editing down a rambling answer takes time you don't have, and using a subject's own brief words is the best approach. An extra take during the shoot will save valuable time during the edit, and the quickest way to work is simply to make sure the final take is the best one—stop when you've got it. Cutaways are still necessary if you do want to cut an interview down, so do grab one or two shots around a subject if possible.
You'll also want to shoot something that's easy to edit, so match white balance between cameras and in every location, to make final color correction easier. This is also not the day to shoot raw, or anything else that requires extensive post-processing. Shoot log only if you can correct it easily and your editor (you?) is confident with it. Record audio in-camera if you can, to avoid syncing in post. And don't bother with tricky shots that need extensive setup and multiple takes—keep it simple.
Transfer and Pre-Edit In the Field
As you shoot throughout the day, copy your files off to a fast, solid-state drive, or the internal drive of your laptop if it's big enough. As I prefer to copy my video files manually, I like to mark each fresh batch of files with a Tag (colored label) so that I can easily isolate the next batch when I import that.
During or after import, if you have a few minutes, apply keywords to organize your files while they're still fresh in your mind. Twenty minutes where there's nothing to shoot is twenty minutes of keywording and in-out-favorite marking in the browser, and this will absolutely save you time later.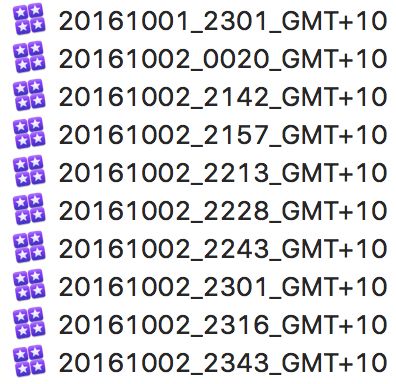 By default, FCP X stores dated backups in Movies > Final Cut Backups.
Skip Backups for Now?
Backups are important, but if you keep your library on an external drive and can keep the full shoot on your media cards without deleting it, you don't absolutely need to back up until you're done. Why? Well, if the external drive was to fail, you could recover the source clips from your media, and the edits and metadata from the backup library that FCP X stores on your Mac's internal drive. If that makes you too nervous, if you need three copies to feel safe, or you don't have enough media cards to cover the whole job: back up as you go to an extra external drive (preferably SSD).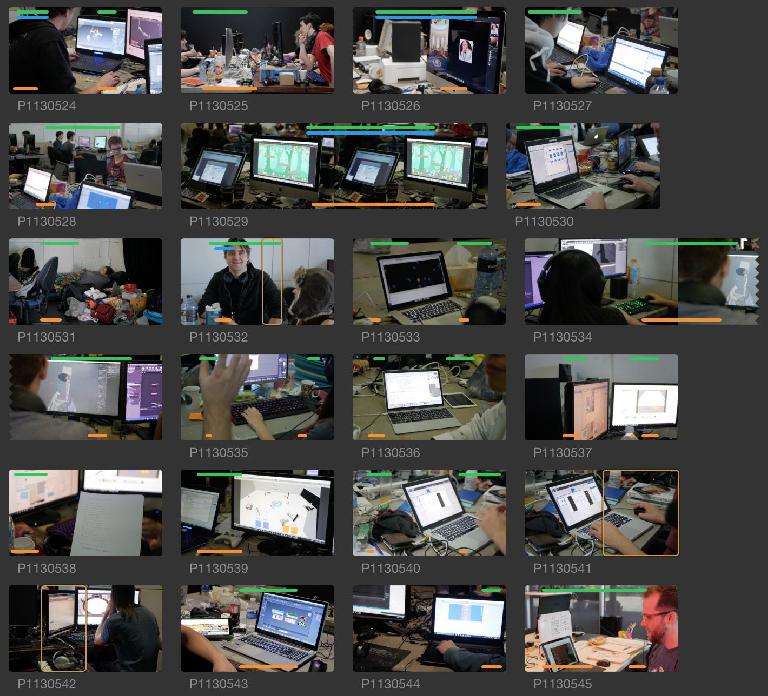 Marking rough favorites—the green lines—gives you a good starting point for further trimming or speed changes to fit your edit.
Edit simply, edit quickly
If you've ever played speed chess, you know how this is going to work: by gut instinct. Select a good part of a clip roughly with the mouse, mark it as a Favorite with F, repeat. When you're done, show Favorites only, throw them all in the timeline, and cut it down some more. If a clip is bad, throw it now. The first edit that comes to mind is the right one, because you're already looking at the next edit.
Use your best techniques and all the keyboard shortcuts you know to jam the right shots in the right places as swiftly as you can. You'll need to know J, K, L, I, O, F, Trim Start and Trim End, the trimming shortcuts, E and Q for bringing in clips quickly, N for snapping, and a few more for good measure. Setting up easy keys for your most used commands is also a great idea (my picks: F5 and F6 for Trim Start and Trim End, plus / on the keypad for Duration). But one thing you probably won't need to do is extensive keywording.
Keywords are fantastic in a longer form edit where you have hundreds of shots, because finding the right shot can be an exercise in frustration without them. However, in a very fast edit, all you need to find is a "good enough" clip. If you've used keywords to sort the clips at least into scenes and marked the best shots, a quick skim through your options is probably going to be enough. Feel free to add more finely grained keywords if you're going to revisit this edit down the track, though.
And where do you edit? Probably in the field, on the same laptop used for ingest. If you're delivering online, you could head home to a gruntier desktop, but travel time is time you could be editing. Likely, you just need to make sure your laptop is up to the task and find a quiet space. (If your laptop isn't great, perhaps use a proxy workflow, and make sure you can leave your Mac on and transcoding so that proxy files are ready when you come to edit.)
How did it go?
Really, really well. Of course, it helped that I didn't have anyone from a wedding party breathing down my neck—all the stress was self-inflicted. By editing as much as possible on-site and having the logos and music pre-imported, I was able to nail the rest of the edit when I got back to my main iMac. Making my own music at 120 BPM meant that I could cut many of my shots to 2 and 4 seconds in length and keep the flow going. And though the lighting was (as ever) horrible, a fast 25 mm f1.7 lens kept the noise down and the depth of field relatively shallow. My gear (Panasonic G7 x2, Tascam DR-60D, RØDE NTG-3) didn't let me down, but I would have liked a faster wide-angle lens to capture a few shots at the end.
In terms of delivery, the edits were done before midnight, but internet speed in Australia disappointed. I've got the best I can buy (100 Mbps cable) but it's heavily asymmetric, and my 2.5 Mbps upload speed meant that the first video (3 GB in 4K) took 3 hours to upload. If you're delivering on-site, sneakernet is, of course, much faster, and 4K is, of course, overkill. (So why 4K? To see if it was possible on a tight deadline, and happily, it absolutely was. The main bottleneck was in exporting and uploading.)
Conclusion
While a same-day-edit can seem scary, you can absolutely do a great job in Final Cut Pro X. It's a fast NLE that lets you bash out an edit fast, even with a few fancy 3D titles in the mix. If you prepare, cut a few small corners, know your workflow, know your shortcuts, and don't try to deliver 4K over a slow connection, then you'll come out a winner.
(You can check out these three videos here on YouTube.)