The addition of a Curves tool in FCP X 10.4 is music to the ears of many editors, finally bringing Photoshop-style tonal control to video. Iain Anderson shows you why it's such a great feature.
Finally. I was lucky enough to be present at Apple's Town Hall Theater when curves were announced, and my two hands went straight up in the air as the whole audience roared with approval. I'm not the only person ecstatic to see curves (and wheels!) finally arrive in FCP X, and Apple's implementation is very solid indeed.
While it's true that they took a while to arrive, they were worth waiting for, and the deep, fine control they offer is truly unmatched. Let's dig into curves a little more, and into the implementation of them here and now in FCP X.
A Bit Of History
Photoshop is where most digital dabblers learn curves in the first instance, but if you've lived solely in the video realm, you might have found them elsewhere first. Apple's long-since discontinued Color app, Adobe Premiere's Lumetri, and of course DaVinci Resolve have all offered curves in various forms for some time now. In FCP X, third party color correction plug-ins have offered curves before now, but a built-in option is always going to be appreciated — especially in collaborative projects.
So what's the appeal? Curves offer direct control over exactly where each part of the incoming image will be placed in the outgoing image. Imagine that the input image comes in at the bottom of the curve graph, goes up until it hits the line, then heads out to the left to give the output. Clicking on the line adds points that can be dragged around, pushing the image one way or another.
FCP X Correction Basics
Press Command-6 to bring up the Color pane in the Inspector, then add the correction you want from the menu at the top left (it starts out as "No Corrections" but changes to show the selected correction effect). Command-7 still shows scopes, and double-clicking the title bar of the Inspector still expands its height to take up the full screen.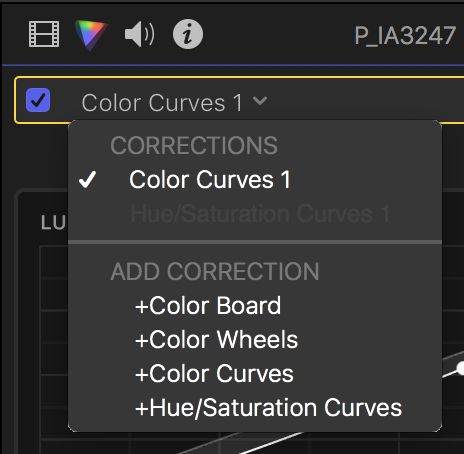 With the color pane active, you can add as many effects as you want from this menu
While you can use color curves as your first correction, it's probably safest to use the color board or color wheels to get the darkest shadows and brightest highlights where you want them, and then use curves to finesse everything between. This approach also means you can apply the same curve to multiple shots to give the same contrast treatment.
Color Curves — Luma
The easiest curve to grasp is the Luma curve, governing the light in the image. Popping up a waveform scope set to Luma is the easiest way to see just what's going on.
The straight diagonal line you start with makes no change at all, but a curve that goes up in the middle increases the midtones, a curve that goes down decreases them, and a curve that looks like an "S" increases contrast by pushing the highlights up and the shadows down.
It's easy to go too far, though. To avoid clipping part of your image (sending it beyond legal values) don't push things too far, and avoid flat points on the curves. Watch the scopes, and make sure nothing you care about goes outside the 0-100 range.
Additional points can be added to lock any part of the image, so you can keep the shadows where they are, and introduce a "mini-S" to add contrast in the brighter sky areas. Or do the opposite — separate some of the shadows with a boost lower down, but keep the highlights locked.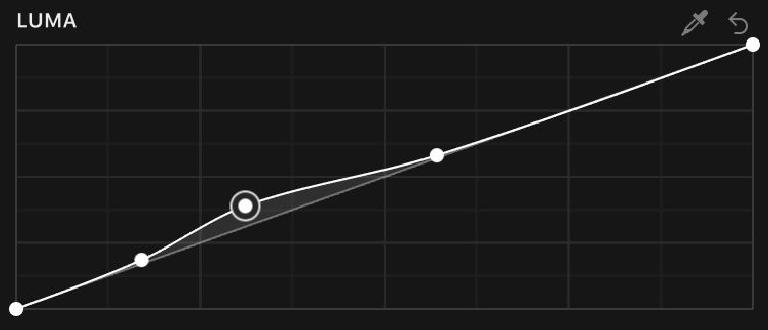 Let's increase the brightness of just a specific area AROUND 30%, leaving the top half and very bottom of the image alone
If you're not sure where a particular part of the image sits on the curve, click on the eyedropper in the Luma curve, then click on that part of the image. A line will appear in the curve, and a point will be added if there isn't one already. Drag it up to brighten, down to darken, or leave it alone and move points elsewhere to lock it.
Color Curves — RGB
These curves start out adjusting the component channels in the image, but can change completely. Each curve's eyedropper can change it to address a different color, like "Sea Foam" or "Orange". You can then adjust the brightness and contrast of that color, which is deceptively powerful. Pushing a curve up or down makes the whole image more or less like that color, but adding contrast with an S-curve can very quickly give a strongly stylized look — a quick "S" on "Orange" gives the classic "Teal and Orange" blockbuster.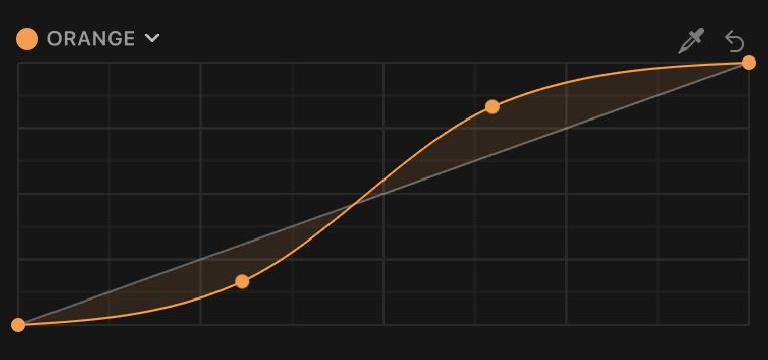 Use the eyedropper to pick "orange", then Make the most orange areas more orange, and the least orange areas less orange
None of these curves adjusts saturation, however. You'll need a Hue/Saturation Curves effect to do that, and there are plenty of options. Add one from the same menu as you added the Color Curves before.
Hue/Saturation Curves
A selection of curves here mostly share a name in the style of "A vs B", and each time, it means "Select with A to change B". So "Hue vs Luma" means "select a hue, then change its brightness", and "Luma vs Sat" means "select lighter or darker areas, then change their saturation". Each curve lets you select "A" by clicking points on a horizontal line, then drag those points up or down to change "B".
Eyedroppers in each curve make selecting easy — click the eyedropper, then click in the image, and three points will be created. Drag the middle point up or down to change that particular part of the image, or drag the outer points apart or closer to extend or restrict the range selected.
Offsets And More
Importantly, each curve has an "offset" slider to the left which acts as a global control, great for quick, powerful tweaks.
There's also a "Color vs Sat" curve at the end which is preset to "Orange", and with luminance represented horizontally, you can control the saturation of any particular shade of orange areas by dragging points up or down. Orange can be changed to any color with the eyedropper on that curve, but right out of the gate it's very handy for skintone saturation adjustments.
Conclusion
FCP X 10.4 is a big release, and while not everyone will work with 360° or HDR video today, curves are something that nearly everyone can use to improve their work. While you should always try to capture the best image you can in camera, curves give you enough power that you may well be able to "fix it in post". Get to grips with everything the new tools let you do, and you'll be surprised at what you can get away with.