Shooting with a Blackmagic cinema camera? Want to understand differences between Film and Video modes and make your footage look its best using Coremelt effects? You've come to the right place!
If you're shooting on a Blackmagic Cinema Camera (or one of the newer variants) you're probably shooting in Film mode, to get the best out of the camera. But how do you make that flat footage look its best? What's the difference between Film and Video mode? And does this apply to flat profiles on DSLRs as well? One step at a time.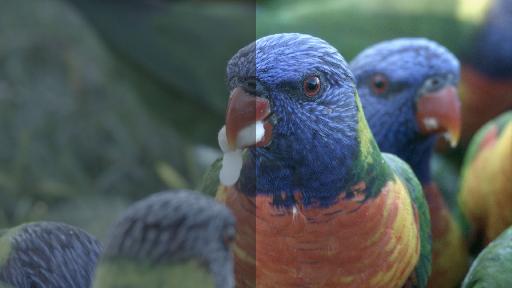 A slightly underexposed Film shot on the left, and a corrected shot on the right.
NOTE: This article follows on from this previous article, where we made our own filter to boost a flat image.
DISCLOSURE: I have been involved in beta testing these effects. I have no commercial relationship to Antler Post. While I do create tutorial videos for CoreMelt, I gain no commission from sales of their products, and the effect by CoreMelt that's discussed here is free of charge.
What does Flat mean?
'Flat' is a way to describe low-contrast footage. In the specific case of Film mode ProRes footage on a BMCC, or a flat picture profile on a DSLR, it's a result of displaying an image recorded with a Logarithmic curve on a regular computer monitor that's closer to Rec 709. The Log colorspace has greater dynamic range than the standard video colorspace, giving extra flexibility in the grading process '" you can choose to retrieve additional shadow or highlight detail if you wish. For more technical explanation, head to Arri.

Here's an uncorrected shot taken in Film mode.
And what about raw?
Well, raw always needs to be interpreted, and so can't really be said to be in Log space or Rec 709 space. You can choose to view raw footage in one colorspace or the other, but you can retrieve highlights or shadows either way. For critical color work, if you have the extra time, storage space, and knowledge of DaVinci Resolve, shoot raw and correct there. Here, we're focusing on the ProRes workflow in Final Cut Pro X.
I don't care about grading. Can't I just record in Video mode instead?
Well, you could, but you will lose dynamic range in challenging situations. No point buying a camera with 13 stops of dynamic range if you're not going to record them. There also seems to be a slight issue with reds turning orange under certain conditions in Video mode.

Here's a shot taken seconds earlier than the previous one, taken in Video mode.
The 'Orange Reds' issue
You may notice that there's more difference between Film and Video modes than just exposure and contrast: some reds can appear orange-ish in Video mode. While you can largely avoid this by recording in the (superior) Film mode, you may still wish to show Video mode on the camera's display '" and that could confuse an on-set client.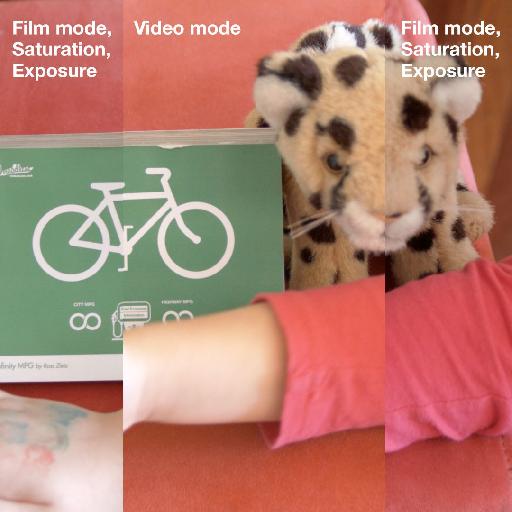 Video (in the center) with hand-corrected Film mode on the sides; no colors were changed, only exposure and saturation.
The issue has reportedly been acknowledged by Blackmagic staff and I'd hope to see a fix soon. In the meantime, correct your images from the Log-style Film mode as usual, and focus on making your images look good, not necessarily 'like Video mode'.
Correcting by hand
It's often possible to compensate for a flat profile manually. Here, I've used the Color Board alone, changing Exposure: Global + 35%, Shadows -39%, Midtones -36%, Highlights 0%, and Saturation: Global 0%, Shadows 66%, Midtones 32%, Highlights 0%. While the shadows and the highlights now cover the full range (as shown in the waveform) the image can still look a little flat. There's not a lot of contrast in the midtones, so you might still need to apply a contrast-enhancing filter of some kind.

Just a bit of tweaking in the Color Board.
One other issue: if you need to perform keying on your footage, a plug-in is still the easiest way to work. Color board adjustments apply after filters, so the Keyer will have a harder time than usual selecting the green screen in the shot. You could mess with compound clips, but a filter is easier.
Correcting with the BMF to Video effect
Antler Post-Production Services have created a new effect specifically for the Blackmagic Cinema Camera, to instantly turn Film mode footage back into Video mode. Still in beta, it uses the Conduit effects system behind the scenes and color science direct from Blackmagic Design. Besides the basic Film to Video conversion, many settings can be tweaked, including Exposure, Temperature, Tint, Saturation, Pedestal and more.

BMF to Video, default settings; very close to native Video mode.
You can use these to push even a dodgy-looking image to suit your needs, and the 10-bit ProRes files are very responsive. In many ways, you get the best of both worlds '" a quick fix with flexibility.

BMF to Video, with Matrix off and Saturation boosted.
It's worth noting that, uniquely, this plug-in uses an official Blackmagic LUT (look-up table) to perform the conversion, which is why it gives such close results. However, you may notice the 'orange reds' issue rearing its head. Antler have included a 'Matrix' option which, when deactivated, bypasses the official color matrix. If you switch the Matrix off, you'll need to use the Saturation slider to make the image pop, but the same 'official' exposure and white balance controls still apply. The plug-in is currently in public beta, so grab it here.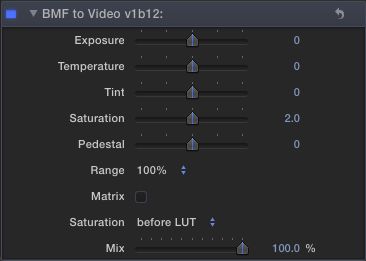 The BMF to Video sliders, with just the Saturation and Matrix tweaked.
Correcting with the BMCC DeFlat effect
An alternative is CoreMelt's BMCC DeFlat effect, which combines elements from CoreMelt's Luma S-Curve effect with Saturation, Brightness, Gamma and Contrast to get to a similar image.

CoreMelt BMCC DeFlat, with tweaked settings similar to previous results.
While it's entirely possible to get results very similar to BMF to Video's, the defaults tend to a slightly flatter, less saturated look. This is by no means a bad thing '" you may even prefer this look. The curve-based sliders here give more control over contrast than is possible with other effects, and you'll see an on-screen curve as you push the sliders.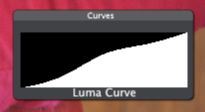 The on-screen curve appears while adjusting the sliders.
BMCC DeFlat and the companion DSLR DeFlat effects are both free (indefinitely) as part of CoreMelt Free.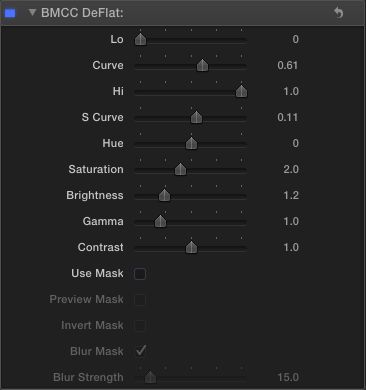 The CoreMelt DeFlat sliders, with a few tweaks.
Correcting with a handmade effect
In the earlier related article, we added a Clone Layer, set it to the Overlay blend mode, then added Brightness, Gamma, Hue/Saturation and Contrast filters to the main Effect Source layer. While this works well, you can also achieve interesting results if you apply Levels, Hue/Saturation and Contrast to the Clone Layer instead. Levels in particular opens up a whole range of color correction options.

The newer version of my effect, handmade in Motion, with custom slider settings.
The downside? More tweaking is required to get a good looking result.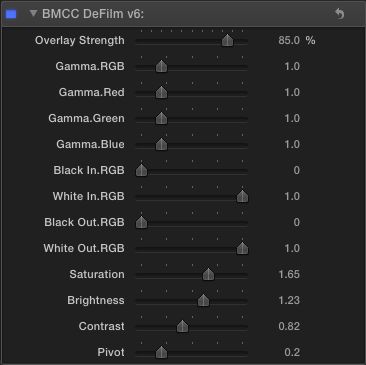 I hope you like tweaking.
Conclusions
I'm hardly an impartial observer, so I can't pick a winner here. Each of the plug-ins has strengths, and they'll all do the job to some degree. If pushed, the Antler Post plug-in is probably the quickest way to a clean image, while the CoreMelt plug-in offers more control over contrast. Both can be used alongside the Color Board, and one workflow is to use an Adjustment Layer to compensate for a flat image across the entire edit, while using the Color Board to tweak individual shots. I'll also keep my own plug-in handy for special occasions.
However you choose to work with flat images, don't simply leave them as they are. Uncorrected 'flat' video has the potential to become the next overused design cliché, and you'd to better to find your own way, using one or all of these solutions as a starting point. Best of luck!