Presets are all well and good but do you really know how each one is affecting the quality of your exported Final Cut Pro X videos? Here's an in-depth look at what's really going on.
Exporting and Sharing have been covered many times here, but since the advent of 4K, things have changed just a little and it's worth a quick recap. If you want more information on what YouTube or Vimeo are going to do to your file, read this article here. And if you want to know more about metadata and media management on shared files, read this. In this article, I'll show you how to get more control over your H.264 exports, because some of these options don't quite work the way you'd expect. If you're exporting 4K as well as 1080p, and especially if you're delivering files direct to a client, you might need to change your ways.
Understanding Share Destinations
Before you share, you should set up your presets as you like them. There are plenty of settings here, and a little bit of set up time now can save a lot of heartache later. While it is absolutely possible to tweak settings during export, it's not the best idea to do this routinely. This is because every time you export, any changes you make to your settings will be remembered. If you're not careful, this means that your Apple Devices 1080p setting, for example, could end up as a much smaller web hosting export. It's much better to set up dedicated presets now, and get the names right.
Here, we will be using the "Export File" share destination and variations of it quite a lot. Even if your final destination is online, the YouTube, Vimeo and Facebook options force you to keep Final Cut Pro open during the upload process. If your network isn't as fast as you'd like, this can mean abandoning an upload if you need to quit Final Cut for some reason.
To add a new preset, make sure Add Destination is selected in the left-hand list — it's at the bottom. Drag the Export File icon from the right-hand pane to the left-hand list to add a new preset. Click on the new Export File entry on the left to change its name (with Emoji, perhaps?) and then set your desired export settings on the right hand side. Note that the last option on the Apple Devices presets is to "Add to iTunes" which I set to "QuickTime Player" or "Do Nothing" instead.
Apple Devices vs Computer vs Web Hosting vs File
The Format option at the top of this pane is the most important place to start, and it governs two important things: the data rate and the container. We'll come back to data rate in a moment, but what's a container? MOV, MP4, MKV, M4V and AVI are common container formats that can store video data encoded in a variety of compression methods, or codecs. Importantly, the codec used to encode the video matters a whole lot more than the extension on the file, and all of these options use the same codec: H.264. Though H.264 is the most common video encoding method today, H.265 and VP9 are fighting the next battle.
Today though, FCP X exports (very quickly) to H.264, and it's fine for anything up to and including 4K. You can choose from a variety of containers, and while most devices can deal with any of them, some players, platforms and users can become confused when given something non-standard like a .m4v file. All other things being equal, .mp4 is probably the best supported and best known, but .mov has wide support too.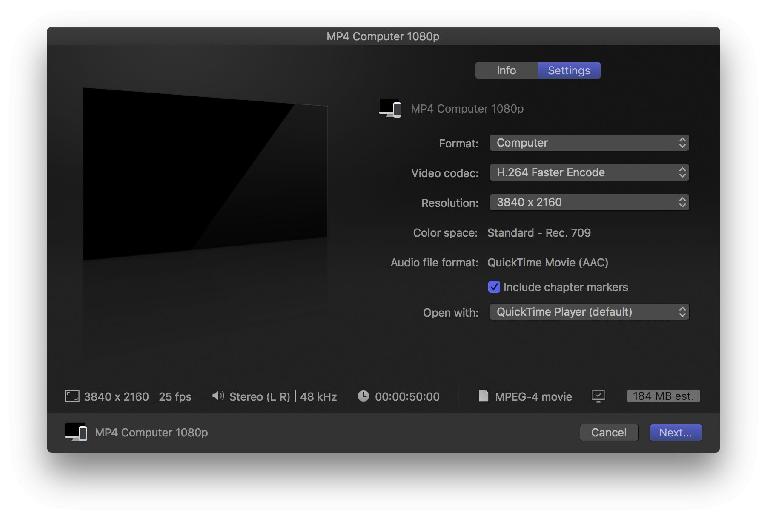 When you Share, confirm your settings by looking at the bottom of this window — "MPEG 4 Movie" means .mp4
When you export, you can look to the bottom of the window to see the file type that will be created, and an estimate of file size. In summary, though:
Apple Devices makes a .m4v.
Computer makes a .mp4.
Web Hosting and "Video and Audio" (on Master File, with codec set to H.264) both make a .mov file.
However, while the extension might not matter so much, the data rate certainly does.
Data Rate
Data rate is a measure of roughly how much information is used to encode the video data. This can vary depending on how complex the data is — a static talking head with a blurred background needs less information than a moving gimbal shot with deep focus. A data rate that's too low can show artifacting, especially when everything on the screen is changing.
That's more common than you'd think: a fade to black, moving water, or half a ton of confetti falling onto a stage can all cause an image to collapse into a field of chunky boxes. And yes, while YouTube and Vimeo are going to compress your video even further, if you give them a video that's already broken, they're going to make it even worse. You have to make sure the data rate is high enough for your content, and you'll need a higher data rate for a larger frame size. So roughly how much data does each option use, including audio? If you're exporting normal real-world moving video, you can expect data rates roughly similar to these:

• Apple Devices at 4K: 20Mbps
• Apple Devices at 1080p: 10Mbps
• Computer at 4K: 52Mbps
• Computer at 1080p: 21Mbps
• Web Hosting at 4K: 39Mbps
• Web Hosting at 1080p: 15Mbps
• Video and Audio (H.264 Master File) at 4K: 51Mbps
• Video and Audio (H.264 Master File) at 1080p: 13Mbps

Note that in previous versions of Final Cut Pro, some of those numbers were a little different, but this is accurate for version 10.5.2 in May 2021.
Note: the Master File "Video and Audio" option is a little different. Though you can choose H.264 as a codec, you can't change the frame size. To export 1080p from a 4K project, you'll have to duplicate the project and change the new copy to 1080p, which isn't hard but can introduce version control problems, and so isn't recommended.
Results
Everything looks OK at a casual glance, but a pickier viewer will see a loss of detail in the lower-sized files. Predictably, the more data rate (and resolution) that you can throw at an image, the better it will look. The 10Mbps options didn't look great, even allowing for their reduced resolution. The outliers in the data above were also predictable: Web Hosting at 4K looks worse than the other 4K options, and both Apple Devices and Video and Audio (Master File) at 1080p look worse than the other 1080p options. The Apple Devices 4K file looked great, but at five times the size of the Apple Devices 1080p file, you'd expect it to.
More options with Compressor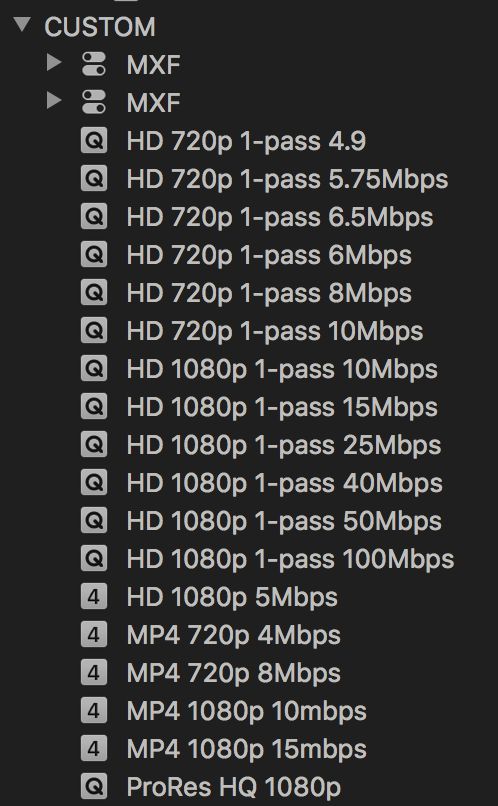 Creating a few custom Compressor presets can help when you need to deliver files at specific sizes
If you want to dial in your own data rate, you'll need Compressor. It's easy enough to make a new preset at whatever data rate you wish in your choice of container, then hook that up directly in FCP X to get your perfect setup — and it's just as fast. While that's beyond the scope of this article, let us know if you'd like to read about it, or take our video course here.
Conclusion
If your only destination is an online video service, then you need to remember that all your work will be compressed down much further. Still, uploading a cleaner file will give cleaner end results, so stay with the 30Mbps+ options for 4K. Avoid Web Hosting as 20Mbps isn't enough for 4K, and if you've got fast uploads, go for one of the 50Mbps options instead. If you only want to upload 1080p, use Computer for its 20Mbps — relatively high for 1080p.
No matter what settings you use, you'll get the cleanest results if you keep motion to a minimum. It might be dull, but a static or slowly moving shot will require far less data than a fast handheld shot. Constant movement invites artifacts — worth remembering before you become addicted to gimbals or drones.
Finally, remember that providing the absolute highest quality file isn't always the best move. Not all devices can handle high-quality files, and sometimes you'll just need to go with the best that a computer can manage, or the largest you can upload in a reasonable time. Pick the right settings for each job, and you'll keep your clients (and viewers) happy.
Learn Final Cut Pro X from start to finish in these video courses at
macProVideo.com