Motion is capable of creating plug-ins for FCP X that can greatly expand editors' abilities to achieve complex graphics without leaving the program. Iain Anderson explains how it works.
Motion is a great animation tool in its own right, though probably its most common use today is to create plug-ins for direct use in FCP X. By making complex tools available to editors, you'll streamline an editor's workflow and enable all kinds of new features.
In some cases, the Inspector is the best place to control these new titles, transitions, effects and generators. If there are more than a few options, the Inspector provides a consistent place to change them all at once. But for simpler plug-ins, on-screen controls (OSC) are the best option, and you can make them control any parameter at all. Let's see how
On-screen control basics
Many of the filters in Motion have on-screen controls, and it's easy to create a custom effect that uses one. Let's start by creating a new Effect in Motion. As usual, the Effect Source is a stand-in for the clip that this effect will be applied to. Click on it to make sure it's selected, then head to the Filters menu at the top of the screen, and choose Distortion > Twirl.
The warping that's added is pretty cool, and would be useful for warping things around like a flag in the breeze. There's also a center marker, a rotation handle and an outer circle that control the effect. In the absence of these on-screen controls, you'd right-click and publish the Amount, degree of Twirl and the Center of the distortion effect, and then these three controls would appear in FCP X's Inspector. But it's more fun (and easier) to simply check the Publish OSC box, then Save. I've called mine "Twirl" and saved in my default Experiments category of effects.
Controls in FCP X
Back in Final Cut Pro X, the Inspector is bare — Twirl offers no sliders and no checkboxes. But in the Viewer, the same on-screen controls that we saw in Motion are visible, and work the same way too. There is a downside — you can't keyframe properties if they don't have parameters in the Inspector. In this case, that's easy to work around by simply publishing the values that the OSC controls. In Motion, right-click on each of the parameter names Amount, Twirl and Center, choosing Publish each time. Save, then switch to FCP X. Delete and re-apply the effect, and you'll see parameters in the Inspector which respond to keyframing.
What can an OSC do?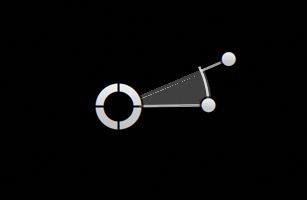 This odd duck is the Kaleidoscope
While the on-screen options with some of Motion's built-in filters are handy, it would be more useful to use these controls to control completely different things, like the position and scale of an object, or its color. It's important to note that you can't manually create original on-screen controls in Motion, but you can repurpose the existing ones. Which ones? Well, it depends what controls you're looking for, but:
Circle Blur offers a center and a radius'¨
Droplet and Vignette both offer a center and two radii, but three areas to drag (each circle and the space between)'¨
Twirl offers a center, a radius and a rotation amount'¨
Scrape, Stripes and Target offer a center and an angle'¨
Zoom Blur offers a center and an amount'¨
Directional Blur and Prism Blur offer an amount and an angle'¨
Gradient Blur offers two points joined by a line'¨
Relief offers two points joined by an arrow'¨
Kaleidotile offers transform-like controls, but with the angle controlled by repositioning the corners
These controls all have their own idiosyncrasies, and you'll need to experiment to get the right results.
Dummy objects and linking
To make an on-screen control do something other than control its own effect, you'll need to link its parameters to the object you want to change. To begin, in Motion, create a new Effect. Add the Sharpen > Unsharp Mask filter to the Effect Source. This is a sharpening filter that gives nicer results than the built-in Sharpen effect.
Create a new group, and call it OSC. Next, create a rectangle inside the group, and rename it Dummy Rectangle. This is the place where the OSC will live, but it won't be visible. Add the Blur > Directional Blur filter to the Dummy Rectangle, then hide the Dummy Rectangle by setting its opacity to 0.
Now to link the Unsharp Mask to the OSC. Select the Unsharp Mask, then right-click on the parameter name Radius and choose Parameter Behavior > Link. Drag the Dummy Rectangle into the Source Object well, then choose Filters > Directional Blur > Amount from the Source Parameter drop-down. In the Layers pane, rename Link to "Link Radius to Amount".
Doing this ties the radius of the Unsharp Mask to the amount of the Blur — how far that arrow is moved from the center. Since the Directional Blur isn't doing anything, that OSC is now just controlling the Unsharp Mask. Let's also hook up the angle controller, though.
Click Unsharp Mask, then right-click on the name of the Amount parameter and choose Parameter Behavior > Link once again. Drag the Dummy Rectangle into the Source Object well on this new Link behavior, then choose Filters > Directional Blur > Angle from the Source Parameter drop-down. Rename this new Link to "Link Amount to Angle".
Defaults and scaling
With the links in place, we're nearly done, but it's time to test. Each on-screen control has its own lower and upper limits, and negative values are possible with some filters too. The scale and offset properties in the Link behaviors will govern how far a user will need to drag to produce the results they're looking for, and you'll need to strike a balance between ease of use and detail. In this particular case, the default scale of 1 will work well enough for Link Radius to Amount, but increase the scale to 2 for Link Amount to Angle.
However, it's still a good idea to set up a good starting position for the angle and strength of the Directional Blur. I like a strong amount with a small radius, so I set up my OSC pointing left, but not very far from the center.
Finally, check the Publish OSC box in the Directional Blur filter. That's it — save as Unsharp Mask OSC in the category of your choice.
Gotchas
Before you jump too far into this, remember that FCP X already has excellent built-in on-screen controls for controlling scale, position and rotation of the whole clip, as well as rotation and position controls for 3D text — there's no point re-creating those for a title. Also, don't position your OSCs above text, because they'll obscure the text and you won't be able to edit them both.
Another aspect worth considering is that an on-screen control will be visible as an editor scrubs back and forth through a timeline, and these controls can prove a little visually distracting. The controls will disappear during playback, but that may not be an option for slow effects or complex 3D titles.
Finally, if you publish parameters that are linked, they can't be changed nor keyframed in FCP X. There are workarounds, but they're beyond the scope of this article.
Linking to 3D Text
Speaking of titles, it's worth noting that you can link the 3D position and rotation of an element that sits behind text to the text's rotation and position, but you'll need to hook up X, Y and Z separately for each one. The payoff is huge, though — elements will move and rotate as the text moves, using the built-in FCP X on-screen 3D text controls.
Conclusion
On-screen controls aren't trivial to set up, but they can make all kinds of FCP X add-ons more useful and accessible. Controls that sit on top of the viewer are more likely to be used, and that's a good thing for everyone. So long as you're not forcing a square peg into a round hole, definitely check them out.