2016 saw the Emoji reach a new level of acceptance outside of instant messengers and remote communication apps. In this curiously cool article Iain Anderson explores their uses by pro creatives.
Emoji definitely have their silly uses, but they can definitely be useful for practical purposes too. In many professional apps, you can draw attention to headlines, bring color where none has been allowed, and yes, make things easier to use. Why not bring a little bit of sunshine—sorry, ☀️— to your interfaces?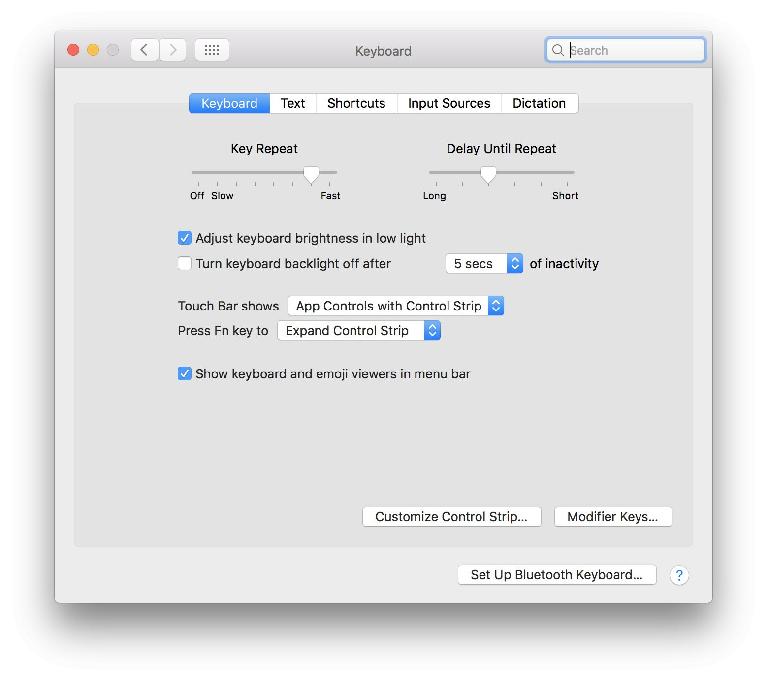 System Preferences: Similar, yet slightly different in macOS Sierra compared to Mac OS X El Capitan.
The Basics
First off, you'll need to enable the keyboard and emoji viewers. In System Preferences > Keyboard, under the Keyboard tab, you can check a box to enable them. In the menu bar, you'll now see a small menu which lets you pop up the Emoji and Symbols viewer.
The categories on the left let you switch between different sets of symbols, though only the emoji are in color. I've written about the non-Emoji Unicode symbols before, in this article so I'll mostly focus on emoji here.
Choosing emoji on the left lets you choose one of several categories just to its right, spanning Smileys & People all the way down to Flags. To type one of these characters, position your insertion point where you want to add the emoji, then double-click it in the Emoji palette. An alternative is to simply keep a document with all the common emoji handy, then copy and paste them as needed, or pick up a new MacBook Pro with Touch Bar that makes typing emoji a breeze. Note that each OS update brings new emoji, and if you're still on El Capitan or older, you won't see them all.
Why Bother with Emoji at All?
Because these characters can be used (almost) anywhere that regular characters can, you can include them in all kinds of contexts that have previously only been home to underscores, exclamation marks and spaces. The color of most emoji helps them to stand out far more clearly than regular text, for one. And while they're small, the old adage of a picture telling a thousand words rings true—a warning symbol ⚠️ or a green tick âœ... gives a lot of information in a small space.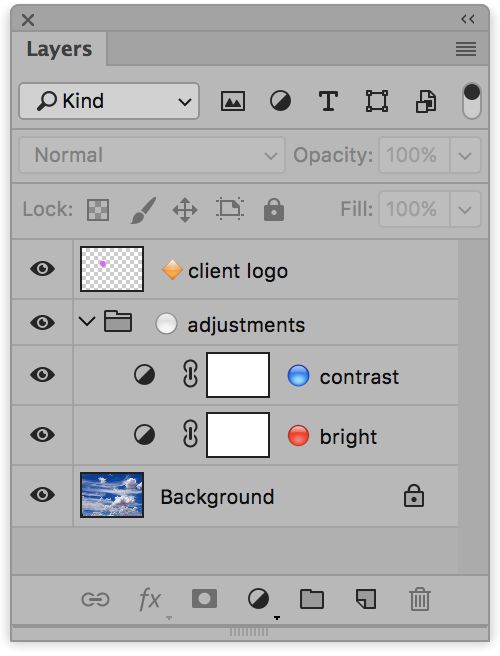 Those colored dots grab a lot of attention.
Photoshop Layer Names
You always name your layers in Photoshop, right? Right? Well, how about using colored dots or diamonds to mark important layers or layer groups? The red dot is a great way to grab some attention, and there's a blue dot, an orange diamond and a blue diamond too.
⚪️⚫️ðŸ"´ðŸ"µðŸ"¶ðŸ"·
If you're an educator, this is a great way to draw attention to a particular layer within an image.

I promise never to write "FINAL FOR SURE v2a" again.
Marking Approval Status in Layer or File Names
Ticks and crosses are found in a few places, and you can use them wherever you might be tempted to write APPROVED, REJECTED or TO CHECK. Instead, use âœ..., ❌ or ⚠️, or perhaps one of these: âœ"️✖️?⁉️'¼ï¸âŽ.
Identifying Different Languages in InDesign Layouts
If you're working on a multi-language document, you might have chosen to put the graphics on a single layer, then put each language's text on a separate layer. That's easier than ever, because you can now easily identify the 🌄 graphics as well as the 🇺🇸🇬🇧 English, 🇫🇷 French, 🇩🇪 German, and so on. These will make layers easier to spot at a glance, and make mistakes easier to avoid.

Priorities made simple
Blue Numbers in File or Folder Names
While regular numbers of course work just fine, if you want numbers that stand out (for versions or priorities) there's a sequence of blue "keycap" emoji:
1️⃣2️⃣3️⃣4️⃣5️⃣6️⃣7️⃣8️⃣9️⃣0️⃣
Related non-numbers include arrows, media controls and more:
ðŸ†-🆙ðŸ†'🆕ðŸ†"⏹⏺▶️⏸ðŸ""â-€ï¸âž¡ï¸â†–️↔️↩️
There are also similar keycaps in different colors that you may find useful:
ðŸ'ŸðŸ†šðŸ...°ï¸ðŸ...±ï¸ðŸ†˜âœ³ï¸â‡ï¸
Parameters in FCP X Plug-Ins Made in Motion
If you're making your own FCP X Effects, Transitions, Titles or Generators in Motion, you'll be publishing some parameters. Any of them can include emoji as part of their published names, and while you'll want to stay away from the more detailed icons simply due to their small size, there are several potential options if you want your parameter names to be a little more internationally recognizable.
🎲 Random Seed
🚀 Movement or Speed
ðŸ'¡ Ambient Light
ðŸ"¦ Directional Light
✨ Shine
ðŸ'¨ Wind
⏱ Timing
And you don't need to be that explicit. More colorful, circular icons can help to simply color-code your parameter groups, like these:
ðŸ"´ðŸ"µâš«ï¸âšªï¸ðŸ"˜â­•ï¸
Roles in FCP X
Sure, you could identify subroles by their character names. But why do that, when your femme fatale could include ðŸ'‹? Or the Queen with 👑? The sports star with 🏀? Or a separate character for every member of a family 👶🏻👦🏻👦🏼👧🏻👨🏻👩🏻👵🏻👴🏻? Explosions get ðŸ'¥ and scratch audio gets marked withðŸ'©. Some people like using the 🍌, and more power to them.
These names can appear in the timeline and in the timeline index, and can actually prevent a costly mistake as they're much more obvious when doing a complex export. You can also include emoji in file names or other metadata if you like.
Share Destinations in FCP X
If you have to teach your staff which Share settings to use, you can just include green ticks âœ... in the names of your preferred options.
Keywords in FCPX
What could be more convenient than a 👍 on shots you really have to use? A ⚠️ on shots that haven't been cleared yet? Best of all, how about a ðŸ...±ï¸for B-roll? You can then skim through the Timeline Index and instantly spot shots that shouldn't be in the edit, or where the hero shots ended up.
A Few Bonus Uses in macOS and iOS
Contact names: Give your loved one a ❤️ as their middle name. If you know any photographers, editors, plumbers or doctors? Add a ðŸ"¸, 🎦, 🚰, or ðŸ'Š. It really can make their name easier to find in a long list.
Folder organization: Give your folders icons, not just names. Games get 👾, maps get 🌎, camera apps get ðŸ"·.
Conclusion
Emoji's not just for teens, and not just for fun. You can actually enhance all kinds of pro apps with a splash of color, working alone or in a workgroup. Unicode can provide many kinds of mathematical symbols and arrows, and custom fonts (when they're an option) can provide any kind of dingbat you want, but for a bit of color? Emoji's the only way to go.