Are you involved in creative tasks that cause you to rely on accurate screen calibration? Iain Anderson is here to dispel the myths and fill you in with secret tips and tricks.
Screen calibration describes your display's capabilities in a device-independent Lab color space. What's the point? Well, if you're doing print work, it's critical. And if you're doing screen work, it's almost as important. Without calibration, there's no way to know what you're really looking at. With calibration, you can be sure that all your screens are at least roughly in line with one another, and as close as they can be to an independent ideal. Let's take a look.

Software Calibration
This is better than nothing, but not much. In System Preferences, in Displays, under Color, press Calibrate to get started, then take a quick tour through a series of sliders to change the gamma curve and color response of your screen.
Just the beginning
Activate Expert Mode, and in a few steps, you have the opportunity to change how your screen displays everything.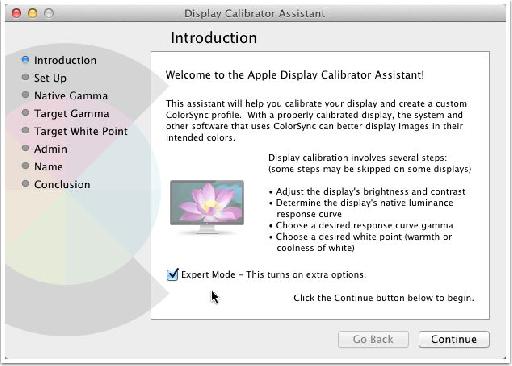 If you've come this far, you might as well do a slightly better job.
Moving the control on the left changes brightness (the Gamma curve) while the box on the right affects color tint. The problem is that the control on the right is very difficult to get perfect. Ideally, you're in a room with controlled lighting and grey walls with a grey desktop picture, which will... hang on. You're in the real world instead? I guess we'll just wing it.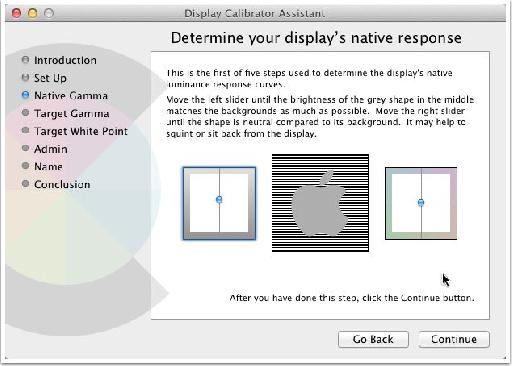 This is the most important step, but the hardest to get right.
After this, choose a Target Gamma of 2.2. Macs once used 1.8, but PCs have always used 2.2, and Macs shifted to this standard a few years back. It's easier if we all agree, and this means that you'll see images at roughly the same brightness as everyone else.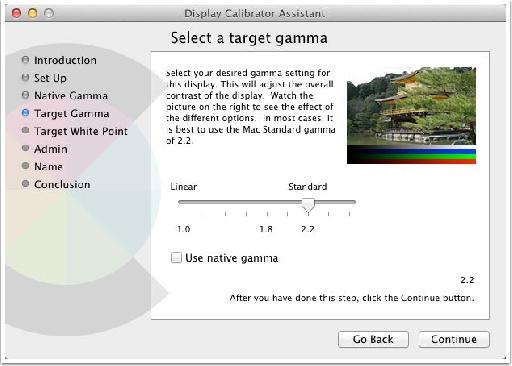 Target Gamma 2.2 is what you want.
After saving, you might have a better result, or you might not. The subtlest, trickiest part of it all '" getting the color right '" will likely not be dead-on. Still, it's a useful process to go through in a couple of situations:
your Mac is plugged into a TV, and you can see too much or too little of the shadows '" this will have fixed it

your Mac is plugged into a projector, but the highlights are completely blown out '" this will help, at least

For something better, we'll need to jump to a hardware calibrator.
Hardware Calibration
This is a hardware device '" essentially a weighted, small, color-accurate camera that looks at the screen '" with accompanying software that calibrates for you. That software is critical; I have an 'eye-one display 2' from X-Rite that was useless for months after OS X Lion was released, and even the replacement Lion-friendly software has now been abandoned. It still works, but for how long I cannot say.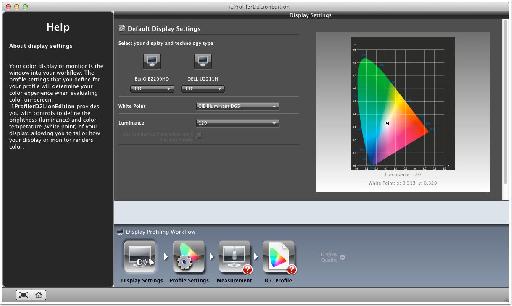 Pick a monitor, hang your dongle, and get going.
At least it does still work, and the process is pretty painless: plug in the calibration device, position it on the screen, start measurement, adjust brightness if requested, then save. At the end of the process, whites should actually be white, and greys grey. Give your eyes a little time to adjust to the new, accurate view.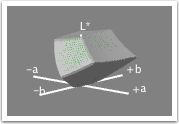 Now you know what your screen can do, in Lab space.
Why bother?
By calibrating, you tell the system how your screen responds. That lets color-aware apps (many of them these days) display colors that should be more accurate. In Photoshop (and the rest of the Adobe suite), it helps keep colors on one screen looking the same as colors on a printer, or colors on a different screen. Knowing how your display responds can affect how changes between color modes takes place, and it's also essential to soft proofing in InDesign.

InDesign's Proof Setup can simulate any device you want.
In Safari, iPhoto, Aperture, Final Cut Pro X and many other color managed applications, your display profile affects how all images are displayed. If you're doing any kind of color correction or grading in still or moving images, you must do this on all your displays, to set a common baseline among them.
While it's true that you can't control other people's devices, by minimising the differences between your own displays, you can at least make a start. You can even lend your calibrator to your clients, so they're seeing something closer to what you're seeing.
Special Effects
One last trick. If, for example, you wanted to view footage from a camera that recorded using a flat picture profile, you could create a display profile that compensated for it, by pushing the lighter 'native gamma' sliders up and the darker ones down. If you're watching TV, 'accurate' does not always mean 'pleasing'. In any case, the calibration sliders can be much more powerful than the options in your TV's menus. It's worth taking a look at.
Conclusion
If you work with digital images, it's worth being able to tell your clients that what they're seeing is the most accurate representation of your work. Handily, you don't need to calibrate every day, so perhaps you could share a calibrator with a friend or two, rotating it around monthly. It's worth it, though. Without calibration, you're just guessing, and eventually, that's not good enough.