Apple's iMovie has always been targeted at the consumer video makers market. But don't let the low price tag or the fact iLife is bundled free with every new Mac fool you. iMovie '11 packs a powerful
Apple's iMovie has always been targeted at the consumer video makers market. But don't let the low price tag or the fact iLife is bundled free with every new Mac fool you. iMovie '11 packs a powerful punch when it comes to video editing. Practically every editing function can be applied in real-time, which is enough to make hard-core Final Cut users (myself included) look on with envy.
Although iMovie '11 sports a virtually unchanged interface to it's predecessors, Apple have added extra features to make creating movies for any purpose easy and fun. Advanced audio editing, new themes, storyboarding, new transitions and even a Timeline... are some of the note worthy additions. So, if you were hanging onto iMovie HD 6 out of preference for working in a Timeline, then now is a great time to see what iMovie '11 can offer you.
We here at macProVideo have picked out five of our favorite new audio editing features in iMovie '11 to share with you. These are not necessarily the ones that have generated the most attention, but ones that have made our lives easier!

It's About Time
Before we delve into the Advanced Audio Editing features let's take a look at how to turn iMovie's clip view into a Timeline. The Timeline just makes iMovie feel more like a professional Video Editing Application.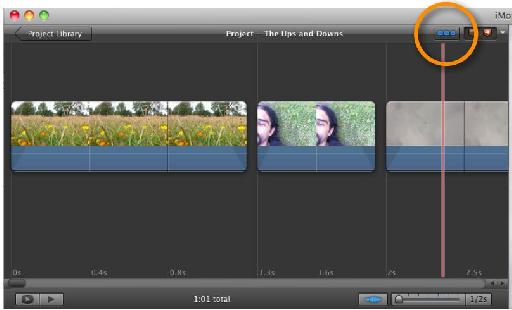 Click on the 3 blue dots icon in the top right of the Project Window to toggle between single row or multiple row clip display. In single row clip display the Timeline is visible and the clips are laid out from left to right. Hooray!
01 - What you See is What you Hear
This is really two tips in one. First off, wouldn't it be great to be able to see the audio waveforms in the Project window and the Event windows? Done!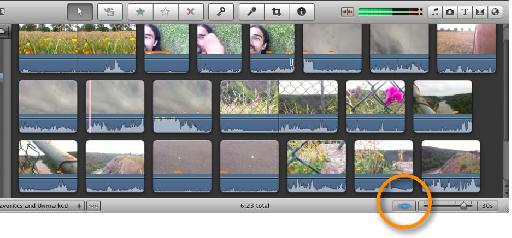 Clicking on the Audio Waveform button next to the Zoom Slider in both Project and Event windows displays the audio waveform for video clips and audio clips. Although seemingly a small feature, it's so useful when editing a clip to see the waveform as well as hear to it!
02 - Quick Gain Solution
This ability to view the audio waveform under each clip brings another cool feature to the fore. Again, simple but very effective! In the Project and Event windows you can drag the horizontal line in the Audio waveform area up and down to adjust the level of that audio clip only.
As you can see in the image below, I've increased the level of the audio to 133%. The waveform has updated in realtime - and further information is visible too. The red areas of the waveform are warning us that section of audio is likely to clip and sound distorted. Very useful to see this advanced info at a glance!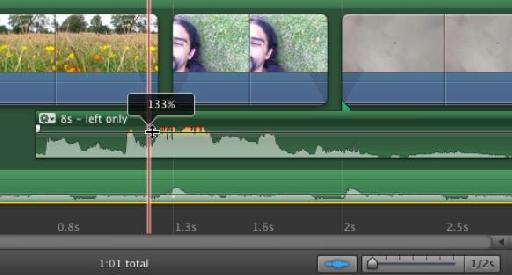 Adjusting audio levels for a section of clip is also easy. There are times when the odd word or sound needs to be removed or it's level attenuated. There's no need to split the clip. Instead drag a yellow selection area over the audio waveform you wish to edit. Then drag the horizontal audio level line up/down to adjust only the level within that yellow section. A fade in and fade out will be automatically created on either edge of the yellow selection area.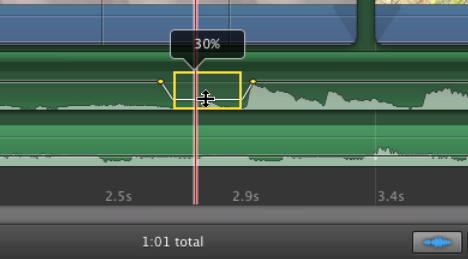 03 - Getting a Handle on Audio
Wouldn't it be great if you could drag at the beginning/end of a clip to create a fade in/out? Yes, it would be, and yes it can be done.
Position the mouse cursor over the left or right edge of a waveform clip in the Project window. A white anchor will appear.

Drag that to within the clip to create a fade in or fade out respectively. Again, the audio waveform view updates in real-time to show the levels. This is sweet!

04 - All Things Being Equal
Double-clicking on a video clip with audio or an individual audio clip displays the Clip Inspector. Select the Audio tab and one of the new features in iMovie '11 becomes apparent. The Equalizer. You can turn the Equalizer on or off and choose from custom presets to enhance voice or music, reduce hum, boost bass or treble or reduce the bass or treble. But the most exciting aspect is the inclusion of a 10 stage Graphic Equalizer which allows you to adjust certain frequencies of the audio spectrum manually.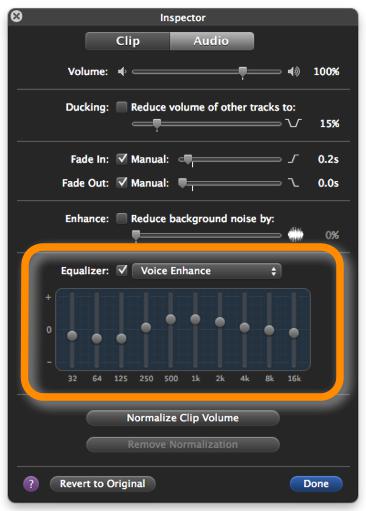 05 - Extreme Audio Effects
Need to add an effect to your voice over, background sound or music? Previously Garageband or another audio editor would have been needed, but in iMovie '11 there are some fun effect presets that might save you the round-trip.
Double-click on any clip to view the Clip Inspector, and make sure you're in the Clip tab. click on the Audio Effect button to view this HUD below.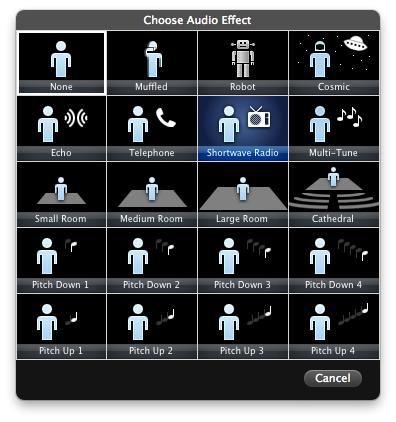 Roll your mouse over the different effects to hear them playback in real-time. Click on one to apply it to the clip or choose None if you'd prefer not to apply an effect at all.
They say video is two-thirds audio, so these enhanced audio editing features in iMovie '11 are there to help your video sound as good as it looks and impress your audience with it's professional feel!
Share your audio or video editing tips with iMovie in the Comments below and check out our iLife and OS X range of tutorials!