Learn why working with color palettes before you get into InDesign can help when inspiration is not on hand. David Smith gets down to creating some interesting swatches.
Whenever I'm staring down the barrel of a blank document, waiting for the inspiration fairies to cast some magic my way I'm always grateful that I had the good sense to sort my color palette out first. There are a couple of reasons for this:
Having a set color range and sticking to it helps keep a consistency to the design and prevents any over-exuberance with the color theme.

It focuses your attention on details and makes selecting colors for styles, backgrounds, etc. that bit easier and faster.

Think of it like being a kid in a sweet shop (candy store) but only being allowed to chose from one shelf, disciplined, easier and in the long run a great timesaver.
So here's how you can help yourself in that sweet shop (candy store).
Step 1 - Create a new Swatch
Open the Swatches Panel and from the pop-up menu select New Color Swatch.
Using the Color Mode Menu set the Color Type as Pantone Solid Coated and type "504" in the search field. This reveals a Burgundy color. Then click Add to add the color to your swatch panel.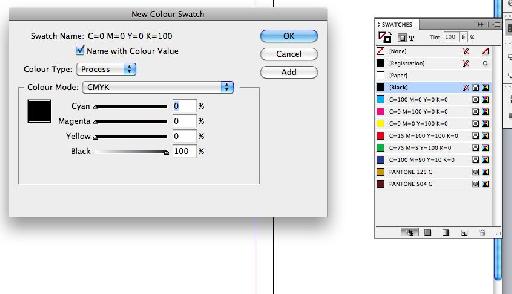 Swatch creation.
Now type in "125" to reveal a warm yellow. Add this to your swatches in the same way. Click Done to close the New Color Swatch window.
These 2 colors belong to the Washington Redskins football team (or so my research tells me). I like them (the colors, not the team. I'm British, to me it's not even proper Football!) so that's what I'm using for this article.
We have 2 corporate colors, 4 if you include Black and White as base colors. That's not going to create a particularly exciting document and really limits my options. So to give us another option, but without straying from the Redskins corporate identity, let's mix these colors together to produce a 5th option.
Step 2 - Mix them up
Return to the Swatches panel and from the menu select New Mixed Ink Swatch.
A window appears with the 4 process colors CMYK as standard, plus our 2 new additions to the swatches panel PANTONES 125 C and 504 C. Using this menu we can mix any number of the 6 colors together to create new swatches.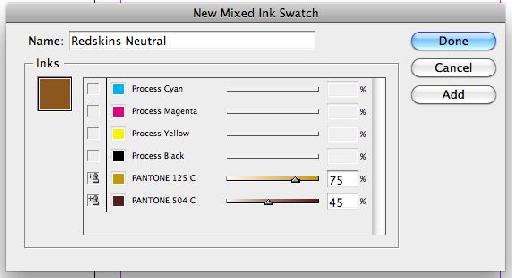 Mixed ink swatch.
Click in the small checkbox next to Pantone 504 C and Pantone 125 C to select those 2 colors for the mix (make sure no other colors are added).
Using the percentage sliders next to each color set the 504 C value to 45% and the 125 C value to 75%.
This has generated a slightly paler, more neutral hue of Gold that could be used to complement or emphasize the 2 pantone colors perhaps as a stroke color for instance.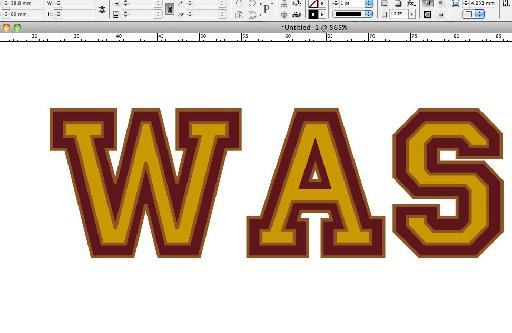 Example, gridiron text.
In the name field type 'Redskins Neutral' and Click Add to add this color. Choose Done to close the window again.
By now you're thinking about how many other mixed ink swatches you might need for your project. Which might take a bit of time to pull together using this method. With that in mind it's now time to start picking up the pace.
Step 3 - Mixed Ink Groups
A Mixed Ink Group is based on a similar process as a Mixed Ink Swatch, but it removes a lot of the legwork for you.
Open the Swatch Panels menu again and this time choose New Mixed Ink Group.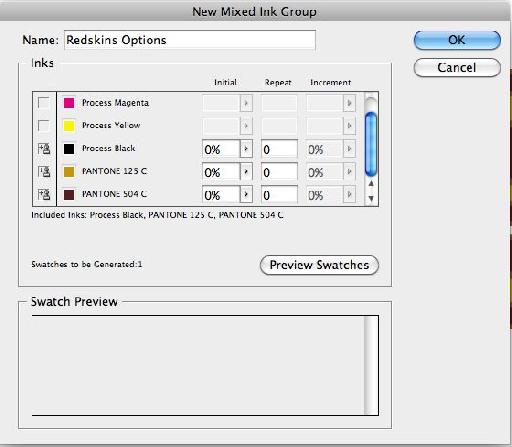 Mixed ink group.
Name the group 'Redskins Options' and using the same checkboxes as before, add Pantone 504 C and 125 C to the mix. This time also add Process Black as a Third option.
Next to each color are a list of options. These are:
Initial: The minimum value of that color that will be added to every mix.

Repeat: The number of times the mix will be re-mixed.

Increment: How much of the inks value will be added to each repeat.
So for example, if the initial value is 10% and the repeat is 2 the the increment can be no larger than 45% as 10%+(2x45%)=100%.
Tip:Watch out that the formulae you generate doesn't exceed 100% or else you will get a warning message instead of a color group.
Try setting your values to this:
Process Black:

0%

1

10%

Pantone 504 C: 10%

2

50%

Pantone 125 C: 10%

2

50%
As you can see this will produce 18 swatches. Click Preview Swatches to view them. All 18 colors are variables of Black, 504 C, and 125 C mixed in various amounts creating a similar but still different range of colors in the same theme.
Tip: Try adjusting the formula to preview different colors, but don't spend all day trying to decide...
Click OK to add the color group to the Swatches Panel.
Step 4 - Be selective with your Swatch Colors
18 colors is probably more than you actually need. Also consider how many of the colors are similar, and would be indistinguishable on the page. So let's whittle this group down further to just those few that make the grade.
The swatches panel now looks like this: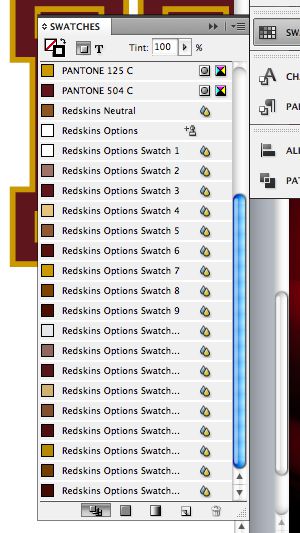 Swatch groups.
All the colors you have created by mixing have an icon that looks like two ink drops next to them. This indicates that they are mixed colors.
Tip: hovering over the droplets icon reveals a tool tip with the color mix values.
Choose a lighter mixed color that you intend to use in your document. Right-Click on the chosen swatch and choose Swatch Options from the menu.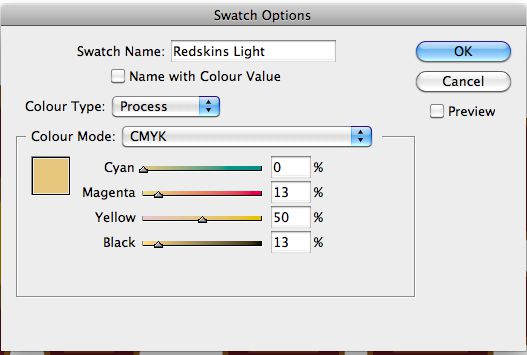 Swatch options.
Name the swatch 'Redskins Light' and change the Color Type to Process and the Color Mode to CMYK. Doing this will change the swatch type to a normal process color instead of a mixed ink color. This is an important step as you will see.
Do the same for 5 more colors, remember to vary the hue and tone of each one (don't forget to convert the mixed ink swatch you named 'Redskins Neutral' back in step 2).
Step 5 - Remove unwanted swatches
OK, so now the group can go. We don't need it as it's full of colors superfluous to our design needs anyway.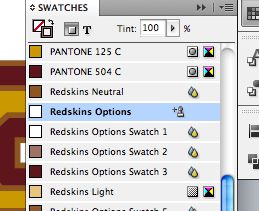 Swatch group selected.
In the swatches panel select the Swatch Group you named 'Redskins Options' and click on the trash can icon at the foot of the Swatches Panel to remove the group.
All the mixed ink swatches are removed in one click, leaving only those you converted to Process colors in step 4. The colors you could see you wanted to keep.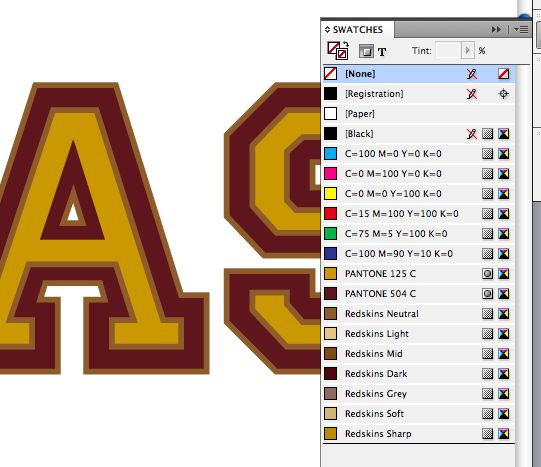 Edited swatches.
Step 6 - Save and Share the Swatch
To avoid having to do this again for any Washington Redskins projects you may have in the future export this document's swatches as an ASE (Adobe Swatch Exchange) file. That way you can reuse it in InDesign, Photoshop or Illustrator over and over again.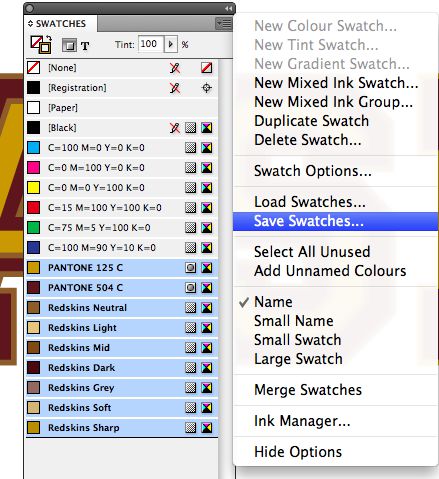 Save swatches.
In the swatches Panel select all the Redskins colors you have added and from the menu choose Save Swatches. Name it "Redskins" and save it somewhere you will later find it.
Of course you might prefer to try a different team's colors instead. The San Francisco 49ers, for example, use PANTONE 187 C and PANTONE 872 C.
The important thing is that you now have a perfect color palette to start you off that complies with a corporate identity and makes your design choices a little easier. And that's no bad thing now, is it?