In this article, Adobe expert David Smith, shares his InDesign workflow tips on how to work effectively with text formatting options within text frames. What every layout artist needs to know!
Text frames are a fundamental part of InDesign's workflow, for without them what would InDesign be? In this article I'm going to help you get more out of text formatting by showing you some techniques for formatting text frames as well as the text styles. Using both Frame and Style formatting adds to the quality and look of your documents and make the design process more effective and efficient.
Step 1 - Create a Basic Paragraph Style
Press Option and click on the Add New Paragraph Style button (this opens the style editor immediately rather than double clicking on Paragraph Style 1).
Set a style using 12pt Sans-serif black text, nothing fancy. Name the style "Body Text":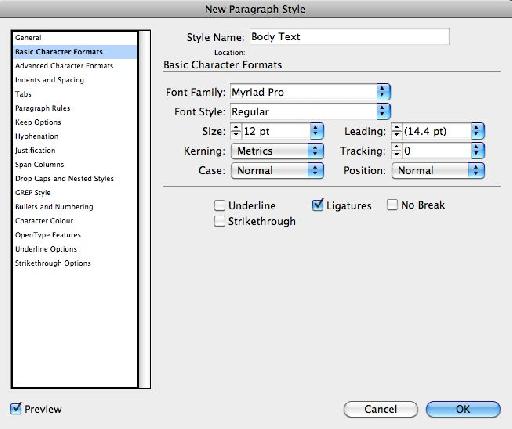 Basic style setup.
Step 2 - Create a Second Style
Hold down Option and click on the New Paragraph Style button again.
This time in the General category set the Base on option to Body Text. This makes this new style look the same as the first.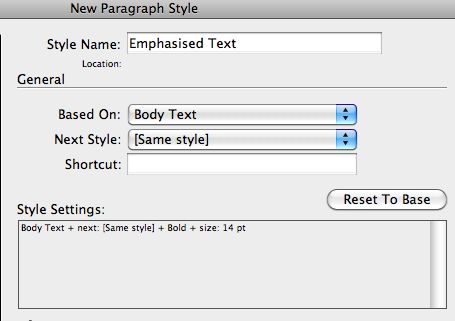 Text options change.
Then set the font size to 14pt and style to Bold. You might also opt to change the font color. I haven't this time. Name the Style "Emphasised Text"
Do not set any other parameters. This method ensures that both fonts remain similar, but with a few slight differences. It saves a lot of time setting up text styles with a common theme.
Step 3 - Draw 2 Text Frames
On the page draw a text frame that is 10 cm wide and 20 cm high.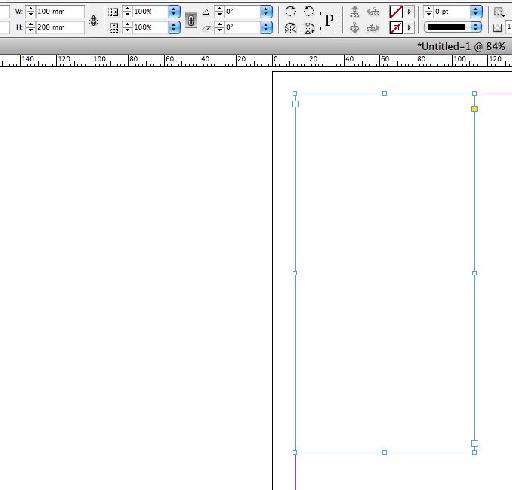 Text box, 10x20.
Then repeat to make 2 separate frames on a page.
Step 4 - Fill with Text
Open each text frame in turn and choose Type > Fill with Placeholder Text to fill each frame with text.
Step 5 - Apply Styles
Click 5 times in the first text frame using the type tool to select all the text and apply the Body Text paragraph style.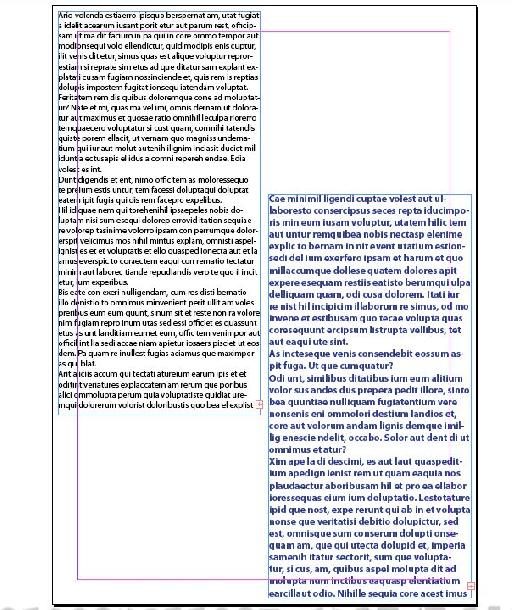 Styles applied.
Do the same again for the second box and apply the style Emphasized Text.
Step 6 - Open Text Frame Formatting
Select the first text frame and choose Object > Text Frame Options or press Command - B.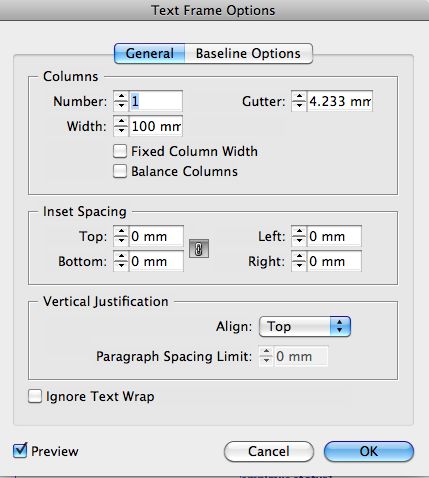 Text frame options.
Step 7 - Set Text Frame Options
Set the options so your menu looks like this: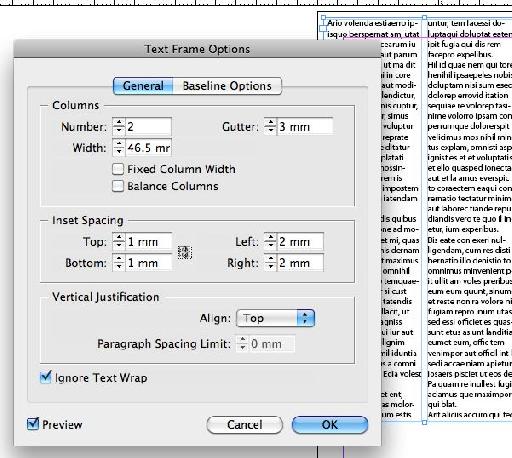 Set options box 1.
Tip: Make sure the Preview checkbox is checked so you can see what is happening on the page as you make changes.
Repeat steps 6 and 7 for the second frame and do the same, only try and vary some of the settings a little, for example make 3 columns perhaps.
Some of my favorite options available here are Ignore Text Wrap. This is a great one when a picture's wrap might be affecting a heading for example. It saves having to modify the Text Wrap to be one side only for instance.
Step 8 - Apply a Baseline Option
In order to make sure any text frames that are not aligned horizontally contain text that is aligned horizontally (a common problem on a double page spread), we need to align the Paragraph style to the Baseline.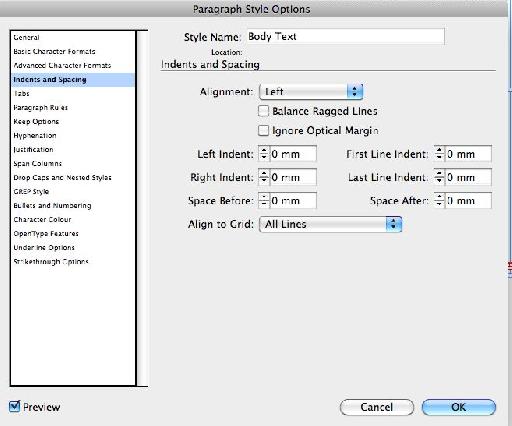 Baseline option.
Open the Paragraph Style Body Text and in the Indents & Spacing option choose Align to Grid > All Lines.
This makes all the lines sit on the document baseline. And as we set the Emphasised Text style to be based on Basic Text, both styles comply with this option. Another benefit of basing styles on others.
Step 9 - Fix Baseline Errors
As you can see the Baseline has caused the text to double space, this is because the baseline is set by default to a smaller size than the Fonts Leading size allows. To Overcome the conflict the text double spaces lines.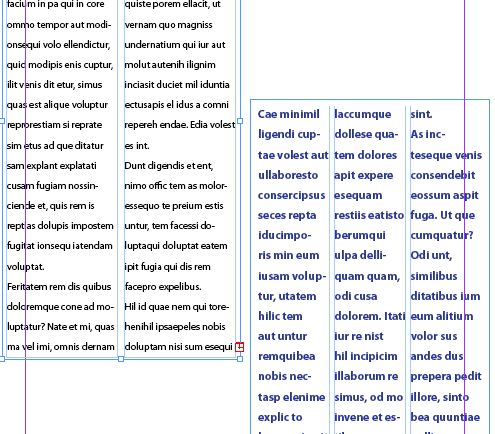 Broken lines.
This time, right-click on the first text frame and choose Text Frame Options (another way to open the formatting options).
Click on the tab marked Baseline Options and set a custom baseline for the Text Frame of 14.4pt (this will ensure the Leading for the 12pt Basic Text font and the Baseline match). This will fix the problem for the first text frame.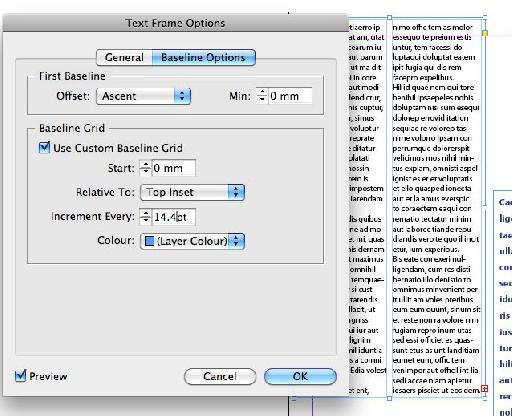 Advanced settings.
Repeat step 9 for the second text frame, only set the custom baseline size to 16.8pt for the 14pt font used in Emphasized Text. And you're done!
Hopefully that's given you the confidence to experiment more with your text formatting using Styles and Text Frames.