When it comes to producing beautiful character and typeface styles, InDesign has plenty to offer! David Smith shows how to create the stylish Block typeface effect in Adobe InDesign.
If you have used them, you will have an understanding of just how important the use of styles (in this example character and paragraph) can become to your workflow. In this article we are going to push those workflows just a little further by creating a look that is one of my favorites.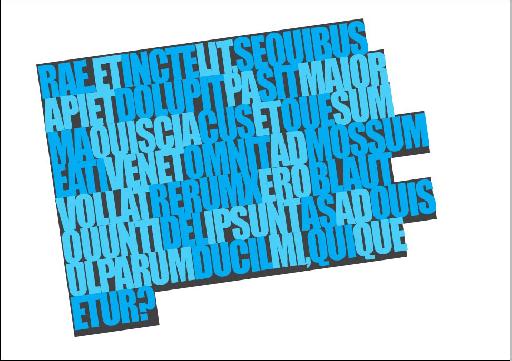 Admittedly it's one that was quite 'On Trend' a few years ago, and isn't used all that much just now. That will all change again once you've started to re-introduce it, having first read this article. Long live the Block typeface comeback!
Step 1 - The Master Character
I always like to start my typography with what I call the Big Daddy. The font settings that all other font settings will hang off, like some big font based DNA family tree.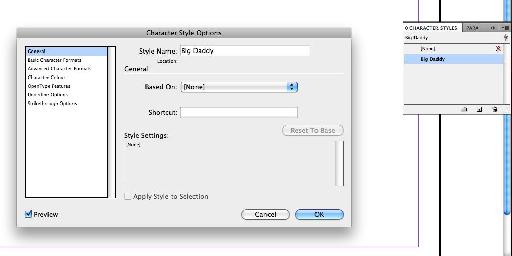 Open the Character Styles panel or press Shift-Command-F11 and create a new Character Style. Name the style 'Big Daddy'.
Step 2 - Format the Basics
I've set the font to Impact (anything that fits the description of heavy set san-serif would do) and the size to 70pt. leading to only 55pt and I've reduced the tracking to -45.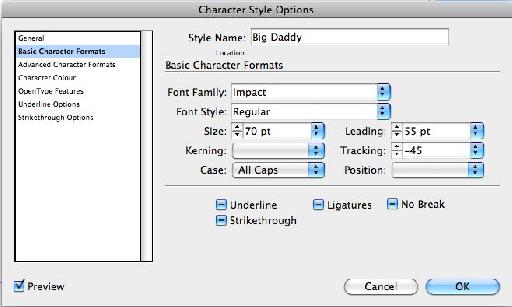 I've also changed the Case to All Caps, in the Advanced Character Formats menu, the Horizontal Scale to 88% and finally the Character Color to Cyan (100%).
This will have the effect of compressing the letters of the style together horizontally and vertically, creating the block text look.
Step 3 - Create an Alternative Character
This step is very easy, we need to create a slightly different font, in order to differentiate between the individual words in each sentence and paragraph, as we are going to remove the conventional spacing we'd normally rely on.
Create another new Character Style and call this one 'Big Junior'.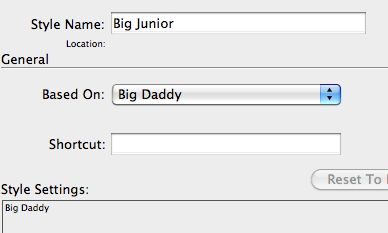 Under the General options for the style, base Big Junior on Big Daddy, that way you don't have to format any settings for Junior in order to make them look the same.
The only formatting needed here is to change the Character Color tint to 50%.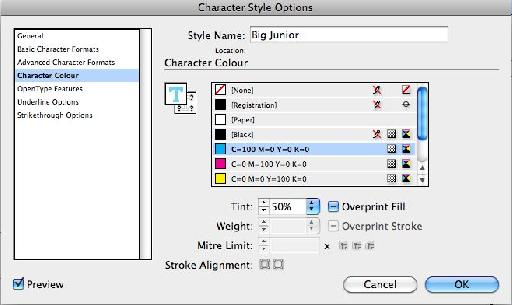 Step 4 - Set up the Paragraph Style
The next stage is to format a paragraph style that will control the overall look of the text, included will the 2 character styles embedded into it.
Open the Paragraph Styles panel or press Command-F11 and create a new style named 'Block Text'.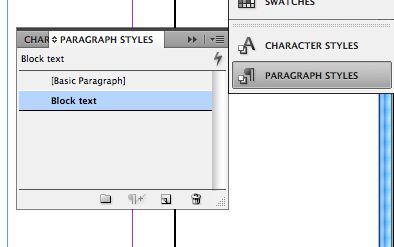 Don't do anything to the character options in the Paragraph Style Formatting window. Instead we will use the Character Styles Dig Daddy and Big Junior we created earlier.
Step 5 - Embed the Character Styles
In the Drop Caps and Nested Styles options click on New Nested Style and choose Big Daddy from the drop down menu. Set the Nested style to Through - 1 - Words.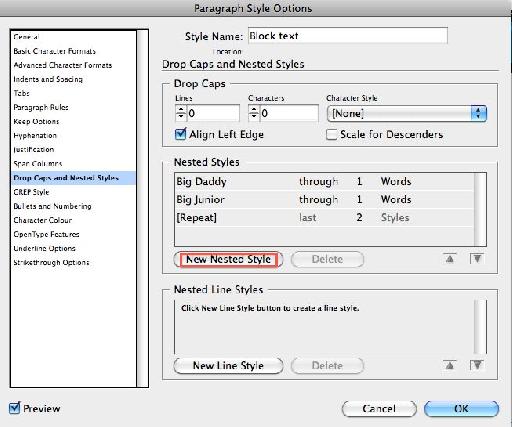 Add a second nested style and set it to Big Junior Trough - 1 - Words. Then finally add another New Nested Style and set that one to Repeat.
This will embed the 2 Character Styles into the Paragraph Style so that each one is applied alternately to each word in each paragraph. This saves all that wasted time selecting each word and applying the correct Character style individually.
Step 6 - Format The Paragraph Settings
Now that the Character Styles are embedded, and thus looking after the characters, the Paragraph Style is free to focus entirely on the formatting of the Paragraph itself.
In the example I showed you at the start of this article there was no clear spacing between each word. To achieve this open the Justification options in Block Text.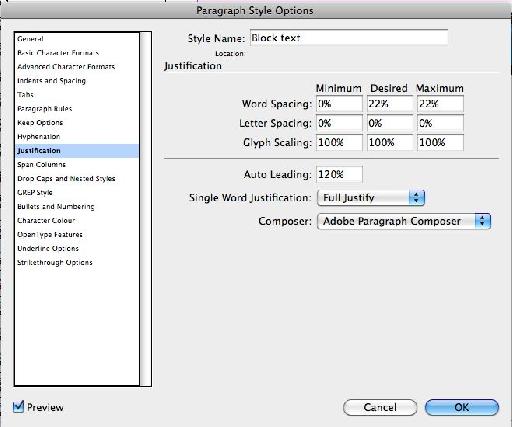 Set the Word Spacing so that it reads Minimum 0%, Desired 22% and Maximum to 22%.
By doing this any use of the Space Bar will result in a space that is only 22% of it's normal size.
Tip: If your using a different font or font size then you might need to experiment with this setting. But for Big Daddy's formatting it will look great.
Step 7 - Preliminary Testing
On your Document draw quite a large text frame and fill the frame with Placeholder Text: Type > Fill With Placeholder Text. Apply the Paragraph Style 'Block Text' to the text frame.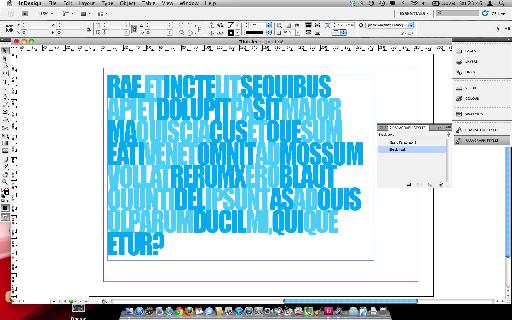 You might want to ensure that one of your character styles hasn't already been applied by opening the Character Styles Panel and making sure its set to None.
Step 8 - Add some Background Fill
To finish off our block text look, we need to add a black background behind each word. This would be instead of creating a color background via the text frame, which would create a rectangle around the text.
Open the Paragraph Style Formatting options for the style names Block Text again.
Using the Underline Options, check the box next to Underline On to enable underlining. Set the weight to 70pt and the offset to -24pt. Keep the Colour set to black but reduce the Tint to 90% as this creates a slightly washed out feel.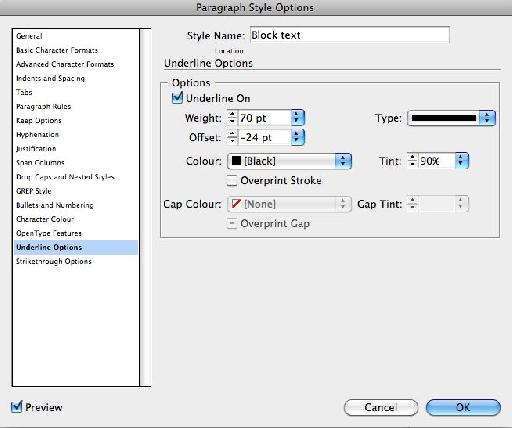 Make sure that the Check next to Preview is active as this will allow you to see the changes your making as you go, making it easier to make decisions.
And there you have it, block text all set up in a Paragraph Style. The last thing to do is rotate the text frame a little if you wish.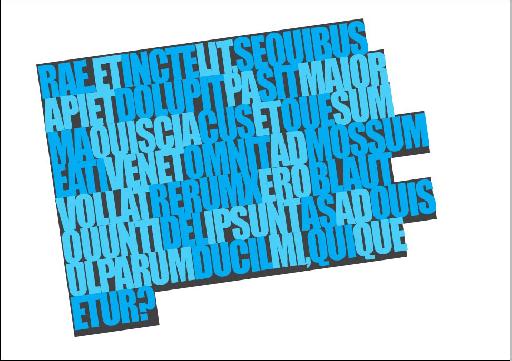 Step 9 - To Finish Off your Education
Now if you remember (and you should, it was only 15 minutes ago), we set Big Daddy up as the first Generation of our font family, with Big Junior being based on it. Now we can see exactly why this is a tremendously fantastic idea for your Typographic workflow.
Open up the Character Style Panel Shift-Command-F11 and double click on the Character Style we named Big Daddy.
Set the Character Color to Green, Or Magenta, or Yellow, even try Black!
Tip: Remember to switch on Preview in the Character Style options window first so you can see these changer occurring instantly. How cool and easy is that! Now you can go ahead and add any colors you like to your swatches panel and switch to them whenever you wish.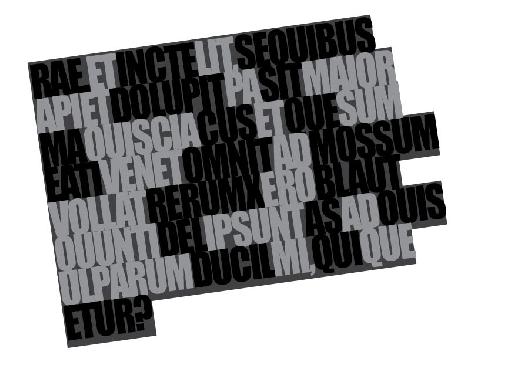 The reason for this is because you set Big Junior to be based on Big Daddy and only changed the tint setting for the color. So the color changes will always flow through from Big Daddy, but with a slight difference in the tint. Because you nested the 2 character styles into the Paragraph Style, the changes flow on to there as well.
Over time you can learn to use this same technique to control documents with dozens of text styles and make global changes to them simply by tweaking one setting on one character style. Brilliant!