CMYK is widely regarded as the way to go for professional printing purposes. But is it the only way? Is it really necessary? Iain Anderson suggests otherwise for InDesign users.
If you've been in the print industry for a while, you're probably converting all your images to CMYK in Photoshop before you place them in an InDesign layout. Thing is, that's unnecessary, and has been for years. There's a better way.

The old workflow
The way it was: work on your image in RGB mode in Photoshop for a while, then convert to CMYK, probably flattened, then save as a new file (likely a TIFF) and place it in InDesign.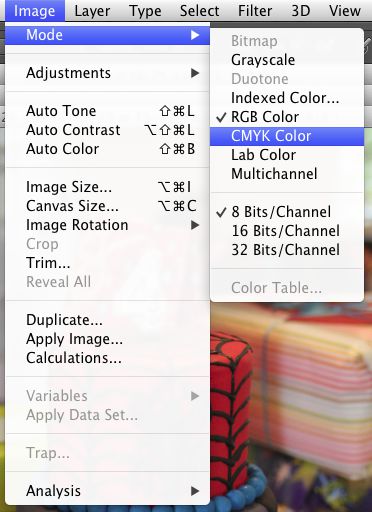 Ye Olde Convert to CMYK.
Drawbacks
This approach has many flaws.
First is that there are two files for each image, leading to version control problems. It also means that you can't simply Option-double-click a file in an InDesign layout to access the full image with all its layers.
Second is that digital deliverables like PDF or other e-publishing formats are much duller than they need to be. CMYK has a far reduced color gamut than any RGB color space, so if you use CMYK images, they'll often look dull in comparison to the originals.
Third is that CMYK is a device-specific color space. By converting your images to CMYK, you're essentially fixing your output to a specific printer. If you shift to a more capable printer, you'll gain nothing.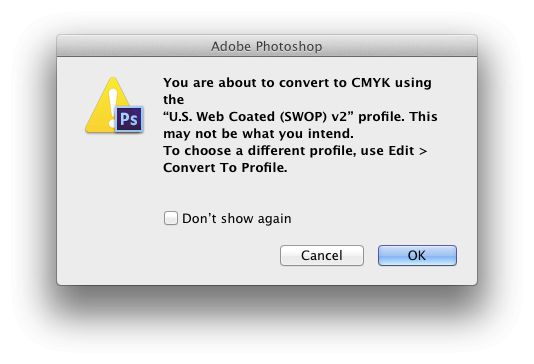 When you convert to CMYK, you're actually converting to a specific CMYK device colorspace.
The new workflow
How do we fix it? We use RGB images all the way through the process, using a single Photoshop document for all our image edits. We keep all our regular layers and all our Adjustment Layers for maximum non-destructive control. We can create Smart Objects if we need to apply filters or resize the image without quality loss, and then we place that file in an InDesign layout.
We avoid sending RGB files to a CMYK printer by using a simple option. In the Print or Export PDF dialog, choose Press Quality. To find out what it does, look to the Output section, then Color, and see that Color Conversion is set to 'Convert to Destination (Preserve Numbers)'. That means that RGB images will be converted to CMYK, but color swatches defined in explicit numbers will be left alone. Perfect.

When you export, start from the Press Quality preset.
Improvements
One file means you can Option-double-click on an image in InDesign to open the original file in Photoshop. Make your changes, Save, and the image will be instantly updated in InDesign.
You'll also get the best possible color space no matter what your output '" that's great. But how do you know what you'll get? Choose View > Proof Setup > Custom and set your print space. Now, choose View > Proof Colors and you'll see something much closer to what you'll get when you print. If your screen is calibrated, your printer is reliable and the correct profile has been chosen, this should be quite accurate.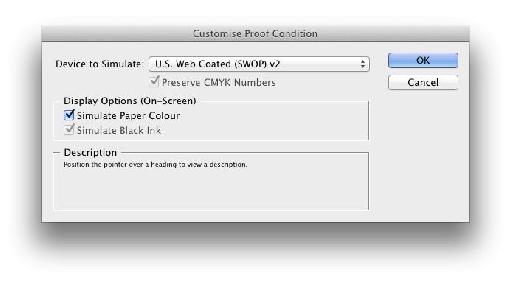 Set the print space to match your printer here.
Issues
You should make a new Preflight Profile in which RGB doesn't raise a red flag, and you might need to explain your new workflow to anyone you're working with. Working in RGB could mean slightly less predictable CMYK output, but it's unlikely to be a critical problem for most applications. Calibrate everything and you should be OK '" just use Press Quality (not High Quality Print!) to output.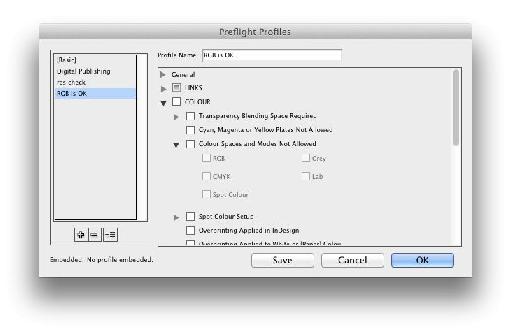 Access Define Profiles from the Preflight menu, near the bottom left of the document window.
Conclusion
Using this technique, your digital output will look as good as it can and you'll save a great deal of time in every design task. Sure, this might be novel, but we don't cut out hair using clipping paths any more, do we? At the end of the day, you'll still be sending a CMYK PDF to a printer; they might never realise that you've been working with RGB images the whole way through. RGB-until-export is, in this new digital era, a change worth making.