Iain Anderson delves into iOS9, the next incarnation of the operating system for Apple's iPhone and iPad. Here are six features he feels are worth mentioning above the others.
The yearly iOS update train keeps on keeping on, and will deliver a new version of the system software sometime in the fall. As ever, iOS 9 will be a free update, with mostly minor improvements that you'll probably appreciate to at least some degree. While it's still in beta, I'm not (as a registered developer) allowed to write a review of iOS9 or show any real screenshots, but I can talk about the new features that Apple have shown off in public.
You'll Need Less Space to Upgrade
Even if you have a tiny phone, and even if you have very little space, you'll only need 1.3 GB of space to be able to upgrade to iOS 9. Even better, the OS will automatically delete apps (but not their data), upgrade, then re-download the apps if it needs to. That's a big deal, and should really help everyone to painlessly get onto this and future versions of the system. Plus, iOS 9 works on every device that can run iOS 8.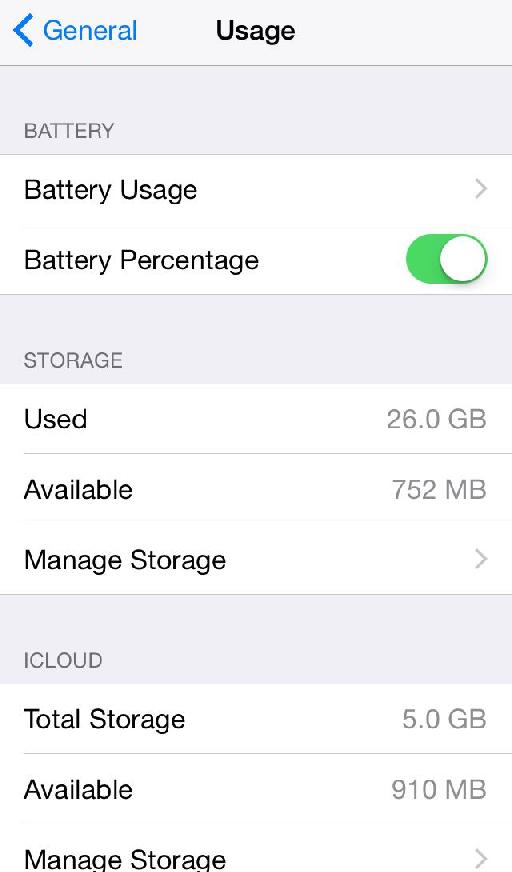 Ah, how little space I have free on my iPhone!
Your Phone Will Get Smarter
Google Now has made a name for itself by reading your email for you, then telling you about your appointments without you having to think about it. Apple's bringing some of that predictive power to iOS with a feature called 'Proactive Assistant', but retaining their focus on privacy.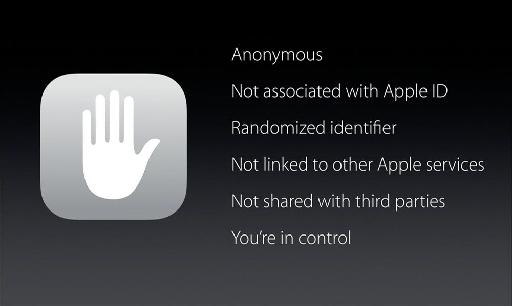 Apple's proud to announce how they don't track you, and send as little data as possible off your device.
Regular activities (like running in the morning with music) will be learned, phone numbers that exist only in your email will be recognised and named, links to nearby places and current events will be presented in the new search page, you'll be reminded to take traffic into account when leaving for appointments, and Siri will learn what 'this' means in context. Good stuff!
You'll Really Like the Keyboard
The keyboard now switches between upper- and lower-case, so the confusing Shift key can be safely and completely ignored. On an iPad, the keyboard not only gains a collection of new buttons for cut, copy, paste, bold, italic and underline, but you can use two fingers to move the text cursor around and to scroll. That's genius, and will make text editing on an iPad much, much easier. Even better, if you've got a Bluetooth external keyboard, you can Command-tab to switch apps and discover other shortcuts more easily.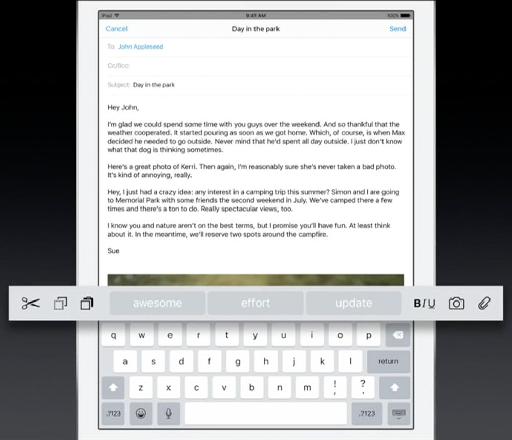 The keys now change between upper and lower case depending on if Shift is active! I know!
You'll Read More Easily
There's a new News app which promises to let publishers present their information in a clean new format. Magazines and newspapers are certainly being encouraged, but blogs can also play in the same space. A new system for laying out articles looks to bring the looks of an especially pretty custom web page, including photo mosaics and slideshows, videos and more. While it's been possible to create and consume content like this with the iBooks ecosystem, this will be a great complement for more ephemeral publications. It's a little like a cross between the Flipbook app and medium.com.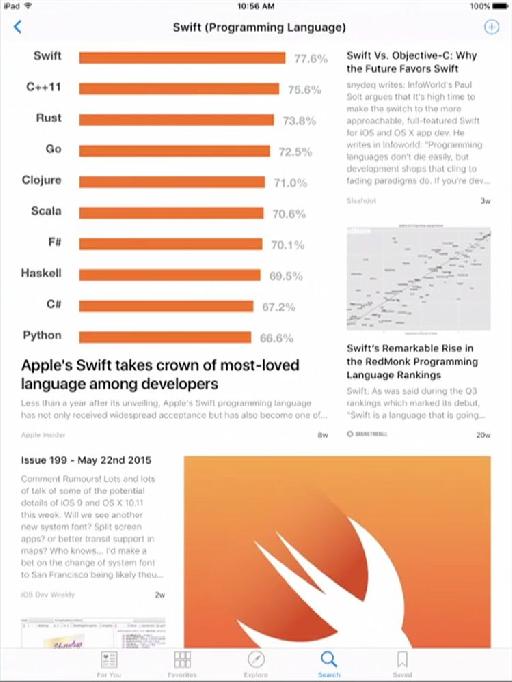 News will gather, then present stories in a pretty new way.
You'll Be Able to Take Better Notes
Synced with a new Notes in OS X 10.11 El Capitan, you'll now be able to use styles (yay!) insert images, links and maps (woohoo!) as well as simply drawing diagrams on the page with your finger (cool!). While you might prefer Evernote or OneNote if you're already using them, less demanding users will still appreciate the improvements.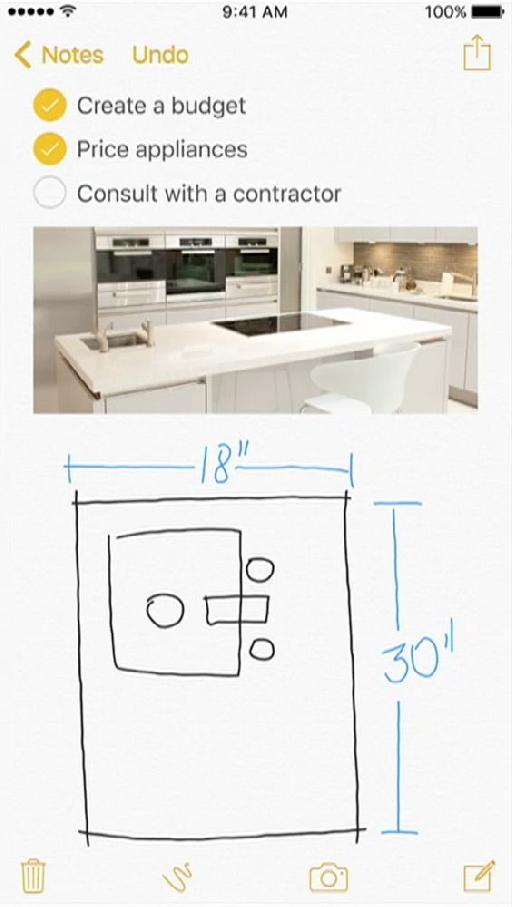 Notes has been hugely improved in many ways, on iOS and OS X.
You'll Be Able to Do Two Things at Once
On iPad, two kinds of multitasking are supported in iOS 9. Swiping from the edge of the screen will bring in a Slideover pane with a selection of supported apps while the main app is greyed out. It's a little like seeing a tall iPhone-style interface on the right, and makes several simple tasks easier. Only one app is active at a time, though.
If you have an iPad Air 2, you can take this to the next level and let both apps run at once. You can share the screen flexibly, by dragging the divider between the apps, and access each fully.
Finally, you can overlay video with new picture-in-picture support that sits over any app. It's resizable, movable, and promises to increase productivity for most iPad users.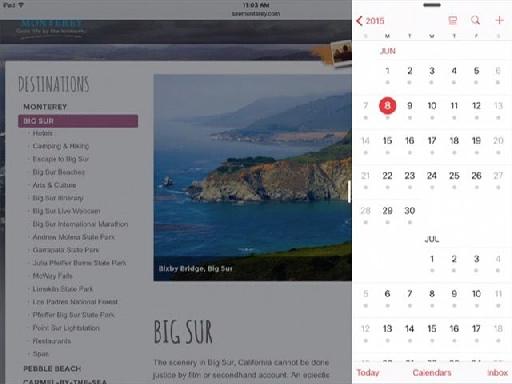 New support for multitasking'"this is the simpler way.
Conclusion
You're unlikely to use all these features, but there's something here that everyone should enjoy, even if it's just the new way that Shift works, or something else we haven't mentioned here like the new low power mode. By keeping updates free and simple, they make life easier for developers (who can target the latest technology) and users (who get to use all the new features). You'll be able to grab it later this year. but (as ever!) stay clear of the betas unless you have a spare device you can dedicate to testing. Enjoy!