When I'm not composing, producing, or creating courses for MacProVideo, I give multimedia lectures on the Beatles.  My lectures, which I call "Deconstructing The Beatles," take audiences on a virtual
When I'm not composing, producing, or creating courses for MacProVideo, I give multimedia lectures on the Beatles. My lectures, which I call "Deconstructing The Beatles," take audiences on a virtual trip into the studio to see and hear the Beatles as they create some of their legendary songs. The presentations are driven by Apple Keynote running on a MacBook Air and include a wide selection of embedded audio and video and complex timed transitions.
I prefer to deliver my lectures from memory rather than standing behind a podium with a laptop. So, it was important for me to find a good way to control my Keynote presentation remotely. Thankfully, Apple came to the rescue with Keynote Remote -- a $0.99 app that turns your iPhone or iPod Touch into a remote control for Keynote. Keynote Remote has an added advantage in that it can display presentation notes right on your device. If I forget a name or date, a quick glance at the presentation notes on my iPhone keeps the presentation moving.

Setting Up Keynote Remote
Keynote Remote is extremely easy to set up. After downloading the application from the iTunes Application Store and syncing it with your iDevice, you must connect your iDevice to Keynote on your computer. To do this, both the iDevice and the computer must be on the same wireless network.
Open Keynote on your computer and start the Keynote Remote program on your iDevice. The first time you open Keynote Remote, you will get a screen like the following: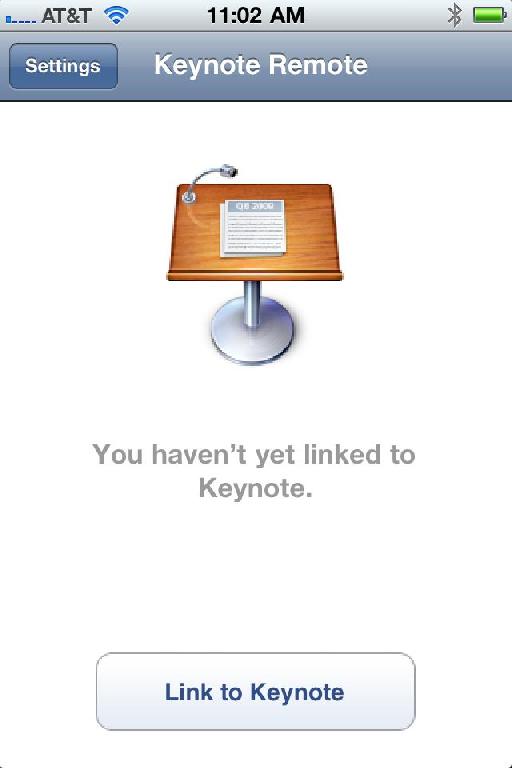 Click on the Settings button. Here's where you can decide whether the slides on your iDevice appear in portrait or landscape and whether or not you want to display presenter notes on your iDevice.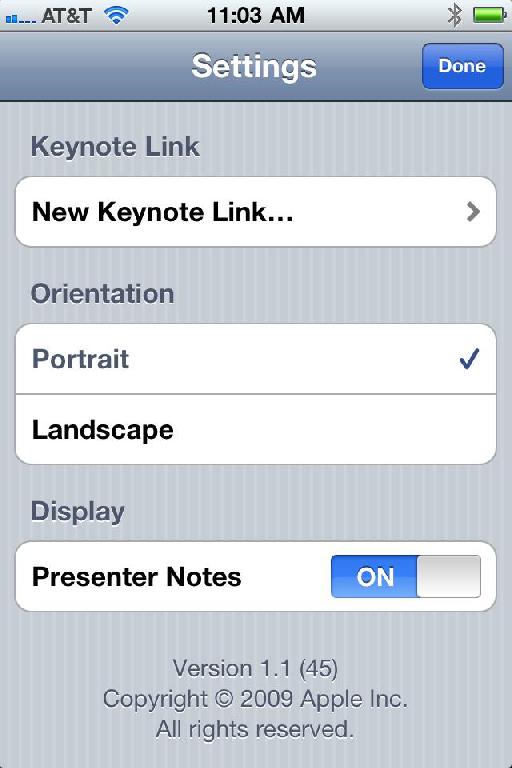 To connect to Keynote on your computer, tap New Keynote Link.... You will be given a passcode: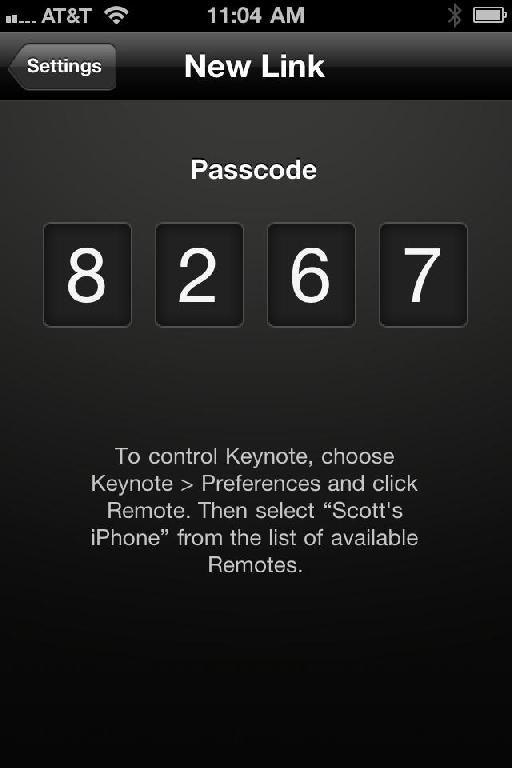 Now, on your Mac, open up Keynote's Preferences (Command-comma is the shortcut). Click on the Remote icon. You should see your iDevice in the list: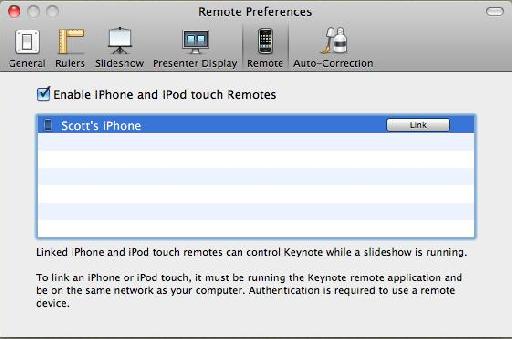 Click the Link button next to the name of your iDevice. Now, enter the code that is displayed on your iDevice in the spaces provided.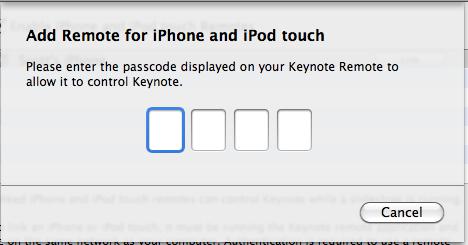 Ouila! You're linked. Now you can swipe your iDevice to move forward or backward a slide. Clicking on the Options button lets you jump directly to the first slide or end the show.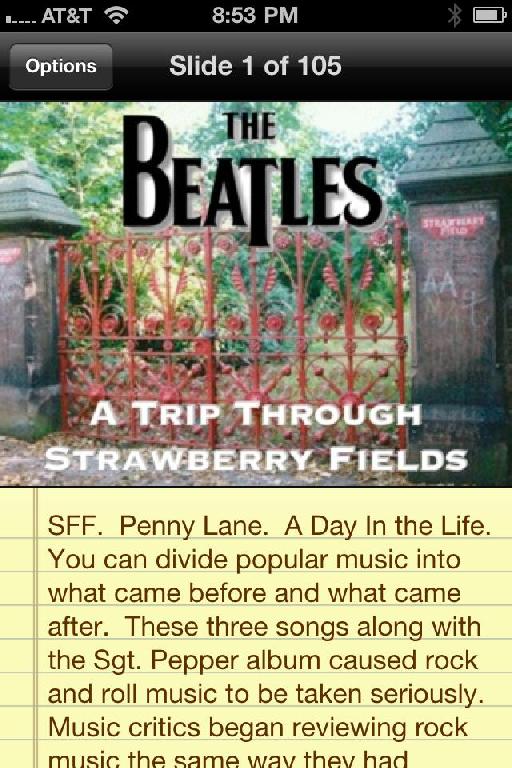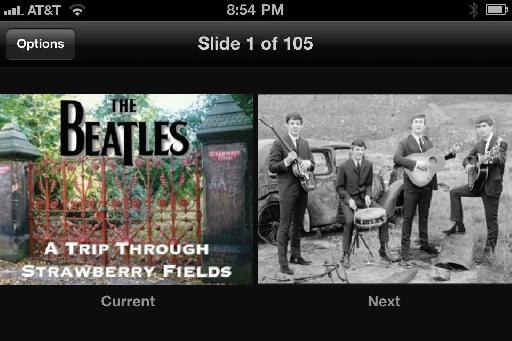 Creating A Dedicated Wireless Network
This setup worked great for my presentations until I arrived at the Jane Pickens Theater and Event Center in Newport, RI. The Jane Pickens is one of the oldest theaters in the United States. The projection booth dates from 1919 and still has some of the original equipment they used to show silent movies.
When I arrived at the Jane Pickens, I was told that my laptop would need to be near the projection equipment. The projection booth is located about three stories up in the back of a very large theatre (550 seats with balcony) several hundred feet deep. The only way to see the stage from the projection booth is through a small hole in the brick wall. How was I going to control my presentation when my laptop was so far away? Oh, one more thing -- there is no wireless network at the Jane Pickens!
Fortunately, I had brought along an AirPort Express. The AirPort is a small device that allows you to easily create or extend a wireless network. It sells for less than $100, and is great to have stowed in your travel bag for those occasions when you need to boost the power of a wireless network.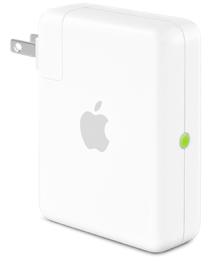 In my case, what I needed to do was to create a wireless network from scratch. With the AirPort and my Mac laptop, it was fairly easy. Here's how:
After plugging in the AirPort, open up AirPort Utility on any Mac with wireless capabilities. The AirPort should show up in the left hand column. If it doesn't, you may have to reset it by plugging it in while pressing down the little reset button on the bottom of the unit. Hold the reset button for ten seconds. I carry a paper clip in my bag for just this purpose.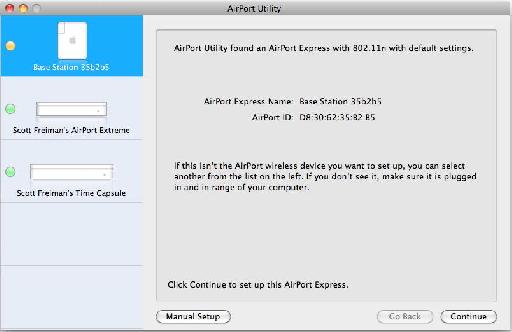 Select the Airport Express and choose Continue. Enter a name for your network and a password.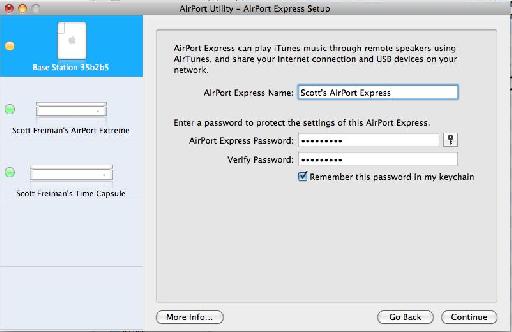 After clicking Continue, choose the option to create a new wireless network. Then, enter a name for your new network and a password. The password will prevent others (like pesky audience members) from accessing your network.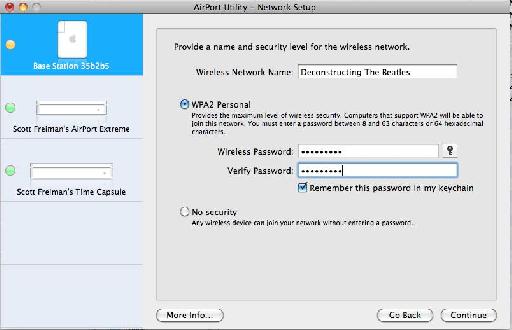 If you want to access the Internet, you have to connect a network cable from your AirPort Express to the DSL, cable or other broadband modem. Since we're creating this network for the sole purpose of allowing our iDevice to control Keynote, we don't need Internet access. So, AirPort Utility will give you a warning message: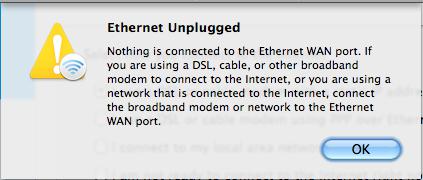 You can click OK to ignore this message, and then click the "I am not ready to connect to the Internet right now" button on the following page. This will make the light on the AirPort Express flash amber, but that's OK.
When you reach the last page, click on the Update button to write your settings to the AirPort Express. You will continue to get some warnings about the lack of Internet access, so just continue to bypass them. If you've done everything correctly, you should be able to connect your iDevice and your laptop to your new wireless network. (Make sure that you have enabled AirPort on your laptop and wireless access on your iDevice.)
Remarkably, this configuration allows me to control my laptop from a great distance --even when there is a brick wall between me and the laptop!
Thanks to Keynote Remote and my AirPort Express, I have been able to take my Beatles presentations to theaters large and small with nary a hiccup. I can worry about connecting with my audiences instead of connecting with my laptop.
You can follow Scott's Beatles posts on Twitter at beatleslectures or sign up for his Deconstructing The Beatles newsletter at beatleslectures.com.
Interested in learning more? Check out this Keynote tutorial.
... and Scott Freiman's tutorials here.