When you have a really big project on the go, it's vital to know about some of Lightroom's bulk processing features that will save you time, effort and maybe even money. Iain Anderson explains.
Lightroom is a popular solution for managing photos, but what if the task before you is truly huge? What if, instead of having to sift out the best five photos from a couple of hundred, you had to sift out the best 50 or so from a couple of thousand, from a couple of photographers? And what if you had to do that every day for several days? Well, it turns out that you can do all that pretty effectively. Here, I'll show you a number of tricks for working quickly in Lightroom — for when you need a lot of photos out quickly.
Get the right gear
Before you begin, make sure you've got enough fast storage to do the job. I'd recommend a large internal or external SSD, because a good modern drive will be at least 400MB/s (external) or 2000MB/s (internal). Spinning disks can only compete on size and price, and if you've got a lot of files to move around, speed really helps.
For a recent job, I used the internal drive on my MacBook Pro 13" with Touch Bar, and when it filled up, I added in my trusty Samsung T1 512GB SSD. It was all backed up to a matching SSD that my colleague owns. While there's no SD reader built in, an external Sandisk SD card reader did nicely, and if I'd had faster UHS-II cards (supported by the GH5) handy, copying the photos could have gone almost twice as quickly. Absolutely, you'll need to shoot RAW for flexibility, and the files (on any camera) will be large. Hard drive space is relatively cheap these days, but make sure you've got space to store everything you need to.
Tag first
Let's start with your fresh photos on an SD card. Before you copy the photos, give them a colored tag. These used to be called labels, but they can be used in the same way — select your files, right-click, and choose a color. Why? By tagging photos with a color, you know which ones you've already imported. When you put the card in again later, you don't need to examine dates or examine images to see which ones you've got — just look for where the color ends. The next batch gets a different color, and the process repeats. If you will be importing photos many times from the same cards, this is a great way to stay on top of what you've dealt with already.
Storing files
And how to store them on your Mac? I'd recommend copying photos from your camera cards using the Finder, to a sensibly-named subfolder, within a single enclosing folder for the whole job. Subfolders can be per-event, per-import, or whatever size chunk of photos you want to deal with in one hit.
When you import each new subfolder into Lightroom, it won't need to copy or move anything — it just reads the subfolder and recognises its position within the parent folder. If you ever need to point your Lightroom library at a different storage location (say, because your hard drive dies) then it's not too painful to relink to new images.
Note that you don't need to use subfolders if you don't want to, but it will help you to stay sane. Metadata-based workflows (as used in Final Cut Pro X) aren't quite as advanced in Lightroom, and I've found it easier to keep it simple.
Importing with help from tags and presets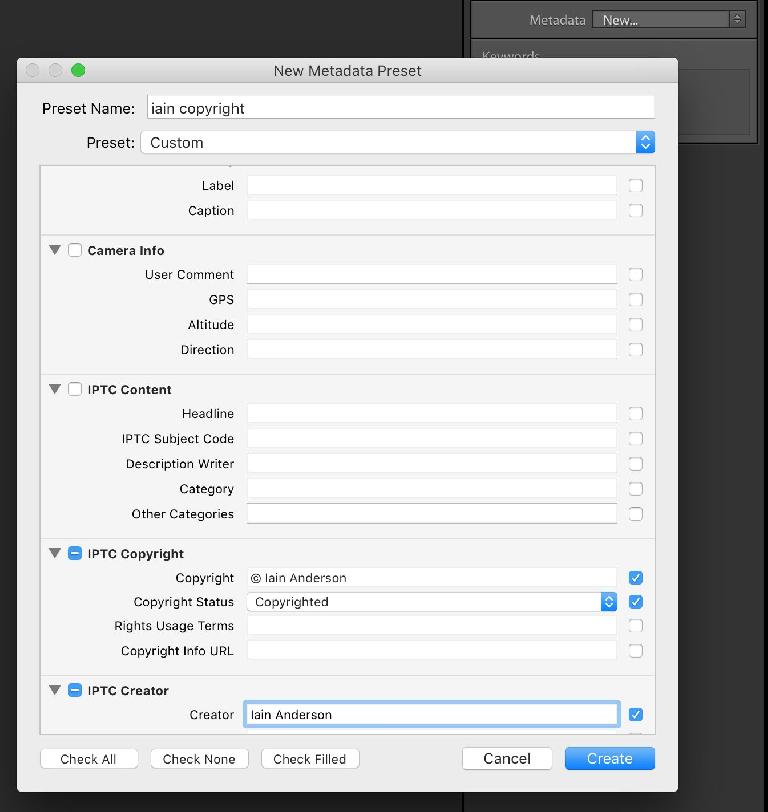 This metadata preset will add copyright information to every photo on import — include your client if you wish
Lightroom can copy and manage files in many ways, but I prefer to copy them myself to a known location in the Finder, then import to Lightroom with the Add option, leaving all files in place. Simpler, easier to manage.
Before you hit import that first time, set up a Metadata preset to add your contact and copyright details to each image as you import. While most people won't find this info unless they go looking for it, professionals used to dealing with images will see it. You can't stop people ripping you off if they really want to, but this will help protect you a little. It's also an opportunity to add your client's info.
Rate the best of the bunch in Library
In the Library tab, you should rate your photos to pick out the best of them. Move quickly between photos using the arrow keys, and rate each one with whatever system makes sense to you. For me, 3 stars is OK, 4 stars is good, and 5 stars is great. You can press the number keys to rate quickly, or use [ and ] to change the rating by one star. No mouse required.
Depending on how much you shot and how many images you need, you may need to do another pass, to promote or demote some of your shots. I aim to only export 4 and 5 star photos myself, so take another look if you have too many (or not enough) photos at that top level. One of your main jobs as a professional is to only present good work, and to make choices so your client doesn't have to. No need to share the duds, and feel free to make yourself look good.
Develop only the good photos
So you've got the best photos chosen — great. Flick into Develop mode, then activate the Rated filter in the bottom right corner. Look at the 4 or 5 stars photos only, because you don't need to make the duds look any better. For each of the good photos, you'll need to check white balance and fix it if necessary; correct exposure, shadows and/or highlights; perhaps add a little contrast, a little vibrancy, or a vignette. If the photo is good but you've missed focus slightly, you might be able to rescue it with a little sharpening or clarity.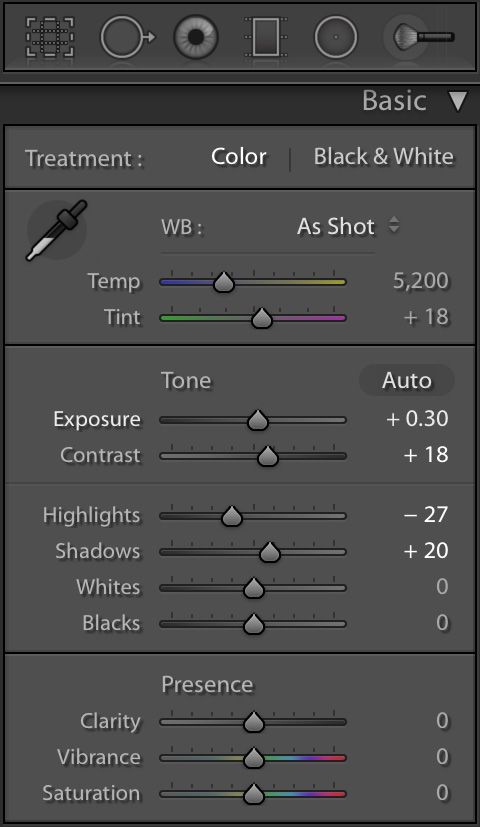 The word "Exposure" has just been clicked, and now plus and minus keys are active
However you adjust these, you can use the sliders, or you can click on the name next to the slider (it'll become slightly brighter) and then use the - and + keys to change the value of that property. If you want to focus on a single property (like Exposure) across all the photos, you can get into a great rhythm between the arrow keys and the plus and minus keys. It'd be great to have a few sliders available at once on the touch bar, but for now, this is the quickest way. Focus on speed, and if you have time at the end to give a special touch to your very best images, do so.
Syncing settings
You can select a group of photos and Synchronize the settings across them all (handy if you shot the wrong white balance) or if you want to be more selective, copy settings from one photo and then paste those settings to others. I find that each photo usually needs unique settings, but this can be a good way to get a baseline.
If you find yourself using the same settings over and over, perhaps set up a new preset (or a few) then apply it instead.
Export Presets
When you've got the images looking great, time to export to JPEG for the client. In File > Export, you can set up a preset which finds a decent balance between quality and file size, and uses sensible file names. Personally, I like to include the date and time of shooting in the filenames, at maximum resolution, then create lower resolution files later.
Once your preset is sorted out, select your processed images, then export to that preset. If you're working quickly, you can send multiple folders to export at the same time, but they'll all slow down if you do.
Using Automator to create low-res files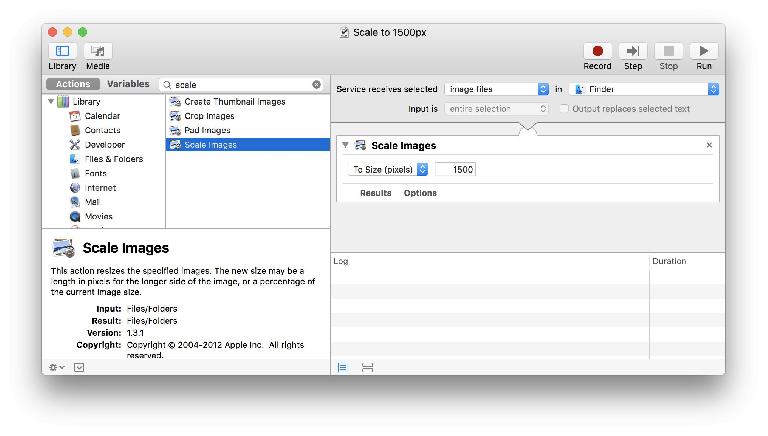 Launch Automator, create a service, add the Scale Images action, live on the edge with Don't Add, set it to receive Image Files above, set your target size, and save
Once you have your full-size files, you can use Automator to create smaller files very quickly indeed. Create a Service with Automator, then tell it to work on image files, and scale down images to a particular size — perhaps 1500 or 2000px on the longest side. Save the workflow as "Scale to 1500px" or "Scale to 2000px" — make both versions if you wish. This creates a new command in the Finder that will convert any image into a low-resolution file. I prefer a "dangerous" workflow here, converting the high-res files without making a copy first, and that's what the "Don't Add" in the caption above enables.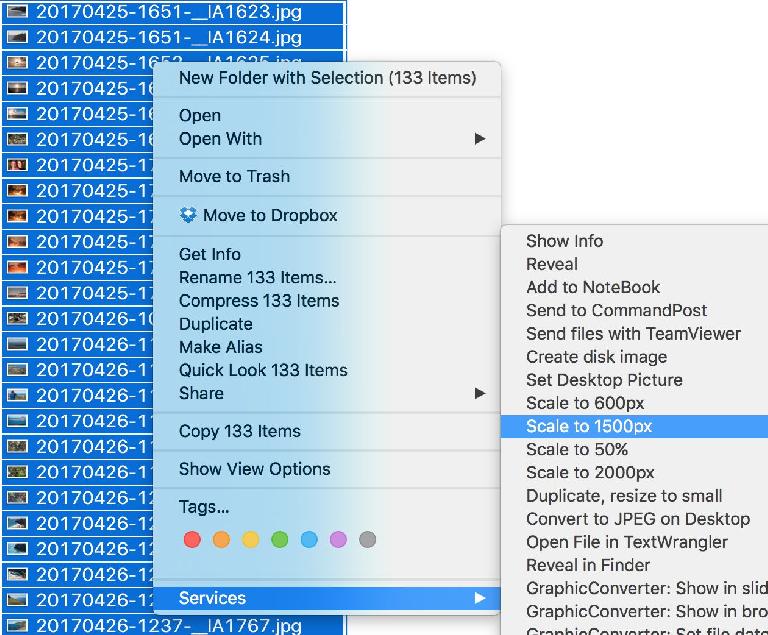 This collection of 133 images took 3min 56sec to export in high res from Lightroom, 3min 38sec for low res from Lightroom, but just 27sec (!) with the Automator service
Duplicate the folder containing the exported JPEGs, select all, right-click, and choose Services > Scale to 1500px. While you can't control JPEG quality with this, it's roughly equivalent to 75% in Lightroom, which is a good balance. And it's insanely fast, processing many images in seconds, about 8x faster than exporting low-res from Lightroom.
Share it via Dropbox
To get the files out, put the exported JPEGs (possibly even just the low-resolution versions) onto a shared Dropbox folder — or another sharing service with Finder integration. By putting everything into subfolders within a single parent folder, you can send a simple link to your clients to give them shareable read-only access. (Right-click and "Copy Dropbox Link" in the Finder, then paste into Mail.) On the web, photos appear in a thumbnail grid, can be downloaded in bulk or individually, and they won't need to ask you for physical copies on USB sticks. If you haven't switched yet, don't delay — everyone will love it.
Back it up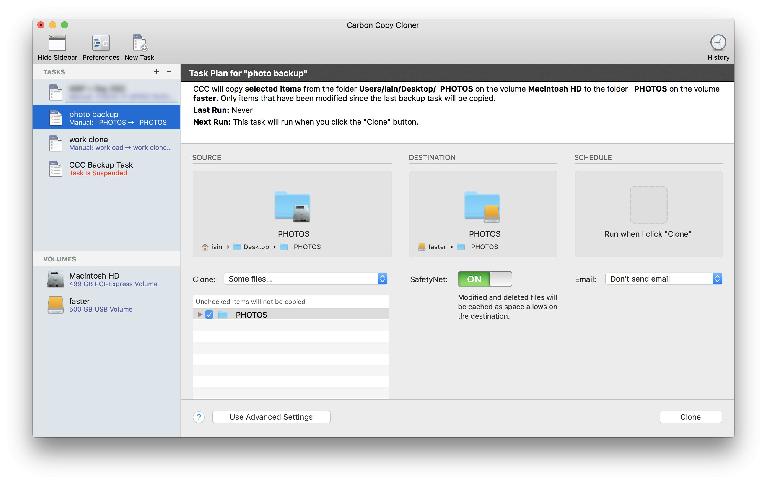 Backing up from the internal drive to an external is easy, and if it's easy, you'll do it more often and won't make mistakes
When you have a moment to breathe, plug in your spare drive, then fire up Carbon Copy Cloner or something similarly smart, and back up everything — your source RAWs, your Lightroom catalog and your exports. It won't take long, but until you've made an extra copy, you shouldn't be wiping your camera's SD cards. Always play it safe.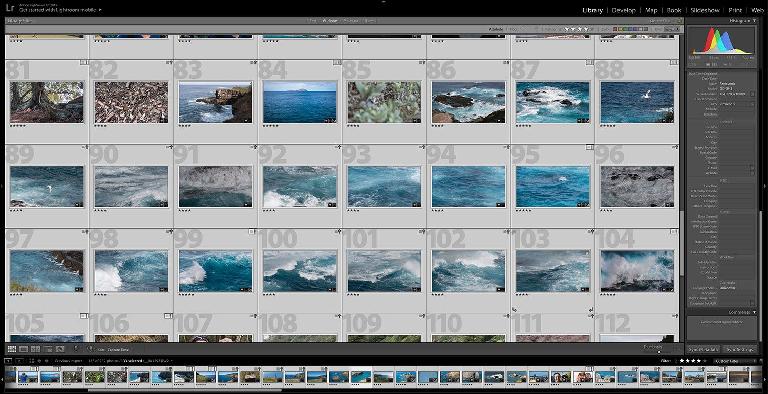 Once you're just looking at your best shots, you'll feel pretty good about your skills as a photographer
Conclusion
The workflow's not difficult, but a few steps here will save you a heap of time. Lightroom is good, but it's not always fast. Get the basics done quickly, and you'll be left with more time to spend on the tricky shots, or free you up for more photography duties. Giving your clients their photos more quickly means that those shots can be used while they're current, and in today's social media world, that's more important than ever. Good DSLR photos still offer production value that smartphone shots don't, but waiting weeks for delivery isn't always an option. This way, you can strike a balance, keep everyone happy, and keep quality and quantity high. Everybody wins.