Añadir símbolos que faltan en el Editor de partituras de Logic - Pedal arriba / abajo marcas
While Logic's Score Editor presents an extremely comprehensive set of music notation symbols which composers need to mark up a Score, certain symbols are conspicuously absent. One such symbol is the "
Mientras que la lógica de Score Editor ofrece un conjunto muy completo de los símbolos de notación musical que los compositores que marcar una puntuación, ciertos símbolos brillan por su ausencia. Un símbolo es el "pedal hacia arriba / abajo" símbolo
En este artículo voy a explicar cómo se puede agregar este símbolo a sus cuentas con bastante facilidad. Pero primero, algunos antecedentes ...
Descifrar los símbolos perdidos
Nota del Editor: Por razones de formato de texto y que seamos capaces de leer este excelente tutorial fácil, me he visto obligado a retirar los símbolos gráficos del cuerpo del texto, que Pedro había añadido con esmero, y reemplazarlos con un equivalente de texto. Por favor, consulte la tabla siguiente para comparar los símbolos equivalentes del editor de partituras de Logic con sus versiones de texto que se utiliza en este artículo: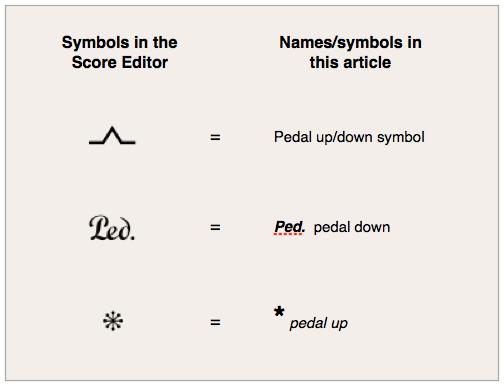 Volver a lo Peter ...
Todos tenemos nuestras altas y bajas

Figura 1
Lo siento, pero soy un tonto para un chiste malo. De todos modos, y de hecho,
Pero hay varias razones por las que estas marcas no son
Para ser justo ...
Logic ofrece dos formas muy fácil entrar en sus símbolos propios del pedal en la partitura. En primer lugar, desde el cuadro de la parte:
La segunda manera de entrar en marcas de pedal es para grabar en juego por un pedal de sustain conectado al controlador.
A pesar de estos dos métodos relativamente fácil de entrada símbolo de pedal, todavía existe la idea de que arriba / abajo del pedal marcas podrían ser los más adecuados para su uso en una partitura. Además, la edición para la posición de ambos
Introduzca Texier cristiana al rescate!
La solución que proponen, tanto para reducir a la mitad el número de símbolos necesarios para indicar hacia arriba / abajo pedaleando, así como para poder entrar en legítima marcas arriba / abajo llegó en la forma de mi descubrimiento de la página web de Christian Texier , donde que ofrece una fuente original, gratuito llamado "Electronica".
En su letra, la letra "J" produce el símbolo arriba / abajo se ve en la figura 3, y que yo he anhelado en la lógica de años!
Instalación de la Fuente
Una vez que hayas descargado la fuente, se refieren a la "Léame" archivo de la carpeta y prestar atención a los derechos de autor cristiano y salvedades uso.
A continuación, haga doble clic en el archivo llamado "Electronica.suit". A continuación, haga clic en el botón: "Instalar fuente". Esto abrirá una aplicación de Mac llamado FontBook e instalar la fuente para usted.
La creación de un estilo de texto personalizado en la lógica de acceso "Electronica"
El siguiente paso es la creación de un estilo de texto personalizados seleccionando
Haga clic una vez más en esa línea y el Panel de fuente abierta. Seleccionar
Pedal arriba / abajo de entrada Símbolo
Ahora ya estás listo para comenzar a escribir su nuevo pedal arriba / abajo símbolo!
Select the "A" in the Part Box and then select TEXT. Then click on a blank area in the Score.
In the Event Parameters box, find the Text parameter and select "Electronica" (or whatever you named your custom text style)
Use the Pencil Tool to enter a new text item into the Score and then hit the letter "J". Voila!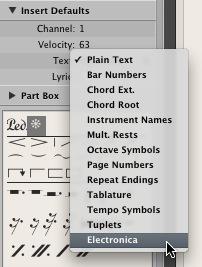 Figura 5 - La Caja de Eventos Parámetros
Consejo # 1: Si usted necesita para aumentar o reducir el tamaño de las marcas de pedal en su cuenta, simplemente revisar el editor de texto Estilos de nuevo y reducir el tamaño de la fuente. A continuación, cambiar el tamaño de todas sus
Consejo # 2: Usted puede importar este estilo de texto en los proyectos de otra lógica mediante la función Importar.
Nos encantaría saber de usted. Por favor, deje caer el autor de un comentario a continuación, con las preguntas y reflexiones generales ...
También puede ver nuestra gama completa de tutoriales lógica aquí