Ajout de symboles manquants dans Éditeur de Partition Logic - Pédale Up / Down Marquages
While Logic's Score Editor presents an extremely comprehensive set of music notation symbols which composers need to mark up a Score, certain symbols are conspicuously absent. One such symbol is the "
Alors que Logic éditeur de partition présente un ensemble extrêmement complet de symboles de notation musicale dont les compositeurs ont besoin de marquer une partition, certains symboles sont manifestement absents. Un symbole tel est le "pédale haut / bas" symbole
Dans cet article je vais vous expliquer comment vous pouvez ajouter ce symbole à vos scores assez facilement. Mais d'abord, quelques informations ...
Décrypter les symboles perdus
Note du rédacteur: Pour des raisons de formatage de texte et de notre être en mesure de lire ce tutoriel excellente facilement, j'ai été forcé de retirer les symboles graphiques à partir du corps du texte, que Pierre avait soigneusement ajoutés, et les remplacer par des équivalents textuels. S'il vous plaît voir le tableau ci-dessous pour comparer les symboles équivalent d'éditeur de partition logique avec leurs versions du texte tel qu'il est utilisé dans cet article: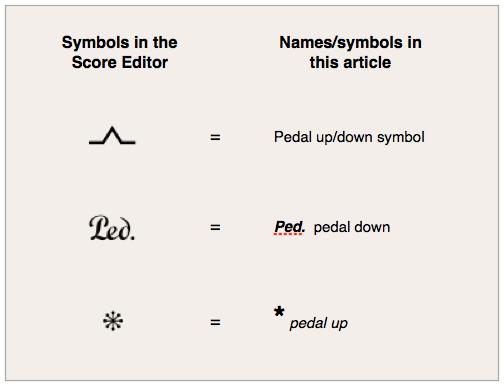 Retour à vous Pierre ...
Nous avons tous nos hauts et des bas

Figure 1
Désolé, mais je suis un surgeon pour un mauvais calembour. Quoi qu'il en soit, et en effet,
Mais il ya plusieurs raisons pour lesquelles ces marques ne sont pas
Pour être équitable ...
Logic propose deux façons très facile d'entrer dans ses symboles propres pédales dans la partition. Tout d'abord, à partir de la boîte partie:
La seconde manière d'entrer indications de pédale est de les enregistrer en en jouant une pédale de sustain est connecté à votre contrôleur.
En dépit de ces deux méthodes relativement facile d'entrée symbole de pédale, il ya toujours l'idée que le haut / bas de pédale marques pourraient être les plus appropriés à utiliser dans une partition. Par ailleurs, le montage nécessaire pour positionner les deux
Entrez Texier chrétienne à la rescousse!
La solution que je suis venu avec, à la fois pour réduire de moitié le nombre de symboles nécessaires pour indiquer le haut / bas de pédalage, ainsi que pour pouvoir entrer légitimes des marques haut / bas est venu sous la forme de ma découverte du site de Christian Texier , où il offre un original, la police gratuit appelé «Electronica».
Dans sa police, la lettre «J» produit le symbole haut / bas, nous voyons dans la figure 3, et que j'ai désiré dans Logic pendant des années!
Installation de la police
Une fois que vous avez téléchargé la police, la référence à la "Lisez-moi" contenus dans le dossier et tenir compte d'auteur chrétien et réserves d'usage.
Ensuite, double-cliquez sur le fichier appelé "Electronica.suit". Puis cliquez sur le bouton: "Installer la police". Cela va ouvrir une application Mac appelée FontBook et installer la police pour vous.
Mise en place d'un style de texte personnalisé dans la logique d'accès "Electronica"
L'étape suivante consiste à mettre en place un style de texte personnalisé en sélectionnant
Cliquez une fois de plus sur cette ligne et le panneau Police va s'ouvrir. Sélectionnez
Pédale Up / Down Entrée Symbole
Maintenant vous êtes prêt à commencer à entrer dans votre nouvelle pédale haut / bas symbole!
Select the "A" in the Part Box and then select TEXT. Then click on a blank area in the Score.
In the Event Parameters box, find the Text parameter and select "Electronica" (or whatever you named your custom text style)
Use the Pencil Tool to enter a new text item into the Score and then hit the letter "J". Voila!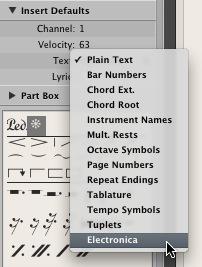 Figure 5 - La case de l'événement Paramètres
Astuce # 1: Si vous avez besoin pour augmenter ou réduire la taille de la pédale de marques dans votre partition, tout simplement revoir l'éditeur de texte Styles de nouveau et de réduire la taille de la police. Il sera alors modifier la taille de tous vos
Astuce # 2: Vous pouvez importer ce style de texte dans des projets d'autres logiques en utilisant la fonction Importer.
Nous aimerions vous entendre. S'il vous plaît envoyez un commentaire de l'auteur ci-dessous avec vos questions et réflexions générales ...
Vous pouvez également consulter notre gamme complète de tutoriels logique ici