Добавление отсутствующих символов в Оценка редактора Logic, - педаль вверх / вниз Маркировка
While Logic's Score Editor presents an extremely comprehensive set of music notation symbols which composers need to mark up a Score, certain symbols are conspicuously absent. One such symbol is the "
Хотя логика в Оценка редактора представляет чрезвычайно полный набор нотной записи символов, которые необходимо композиторов для разметки Оценка, некоторые символы явно отсутствует. Одним из таких символов является "педаль вверх / вниз" символ
В этой статье я объясню, как вы можете добавить этот символ и ваши показатели довольно легко. Но во-первых, некоторые фона ...
Расшифровка Забыли Символы
Примечание редактора: Ради форматирование текста и нашей способности читать этот отличный учебник легко, я был вынужден удалить графических символов из основного текста, который Петр кропотливо добавил, и заменить их текстовые эквиваленты. Пожалуйста, смотрите таблицу ниже, чтобы сравнить эквивалентные символы из Оценка редактора Logic, с их текстовые версии при использовании в настоящей статье: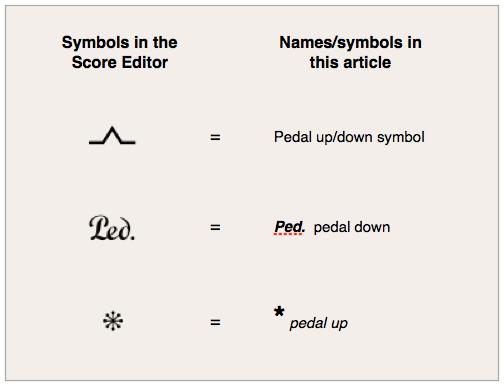 Вернуться к вам Питер ...
У всех нас есть Взлеты и падения

Рисунок 1
Жаль об этом, но я любитель плохой каламбур. Во всяком случае, и, действительно,
Но Есть несколько причин, почему эта маркировка не
Справедливости ради надо сказать ...
Логика предлагает два очень простых способов ввести свою символику педаль в Score. Во-первых, от части коробки:
Второй способ ввести педаль маркировки заключается в записи их в игре педаль сустейна, подключенных к контроллеру.
Несмотря на эти два относительно простых методов вступления символ педали, есть еще мнение, что вверх / вниз педаль маркировка может быть наиболее подходящие для использования в Score. Кроме того, необходимые для редактирования положение как
Введите христианской Тексье к спасению!
Решение, которое я придумал, как для сокращения вдвое числа символов, необходимых, чтобы указать, вверх / вниз педали, а также за то, что в состоянии войти законных вверх / вниз маркировки пришло в виде моего открытия веб-сайт христианского Тексье , где он предлагает оригинальный, свободный шрифт под названием "Электроника".
По его шрифт, буквы «К» производит вверх / вниз символ мы видим на рисунке 3, и которые я жаждал в логике течение многих лет!
Установка шрифтов
После загрузки шрифтов, обратитесь к "Read Me" файлов, содержащихся в папке и прислушаться к авторскому праву христианина и использования оговорками.
Затем дважды щелкните на файл под названием "Electronica.suit". Затем нажмите кнопку: "Установить шрифт". Это откроет Mac приложение под названием FontBook и установить шрифт для вас.
Настройка пользовательских стилей текста в логике для доступа к "Электроника"
Следующим шагом является создание пользовательских стилей текста, выбрав
Нажмите еще раз на этой линии и шрифта Группы будут открыты. Выбирать
Педаль вверх / вниз Символ Вступление
Теперь вы готовы, чтобы начать ввод нового педаль вверх / вниз, символ!
Select the "A" in the Part Box and then select TEXT. Then click on a blank area in the Score.
In the Event Parameters box, find the Text parameter and select "Electronica" (or whatever you named your custom text style)
Use the Pencil Tool to enter a new text item into the Score and then hit the letter "J". Voila!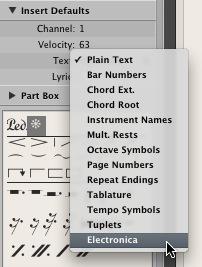 Рисунок 5 - Box параметры событий
Совет № 1: Если вам нужно увеличить или уменьшить размер педали маркировки в счет, просто вернуться к редактору Стили текста снова и уменьшить размер шрифта. Это будет потом изменить размер всех Ваших
Совет № 2: Вы можете импортировать этот Стиль текста в другие проекты логики, используя функцию импорта.
Мы хотели бы услышать от вас. Пожалуйста, напишите автору комментарий ниже с любыми вопросами и общими размышлениями ...
Вы также можете проверить наш полный спектр учебники логики здесь