If you like the idea that 'prevention is better than the cure' and use Logic Pro, join Jay Asher in this article as he walks you through how to avoid problems before they happen!
Wenn Sie, aufnehmen und mischen Musik in einer EDV-Anwendung komponieren, früher oder später wirst du Probleme mit der Anwendung oder einer ihrer Dateien. Es wird mit ProTools passieren. Es wird mit Cubase passieren. Es wird mit Digital Performer passieren. Und ja, es wird mit Logic Pro 9 passieren.
Dies kann für eine Reihe von Ursachen haben:
Logics Voreinstellungen bekommen beschädigt.

Vorlagen, die Sie erstellt haben, beschädigt.

Ihre Bewerbung oder OS-Installation beschädigt wird.

Ihre Hardware-Fehlfunktionen.
Es gibt wenig Sie tun können, um zu verhindern, # 3
Ihre wichtigen Logic Präferenzen genannt com.apple.logic.pro.plist in Ihrem User Library gefunden

Pic 1
Diese können und beschädigt werden kann. Also, wenn Ihr Logic Pro rig gut funktioniert, empfehle ich, dass Sie Ordner auf zwei Backup-Quellen erstellen und benennen es so etwas wie Logic Arbeiten und kopieren Sie sie in diesen Ordnern. Häufig wird bei Logic startet verhalten Kuckuck für coca Puffs einfaches Ersetzen Sie diese Dateien mit den Arbeitsbedingungen gesicherten Dateien alles in einen guten Zustand wieder zurückkehren.
Wenn Ihre Audio-Schnittstelle hat einen Treiber, ich schlage vor, Sie auch zurück, dass bis in den gleichen Ordner. Audio-Treiber können und beschädigt werden kann, obwohl es nicht passieren, dass oft und viele Audio-Interfaces jetzt sind Class Compliant, das heißt, sie benötigen keine Treiber.
Die gute Nachricht ist, dass einzelne Projektion Korruption geschieht weniger mit Logic Pro 9 als vorherige Versionen. Meine Überzeugung ist, dass es da beim Schließen Logic Pro, die Undo-History wird jetzt automatisch gelöscht wird. Obwohl ich es nicht beweisen können und Apple noch nicht offiziell bestätigt es mir, ist meine Überzeugung, dass die Undo-History manchmal bekam beschädigt. Allerdings können Projekte und haben immer noch beschädigt, erhalten besonders große Vorlagen.
Wenn Sie ein Projekt als Vorlage speichern, wird es in Ihrem User Library gespeichert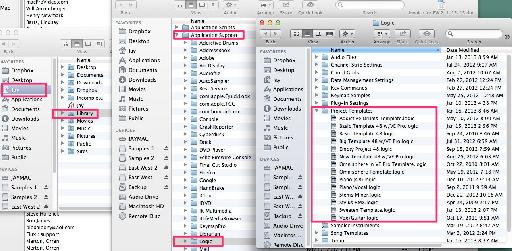 Pic 2
Wieder einmal, empfehle ich, dass Sie diese zurück bis zu den gleichen Ordner. Häufig nur tauschen sie heraus heilen kann plötzlich Probleme, die entstehen. Die Chancen stehen gut, verbrachte einen guten Teil der Zeit neu zu ihnen, die Sie nicht haben wollen, um wieder zu tun.
In Abb. 3 sehen Sie, dass Logic Pro standardmäßig auf auto 10 Backups in den Einstellungen die Schaffung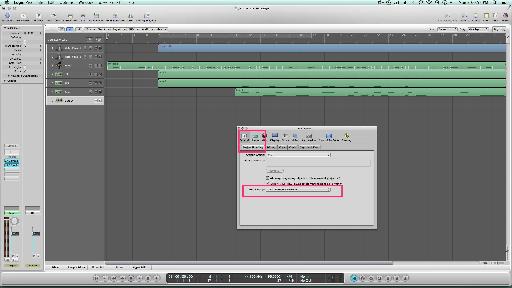 Pic 3.
Dont trust it! Wenn das Original beschädigt wurde, habe ich gesehen, die Backups auch werden beschädigt. Meine Empfehlung ist, dass, wenn Sie auf, dh ein Song namens You Just dont get it arbeiten, nachdem Sie eine ganze Menge Arbeit zu erledigen, speichern Sie es als Sie gerade nicht Get It -2, später dann
Es ist überhaupt nicht ungewöhnlich für mich mehr als zehn Versionen zu haben. Es ist nur Platz auf der Festplatte und heute das ist billig.
Es ist ein zweiter Vorteil dazu. In Abb. 4 sehen Sie, dass in der Logik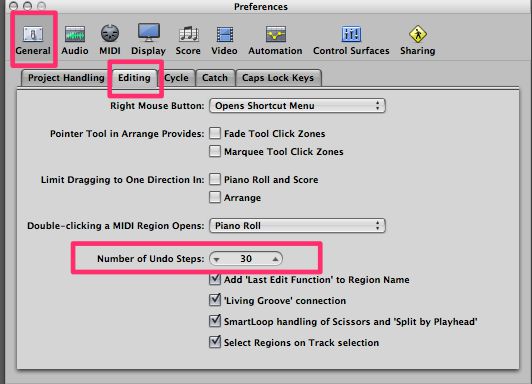 Pic 4.
Sie können die Anzahl weiter zu erhöhen, aber es wirkt sich negativ Logics Effizienz. Egal, ob Sie diese ein getan haben, während Sie wissen, kein Zweifel, das Gefühl von der Arbeit an einem Musikstück für eine Weile, und sagen zu sich selbst, Darned es, das besser war vor drei Stunden, ich ging in die falsche Richtung mit diesem.
So führen Sie Ihre Schritte rückgängig machen und feststellen, dass Sie immer noch nicht zurück, wo Sie waren, wenn es seinerseits nahm zum Schlechteren. Mit meinem Workflow, können Sie immer wieder auf die frühere Version.
Möchten Sie lieber verlieren eine Stunde Arbeit oder fünf Stunden Arbeit? Vorbeugen ist besser als ein Pfund Heilung!