Manejar a la defensiva con Logic Pro 9: Hábitos de flujo de trabajo para prevenir los problemas de
If you like the idea that 'prevention is better than the cure' and use Logic Pro, join Jay Asher in this article as he walks you through how to avoid problems before they happen!
Si componer, grabar y mezclar música en una aplicación informática, tarde o temprano se encontrará con problemas con la aplicación o uno de sus archivos. Se va a pasar con ProTools. Se va a pasar con Cubase. Se va a pasar con Digital Performer. Y sí, que va a pasar con Logic Pro 9.
Esto puede ocurrir por varias razones:
Lógicas preferencias se corrompen.

Plantillas que ha creado se corrompe.

Su aplicación o instalación del sistema operativo se corrompe.

Su mal funcionamiento del hardware.
No es poco lo que puede hacer para prevenir el n º 3
Sus preferencias de Logic importantes se nombran com.apple.logic.pro.plist se encuentran en la biblioteca del usuario

Pic 1
Estos pueden y corromperse. Así que cuando su Logic Pro plataforma está funcionando bien, lo recomiendo encarecidamente crear carpetas en dos fuentes de seguridad y que sea algo así como la lógica de trabajo y copiarlos en dichas carpetas. Con frecuencia, cuando la lógica comienza a comportarse de cuco de bocanadas de coca simplemente reemplazar estos archivos con los archivos de trabajo que hizo copia de seguridad, todo vuelve a un estado nuevo.
Si la interfaz de audio tiene un controlador, también sugieren que la espalda que en la misma carpeta. Los controladores de sonido pueden y corromperse, aunque no sucede a menudo que las interfaces de audio y muchos ahora son compatibles con la clase, lo que significa que no requieren de un conductor.
La buena noticia es que la corrupción proyección individuo ocurre menos con Logic Pro 9 que las versiones anteriores. Yo creo que es porque al cerrar Logic Pro, el historial de deshacer se ha borrado automáticamente. Aunque no puedo demostrarlo y Apple no ha confirmado oficialmente que a mí, mi creencia es que el historial de deshacer veces se corrompe. Sin embargo, los proyectos pueden y todavía se corrompe, especialmente las grandes plantillas.
Al guardar un proyecto como plantilla, que se guarda en la biblioteca del usuario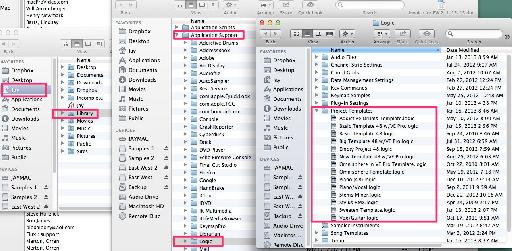 Pic 2
Una vez más, te recomiendo hacer una copia de éstos a las mismas carpetas. Con frecuencia simplemente cambiando hacia fuera puede curar problemas repentinos que puedan surgir. Lo más probable es, que gastan una buena cantidad de tiempo recreando los que usted no desea tener que hacer de nuevo.
En Pic 3, se ve que los impagos de Logic Pro para la creación automática de copias de seguridad 10 en las preferencias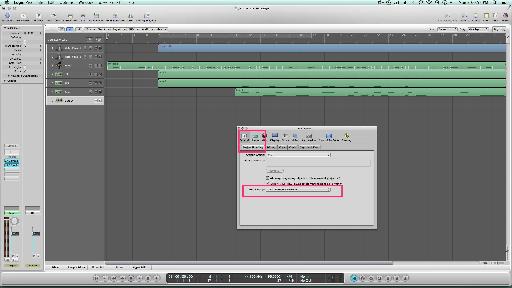 Pic 3.
Dont confiar en ella! Si el original está dañado, he visto las copias de seguridad se corrompe también. Mi recomendación es que si usted está trabajando en esto es una canción que se llama usted apenas no lo consigue, después de haber hecho una buena cantidad de trabajo, guárdelo como usted apenas no lo consigue -2, luego
No es nada raro que yo tenga más de diez versiones. Es sólo el espacio en disco duro y hoy en día que es barato.
Hay un beneficio secundario a este. En Pic 4, se ve que en la Lógica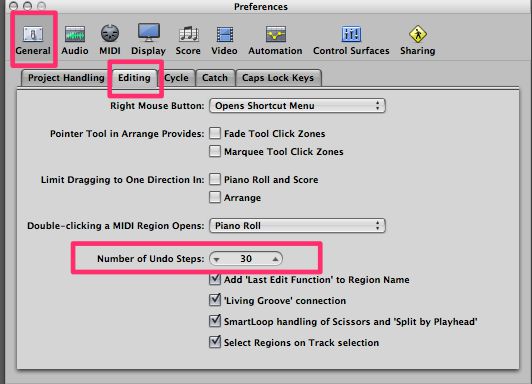 Pic 4.
Puede aumentar el número a más, pero afecta negativamente a la eficiencia de Lógica. De todos modos, si usted ha hecho esto desde hace tiempo que sin duda sabe la sensación de trabajar en una pieza musical por un tiempo y decirse a sí mismo, zurcido, esto era mejor hace tres horas, me fui en la dirección equivocada con esto.
Así que usted realiza su deshacer los pasos y descubre que aún no están de vuelta a donde estaba cuando tomó su giro hacia lo peor. Con mi flujo de trabajo, siempre se puede volver a la versión anterior.
¿Prefieres perder un trabajo horas o cinco horas de trabajo? Una onza de prevención vale una libra de cura!