Conduite défensive avec Logic Pro 9: Habitudes de flux de travail pour prévenir les problèmes
If you like the idea that 'prevention is better than the cure' and use Logic Pro, join Jay Asher in this article as he walks you through how to avoid problems before they happen!
Si vous composer, enregistrer, et la musique de mélange dans une application informatique, tôt ou tard, vous rencontrez des problèmes avec l'application ou l'un de ses fichiers. Il va se passer avec ProTools. Il va se passer avec Cubase. Il va se passer avec Digital Performer. Et oui, il va se passer avec Logic Pro 9.
Cela peut se produire pour un certain nombre de raisons:
Logiques préférences endommagés.

Modèles que vous avez créés sont endommagés.

Votre application ou installation de l'OS est corrompu.

Vos dysfonctionnements matériels.
Il ya peu, vous pouvez faire pour prévenir # 3
Com.apple.logic.pro.plist vos préférences de Logic importants sont nommés se trouvent dans votre bibliothèque de l'utilisateur

Pic 1
Ceux-ci peuvent et ne deviennent corrompus. Ainsi, lorsque votre Logic Pro plate-forme fonctionne bien, je vous recommande fortement de créer un dossier sur deux sources de sauvegarde et de nommer quelque chose comme travail logique et les copier dans ces dossiers. Souvent, lorsque Logic commence à se comporter coucou pour Coca bouffées remplaçant simplement ces fichiers avec les fichiers de travail que vous avez sauvegardés pour tout ramener à un bon état de nouveau.
Si votre interface audio dispose d'un pilote, je vous suggère également de retour que dans le même dossier. Les pilotes audio et ne peuvent être corrompus, même si cela n'arrive pas souvent que les interfaces audio et beaucoup sont maintenant conformes à la classe, ce qui signifie qu'ils n'ont pas besoin d'un pilote.
Les bonnes nouvelles sont que la corruption individuel de projection arrive moins avec Logic Pro 9 que les versions précédentes. Ma conviction est que c'est parce que lors de la fermeture Logic Pro, l'historique d'annulation est alors automatiquement effacé. Bien que je ne peux pas le prouver et Apple n'a pas officiellement confirmé pour moi, ma conviction est que la Nouvelle Histoire parfois été corrompue. Toutefois, les projets peuvent et n'ont toujours être corrompus, en particulier les grands gabarits.
Lorsque vous enregistrez un projet comme un modèle, il est enregistré dans votre bibliothèque de l'utilisateur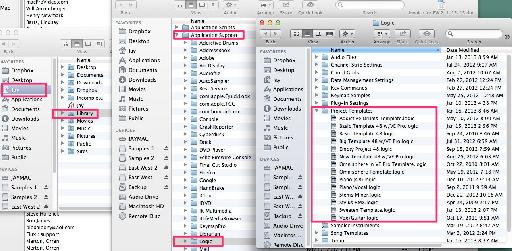 Pic 2
Une fois de plus, je recommande vivement que vous soutenez ces jusqu'à ces mêmes dossiers. Foire simplement les échanger ne peut guérir les problèmes soudains qui surviennent. Les chances sont, vous avez passé une bonne partie de son temps à les recréer ce que vous ne voulez pas avoir à le faire à nouveau.
Dans l'image 3, vous voyez que Pro Logic par défaut à la création automatique de 10 sauvegardes dans les Préférences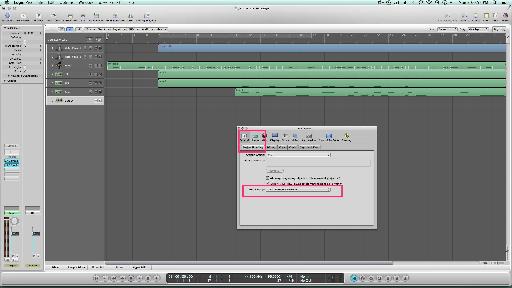 Pic 3.
Dont confiance! Si l'original a été corrompu, j'ai vu les sauvegardes corrompus aussi. Ma recommandation est que si vous travaillez sur ie une chanson intitulée You Dont juste l'obtenir, une fois que vous avez fait une bonne quantité de travail, l'enregistrer en tant que Vous ne l'obtenez juste -2, puis plus tard
Il n'est pas du tout inhabituel pour moi d'avoir plus de dix versions. C'est seulement l'espace disque et de nos jours c'est pas cher.
Il ya un autre avantage à cette question. En Pic 4, vous voyez que dans la logique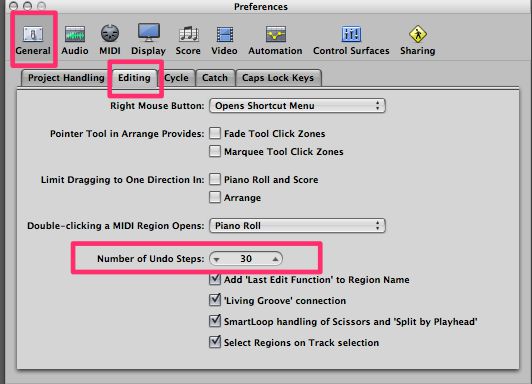 Pic 4.
Vous pouvez augmenter le nombre à plus, mais elle affecte négativement l'efficacité de Logics. Quoiqu'il en soit, si vous avez fait cela un moment, vous savez sans doute le sentiment de travailler sur un morceau de musique pendant un moment et vous disant Darned elle, c'était mieux il ya trois heures, j'ai vraiment allé dans la mauvaise direction à ce sujet.
Donc, vous effectuez votre annulation étapes et découvrir que vous n'êtes toujours pas revenir là où vous étiez quand il a pris son virage pour le pire. Avec mon flux de travail, vous pouvez toujours revenir à cette version antérieure.
Seriez-vous plutôt perdre un travail heures ou cinq heures de travail? Une once de prévention vaut mieux que guérir!