Dirigir defensivamente com o Logic Pro 9: Fluxo de trabalho Hábitos para evitar problemas
If you like the idea that 'prevention is better than the cure' and use Logic Pro, join Jay Asher in this article as he walks you through how to avoid problems before they happen!
Se você compor, gravar e misturar música em um aplicativo de computador, mais cedo ou mais tarde você vai encontrar problemas com o aplicativo ou um dos seus arquivos. Isso vai acontecer com ProTools. Isso vai acontecer com o Cubase. Isso vai acontecer com Performer Digital. E sim, isso vai acontecer com o Logic Pro 9.
Isso pode acontecer por um certo número de razões:
Lógica preferências obter corrompido.

Os modelos que você criou corrompidos.

Sua aplicação ou instalação do SO fica corrompido.

Seus defeitos de hardware.
Há pouco que você pode fazer para evitar º 3
Com.apple.logic.pro.plist suas preferências Lógica importantes são nomeados são encontrados em sua biblioteca do usuário

Pic 1
Estes podem e não corrompidos. Assim, quando o Logic Pro equipamento está funcionando bem, eu recomendo fortemente que você criar a pasta em duas fontes de backup e nomeá-lo algo como lógica de funcionamento e copiá-los para essas pastas. Freqüentemente, quando a lógica começa a se comportar de cuco para a Coca puffs simplesmente substituir esses arquivos com os arquivos de trabalho você fez backup vai voltar tudo para um bom estado de novo.
Se a sua interface de áudio tem um driver, eu também sugiro que você de volta que na mesma pasta. Drivers de áudio podem e corrompidos, embora isso não acontece muitas vezes que as interfaces de áudio e muitos agora são compatíveis com classe, o que significa que não necessitam de um driver.
A boa notícia é que a corrupção projeção indivíduo acontece menos com o Logic Pro 9 que as versões anteriores. Minha opinião é que é porque após o fechamento Logic Pro, o histórico de desfazer agora é limpa automaticamente. Embora eu não possa prová-lo ea Apple não confirmou oficialmente a mim, a minha opinião é que o Undo History vezes foi corrompido. No entanto, os projetos podem e ainda corrompidos, especialmente os grandes modelos.
Quando você salva um projeto como um modelo, ele é salvo na sua biblioteca do usuário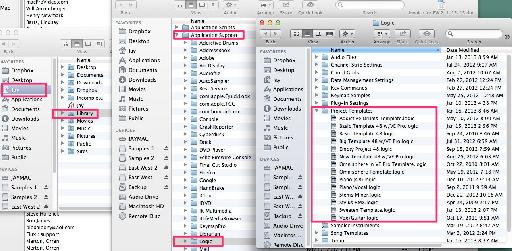 Pic 2
Mais uma vez, eu recomendo fortemente que você faça isso até as mesmas pastas. Frequentemente apenas trocando-os para fora pode curar problemas repentinos que surgem. As possibilidades são, você passou um bom tempo de criá-los de que você não deseja ter que fazer novamente.
Em Pic 3, você vê que Pro Logic padrões de auto criação de 10 backups em Preferências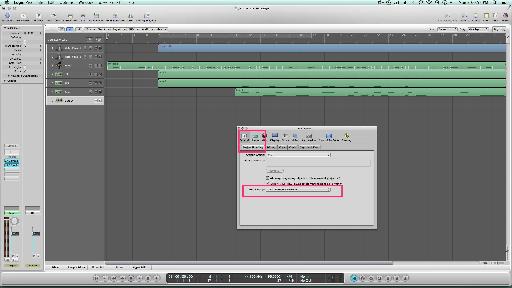 Pic 3.
Não confie-lo! Se o original tiver sido corrompido, eu vi os backups corrompidos também. Minha recomendação é que, se você está trabalhando ou seja, uma música chamada You Just Dont Get It, depois de ter feito uma boa quantidade de trabalho, salvá-lo como You Just Dont Get It -2, e depois
Não é de todo incomum para mim ter mais de dez versões. É só espaço no disco rígido e que hoje em dia é barato.
Existe um benefício secundário para este. Em Pic 4, verá que na Lógica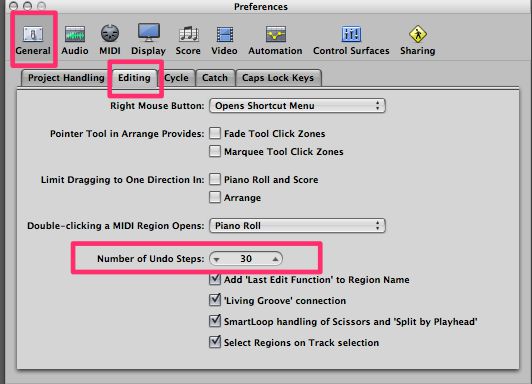 Pic 4.
Você pode aumentar o número a mais, mas afeta negativamente a eficiência Lógica. Independentemente disso, se você tiver feito isso quando você sem dúvida sabe o sentimento de trabalhar em uma peça de música por um tempo e dizendo para si mesmo, Darned ele, isso era melhor há três horas, eu realmente fui na direção errada com isso.
Assim que você realizar o seu desfazer passos e descobrir que ainda não estão de volta para onde você estava quando ele tomou seu rumo para o pior. Com o meu trabalho, você sempre pode voltar para essa versão anterior.
Você prefere perder uma hora de trabalho ou cinco horas de trabalho? Um grama de prevenção vale um quilo de cura!