When not hanging around the macProVideo forums you can usually find me immersed deep in my studio using Logic's instruments and effects designing and creating ambient textures and
Ghost in the Machine
When not hanging around Ask.Audio you can usually find me immersed deep in my studio using Logic's instruments and effects designing and creating ambient textures and electronica fx. In this post, I'm taking a break from my "meditative, angelic-based musical creations" and, in anticipation of Halloween, I'm delving into the darker recesses of sound design. I'm going to show you step-by-step how to create an eerie... ghost like sound effect in Logic using only one vocal sample. We're aiming to create such a scary sound that those pesky trick-or-treaters will be running from your door before you can dish out the sweets! Of course, you can also use the techniques from this post to design sounds for more conventional means, like film, tv, animation and video games. All this can be done with a simple recording of your voice and some trickery in Logic (or any DAW - so you Ableton Live, Cubase and Pro Tools users... do continue reading!)
Note: If you're easily scared please DO NOT continue reading...

This is what you'll need:
Step 1 - Record your Voice
I recorded a couple of takes of yours truly saying a simple phrase: "Happy Halloween". It doesn't need to sound scary at this stage but do a few takes to give yourself some choices later. I used my trusty Sony PCM-D50 to record these samples. I find my handheld recorder has become an indispensable part of my setup. It enables me to easily sample sounds and record foley, effects, ideas, melodies, etc on the move whenever inspiration strikes...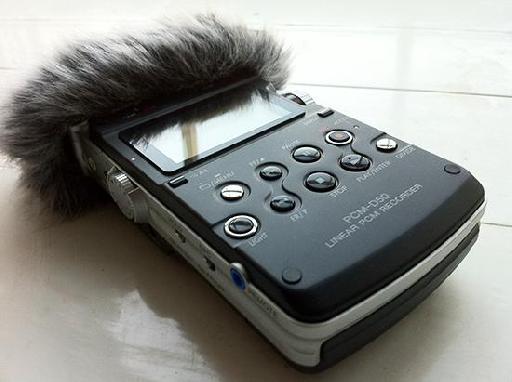 Step 2 - Do I sound Scary?
Now don't be embarrassed if your samples don't sound scary or ghost like yet. That's where Logic or your DAW comes in to play. First step is to import your audio file(s) into a new Logic project and place the file on an audio track.
If you've recorded multiple samples, use the marquee tool or scissors to split the region into multiple parts like this, getting rid of as much silence as possible. You can also use the Strip Silence functions in Logic to remove any unwanted silence.

Take a listen to my unprocessed voice sample:

I'm going to choose the first sound to process, but either of these recordings can produce equally scary effects!
Step 3 - The Conversion Begins Here
First I'm going to Bounce the region I've chosen in place and mute the original track. (Region > Bounce region(s) in Place). Name the new track 'eerie voice' or 'pitched voice'.
Now that I've got a copy safely stashed away in my Bin, lowering the pitch of my welcoming voice is first on the list. Now you could Convert the region to a new Sampler Track and play around with it in Logic's EXS24 or sampler of your choice... Instead I'm going to insert Logic's Pitch Shifter II plugin on the channel strip and lower the pitch by -6 semi tones with the Mix set to 100%.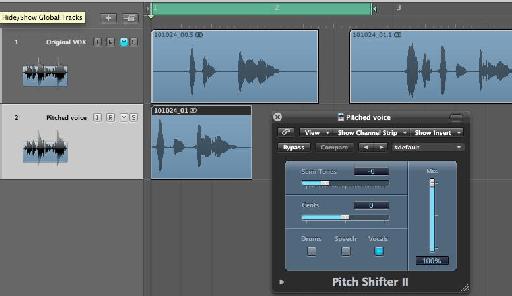 Here's what it sounds like so far:
To my ears, it's more like a crank caller than a poltergeist at this stage...
Step 4 - Flex it
The voice is too quick. To add a spooky feel I'd suggest slowing it down by stretching out the audio sample. If you're using Live, Cubase or Pro Tools use the relevant tools to do this. In Logic we'll need to turn on Flex!
Select the track and choose: View > Flex View
Now the Track Header should display a flex selection. Click on it and choose Monophonic. This is usually the best selection for processing vocals with the least amount of artifacts. However, you may wish to add artifacts to create a special effects, so feel free to experiment with the flex algorithm.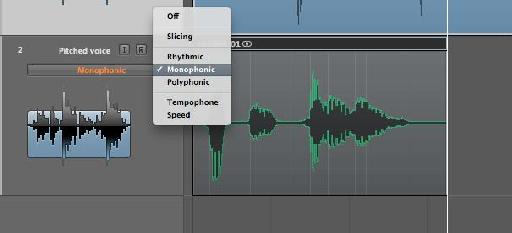 Next, I'm going to stretch out the entire sample without creating flex markers. This is easy to do in Logic 9. Simply Option-drag the right boundary of the region to the right.
Stretching the vocals too far will create a very different kind of effect to the ghost-like essence I'm looking to create. I've stretched mine out to just over double the original length. Again this is a good time to experiment and find what works best on your eerie voice track.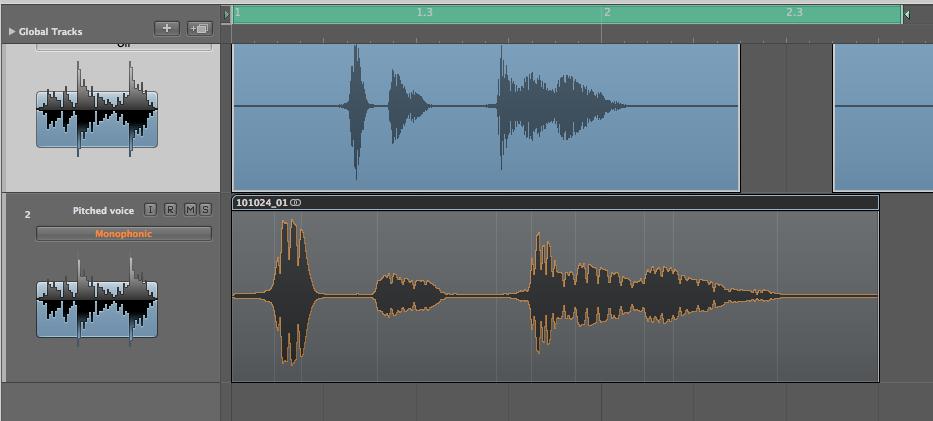 You can listen to the difference here:
You can turn off Flex View by choosing View > Flex View and your flexed audio retains the settings you've just made.
NOTE: If you wish to disable the flex effect at any point, select the off Flex Algorithm from the Track Header's Flex menu.
Step 5 - Reversed Reverb
At this point 9 times of out 10 I'll bounce the file and reverse the bounced audio region in the Sample Editor, add reverb to the audio to create a ghostly element. Reversing audio is pretty easy to achieve in any DAW or audio editor from Audacity to Pro Tools... the tricky part is lining up the reversed audio to create a ghostly effect. Luckily Logic makes it particularly easy to create spine-chilling reversed reverb effects with one of it's least celebrated Reverb units, EnVerb.
Insert EnVerb on the next slot of your channel strip.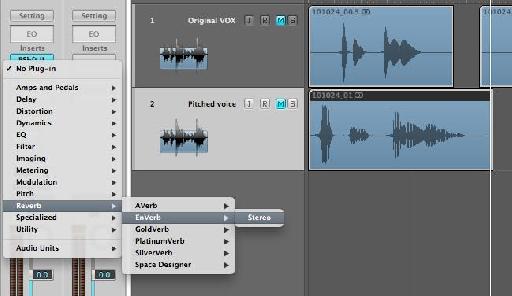 There are some useful reverse settings for the EnVerb you can choose right out of the box. I've chosen Reverse Verb Long. Depending on your voice sample you may wish to fine tune the Dry Signal Delay and Attack settings.
You may also want to move the region at least one bar after the start of the project to ensure the EnVerb has time to create the reverse reverb tail ahead of the beginning of your voice.
Step 6 - Creating a Metallic resonance
The Space Designer (Logic's Convolution reverb plugin) is normally my go-to reverb unit for creating a realistic spatial feel for an instrument or a sound. But in this case I'm aiming for an otherworldly effect to give the eerie voice a metallic resonant feel. Logic's other reverb units like the SilverVerb and GoldVerb are perfect for this purpose and it's the SilverVerb I'm going to insert on this track.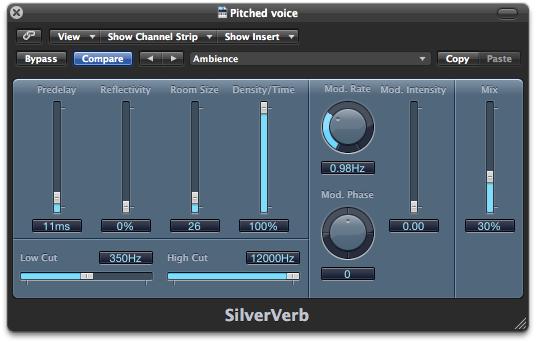 As you can see from the image above, I've chosen the 'Ambience' preset and adjusted the Mix to 30%. For this example it gives the voice a short metallic feel which I imagine is a good starting place to get a ghostly sound. Again, tweak these settings to taste.
Take a listen:
The difference might be very subtle (and may not be obvious since the sample here is low quality mp3). I'd recommend using headphones.
Step 7 - Creating an Eerie Drone
Now this step is going to take advantage of Michael Norris' SOUNDMAGIC SPECTRAL FOR MAC OS X plugins. They're free to download here and are fantastic effects plugins which in my opinion should be in every Sound Designer's toolbox!
OK. So, you've downloaded them? We're going to be using the Spectral Drone Maker in just a moment... First let's use the original voice sample to start creating our eerie background drone. You can temporarily mute the track eerie voice track while we work on creating the drone sound.
Create a new Audio Track, name it 'drone' and copy the original region to the new track. Choose View > Flex View and select Monophonic. This time let's go to the extreme and stretch out the entire audio region much further!
My original region is about 1 bar in length. I've option-dragged the right edge so that it is about 8x slower / longer (to end of Bar 8). Here's what it sound like so far: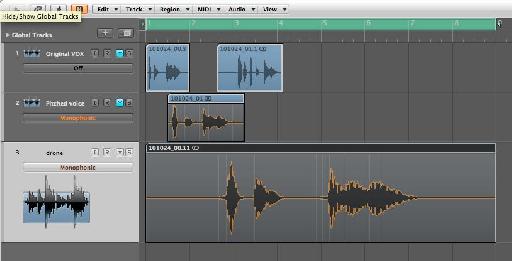 Step 8 - Applying Spectral Magic
The SpectralDroneMaker is by far and away one of my favorite ways to create drone sounds, no matter what the source! So to recap, we have copied the original audio region to a new track, flexed it to be about 8x it's original length and now we're ready to apply some spectral effects to it and really, this step couldn't be easier.
On the Drone track insert the SpectralDroneMaker plugin:
Audio Units > Michael Norris > Spectral DroneMaker > Stereo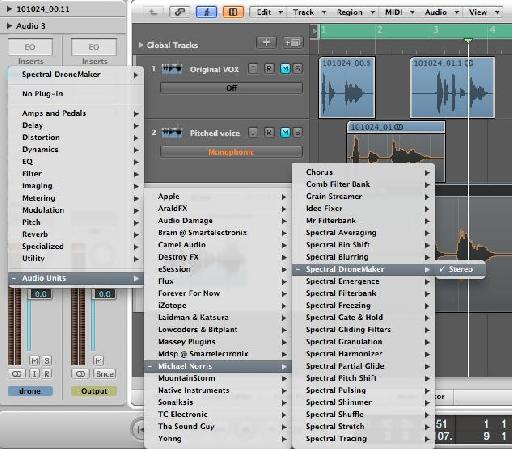 I made a few changes to the default setting and highly recommend you get experimenting with this wonderful plugin too. As a brief summary here are the parameters I have changed. Again this is not the only way to go, but try changing one value at a time and monitor how each parameter changes the sound.
Interpolation length - 5.8 sec
Interpolation variance - 6.28 sec
Scale Type - Fifths
FFT Size - 4096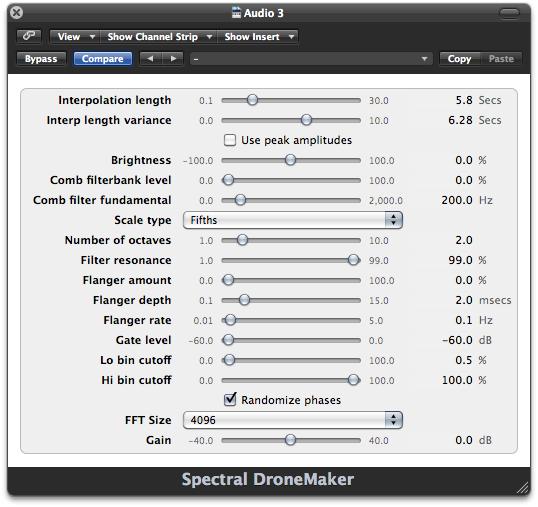 The last thing to do is lower the volume fader on the Drone track so it doesn't overpower our eerie voice track... or unsettle your neighbours!
Step 9 - Extra Dimensional
That's all good so far. Now that we've created an eerie drone track, I've unmuted the eerie voice track and moved it to start at Bar 4 of my 9 bar arrangement.
To add extra dimensions to the main eerie voice we can use the sends from the channel strip. In this case I've created two sends:
Send to Bus 1 --> Aux 1 (Echo, Pitch Shifter II at -4 Semi tones)
Send to Bus 2 --> Aux 2 (Lowcut Ch Eq, Echo, Pitch Shifter II at +2 Semi tones)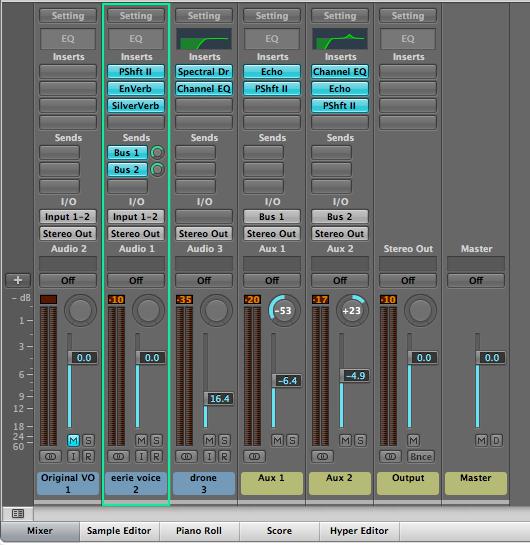 Step 10 - Final Touches
To add more of a ghostly essence to our eerie sound effect, I'm going to create extra layers of our "eerie voice" track and reverse them. Ultimately, I'd like to reverse the sound of each of the Aux channels. Now we could use a 3rd party plugin for this, but I'd rather bounce each of the Aux channels to an audio file so we have more control over the positioning of the sound in our Arrangement.
Solo an Aux channel strip in the Mixer and choosing File > Bounce... and repeat this for each Aux channel.
Drag the bounced files onto their own audio tracks in the Arrange area. Trim or resize the regions as desired and double-click on the first region to open it in the Sample Editor. Choose Functions > Reverse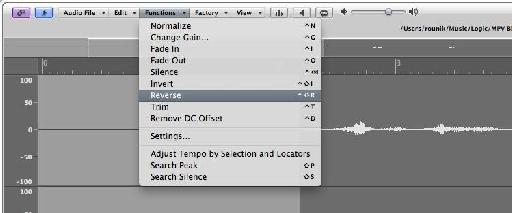 Repeat this process for the other bounced Aux region. Now at this point you may wish to flex these audio files, add extra reverb or any other mangling effects you care to use. I've chosen to reposition the newly reversed regions at different positions in my arrangement to give a lead-in and lead-out to the main eerie voice. Experiment and find the sweet and scary spots that work for your arrangement which will vary depending on the phrase(s) you recorded and the effects you've used.

OK so after you've added as many layers as you need and you're happy with the final results it's time to test out your spooky sound effect. Find a willing victim ... um, loved one (preferably one who does not frighten easily) to elicit their opinion! Here's my final spooky Halloween sound and I'm ready and waiting for the first knock on my door come Twilight on October 31st!
The techniques above can be used to create a variety of different sounding results and best of all they don't have to be eerie... Join me in Part 2 where we'll explore how to create more monstrous sounds guaranteed to send a shiver down your spine! Until then, I'll be sleeping with the lights on...