There are some who play music, there are some who create music. There are some who use sound to create music, then finally, there are some who create sound to create music. I, honestly, haven't figure
There are some who play music, there are some who create music. There are some who use sound to create music, then finally, there are some who create sound to create music.
I, honestly, haven't figured out if the last category is some musician's offshoot of Obsessive Compulsive Disorder. The condition of the mind where people have to have all of their towels folded perfectly? If this is the case, then I may not be far from having a towel folding contest at home myself in the near future.
All jokes aside, sound design has been a passion of mine since I was 11 years old, when I got my Korg Poly-800 for Christmas. I spent hours creating new pads, leads, etc. It was just as fun as playing music, and just as challenging.

As I got more progressive in music creation and productive, the search for one 'Holy Grail' began to present itself - The Perfect Kick Drum! It became an obsession of mine. I remember spending hours upon hours creating one kick drum after another. Then, once I finished with what I thought were perfect kicks, I would bring them out to the car and listen to each of them individually.
This went on for years. I one day realized that kick drums had turned in to a sonic crackpipe of mine, and that I was shrinking into a studio making these thumps instead of making music. At this point I realized a decidedly enlightened truth - There is no perfect kick. They are all cool in their own way. You may need a muffled kick for an acoustic track, or breakbeat. You may need a loud, thick bold kick for techno, the list goes on and on.
However, in the midst of my kick sound design compulsion, I did learn a lot!
In this tutorial, I'm going to show you a little bit about the fruits of my labor with kick drums. To do this, we're going to use Logic Pro. However, you can actually use this method with any DAW that has realtime synthesis and audio exporting... In fact, it may be a bigger challenge to find a DAW that doesn't boast these features.
Step 1 - Select a Sound Source
Any good sound always stems from a source. For example, if you are making a synthesizer patch, what's the first thing you select? An oscillator waveform. In this case, we're using an entire synth, or two as our sound source, or oscillator.
Create one Klopfgeist in Logic and emulate the settings shown within the figure below, along with setting Logic to 'Cycle' for an entire measure looping a single note of C2 playing a 4 on the floor.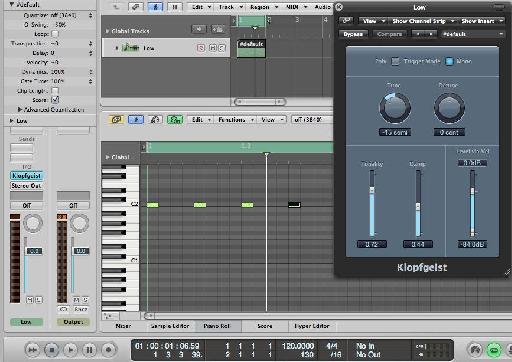 The whole point of the first step is to create a mid-range portion of our kick, and set up a loop of the sound as a reference. It's helpful to hear repetitions of the sound, as you can sculpt it as it moves from repetition, to repetition. Label this track 'Low'.
Listen to the Low Kick: (headphones recommended!)
Step 2 - Duplicate the Sound Source
With your new Klopfgeist track selected, hold down the Command button and tap 'D' (Command+D). This will duplicate the Klopfgeist settings, and insert the plug-in on a new track. You'll also want to duplicate the MIDI region that causes our sound to play. (Option-drag the region to the new track).
On our second Klopfgeist track, we're going to adjust the tune and tonality. This will create a very high pop, that will be used to give the kick some high-end, and allow it to be recognizable on the upper end of the spectrum. It also emulates the initial slap on a beater, like with a real kick.
Duplicate what you see in figure 2 below and label this track 'hi'.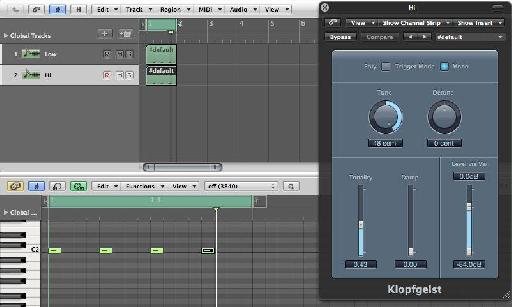 The High Kick:
Step 3 - Add the Mid
Finally, let's add a little Mid-range to give the kick a little body. Again, let's duplicate the track, and then duplicate the MIDI region. Open up the newly created Klopfgeist and copy these settings. Again, it's just slight variations on the tune and tonality. No big edits.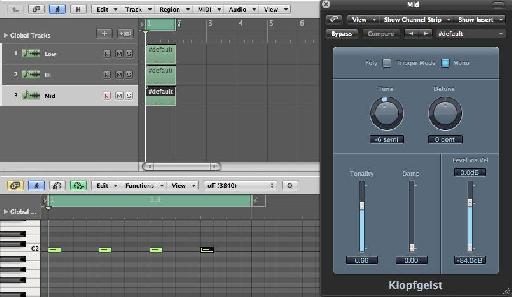 The Mid Kick:
Step 4 - Mix it Down
Okay, we've got all the elements of a kick drum together, let's mix it down. Press 'X' to open up the Logic Mixer.
Set the output of 'Low, Mid, and Hi' to Bus 1. This will cause a new Auxiliary Bus 1 track to be created, and all of the drum tracks to go through a single Auxiliary. This will make it easy to sculpt our kick sound.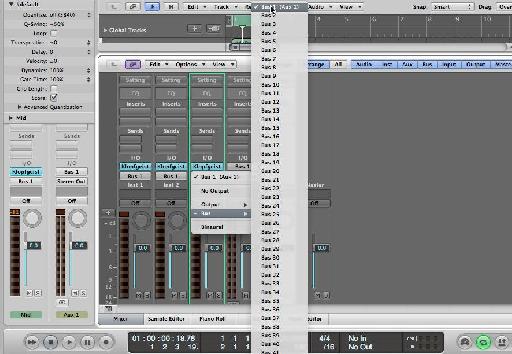 Kick without FX:
Step 5 - Effects
Insert an Overdrive, a Space Designer and Compressor (in this order) on our Auxiliary track with the settings below. This will make our kick bigger, and more constant.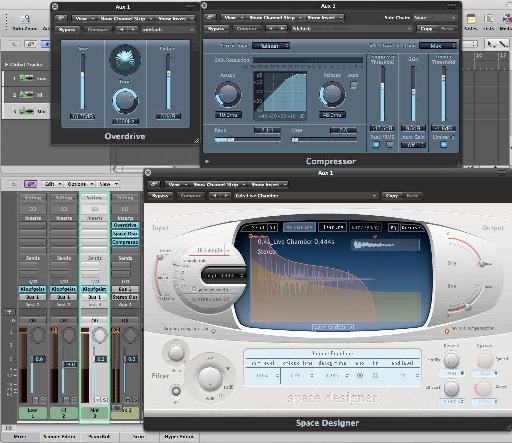 Final Kick with FX:
We're using the Overdrive to give some crunch and character to the kick. The Reverb is supplying the naturalization, making the kick sit in a type of 'room', and the Compressor is squashing it, making it punch and controlling the overall volume with it's limiter.
You'll notice in the figure, I've also adjusted the mix levels of each portion of the kick drum. A little less on the Hi, because it can be a little piercing. Adjust to your taste though!
Step 6 - Bounce
Alright now, the final tweak. Let's adjust the cycle setting in the sequencer to just a quarter of the 1st measure. Then, choose: File > Bounce...
Setting it to interleaved will split the stereo path and give us two mono copies. This is fine because we don't want a stereo kick drum anyway. There are other ways to do this kind of bounce, but let's keep it fun and simple for now.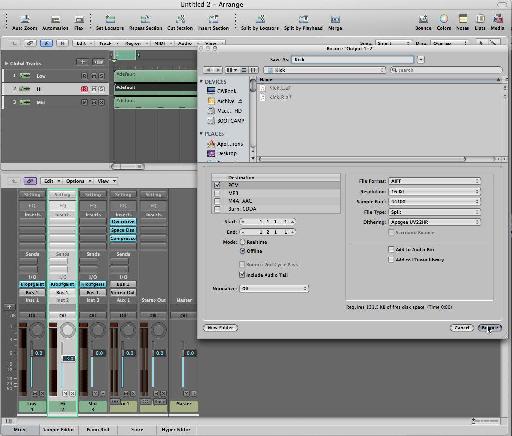 Also, setting the cycle to a quarter of a measure means we only get one iteration of the kick drum. This is great because it doesn't really require us to bring the exported audio file in to an audio editor. It's ready now to be thrown in to Ultrabeat, or whatever your drum sampler is!
Interested in sound design in Logic and kick drums? Check out the Logic 404 Mixing Electronica tutorial out!