After working with Macs for a couple of years and troubleshooting them on a daily basis, I have found that there are a couple of steps you can try to resolve any issues before picking up the phone and
After working with Macs for a couple of years and troubleshooting them on a daily basis, I have found that there are a couple of steps you can try to resolve any issues before picking up the phone and calling your Mac IT guy. You'll save a buck or two, and feel a sense of achievement when you have solved the issue yourself.
Read all these options first before commencing and remember, always backup your important data! So, here we go!

01 - The Obvious, try a Restart
It is quite funny how many users do not try this first before calling their IT guy. Whenever you have an issue this should be your first go to option. It is unbelievable how many times this actually resolves the issue your Mac is experiencing.
If your Mac freezes, the first thing you should try is to Force Quite (Command+Option+Esc). See if any applications are not responding. The application will be in red in the list and say not responding next it. Then click on the non-responsive application and click Force Quit. Beware though, you will lose any unsaved work you have been working on in that application. If the Finder is non-responsive it will also allow you to relaunch the Finder.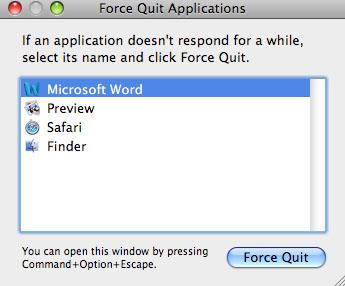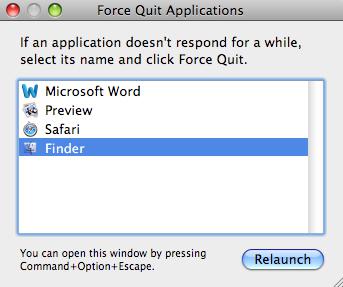 If all else fails and your Mac is completely unresponsive you may have to resort to a manual shutdown . Press and hold on the power button on your Mac for a few seconds until it shuts itself down. Then press the power button again to restart the Mac.
02 - Repair Disk Permissions
Sometimes your Mac will be doing strange things, like applications unexpectedly quitting, taking a long time to start up, or freezing, etc... What you can try is to repair your disk permissions. It's also funny how many times this resolves problems that you were unaware of.
Go To your Applications/Utilities/ folder then launch Disk Utility. Choose your Hard Disk on the left hand side, then click the Repair Disk Permissions option.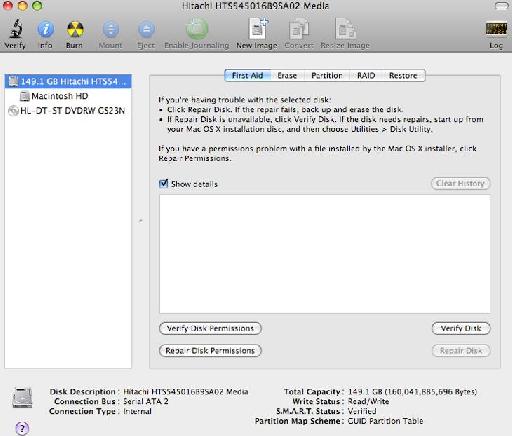 03 - Reset the PRAM
If this does still not resolve your issue you can try resetting your PRAM settings. This is your Parameter Random Access Memory. The Parameter RAM is a portion of the RAM that stores key information about your Mac that it needs for starting up and keeping track of settings. These include your display settings, time zone settings, speaker volume, and startup volume choice, etc... These settings can get damaged or corrupt. Hence, the reason for resetting the PRAM back to its default state.
Restart your Mac, when you hear the chime noise on startup, quickly hold down the following key combination: Command+Option+P+R. Keep holding them until you hear the chime noise a second time, then you can release the keys. You have now reset the PRAM settings. This is also known as "zapping" the PRAM.
04 - Delete Preference files
Sometimes applications don't startup correctly or when they open, toolbars are missing or some operations don't work as they should. This could be due to a preference file being damaged or corrupt. To resolve this you need to trash the conflicting preference file for that application. Then when you launch the respective application again, it will re-create a new preference file during the application startup process. The preference files can be found in the following locations:
Macintosh HD/Username/Library/Preferences/
You can also look in the main Library folder for other preference files associated to the application:
Macintosh HD/Library/Preferences/
For example, if Apple Logic is acting funny. Go to the above locations and look for a file with the following name:
com.apple.logic.plist, and trash this file, then relaunch Logic and see if it resolves the issue.
The preference file normally has the following naming convention:
com..plist
If that does not work, you may need to resort to reinstalling the application.
Editors Note: Many applications, like Logic, store a multitude of user settings in the application's Preference file. Rather than placing it in the Trash, you can may wish to move it to the Desktop and then restart your application. This gives you the choice whether you wish to delete it or restore it to the default folder. (RS)
05 - Re-install Application
Your Application installer Disc may have an uninstall option. If not, you can use a freeware application called AppCleaner to remove the application and all its associated components installed on your Mac. Then try Installing the Application again and see if this corrects the issue.
06 - Repair Disk
Sometimes your Mac won't start up, and even after trying the PRAM zapping it is still not booting into the Mac operating system. Next you can try starting up from your System Discs and try Repair the Disk from there to correct the startup issue. Remember, please make sure you have a backup of your system before continuing.
Insert the System Disk (Install DVD) for your Mac into the DVD Drive. Then startup your Mac and hold down the Option key. This will display all the Volumes that your Mac can boot into. Wait until you see the System disc. Choose the Mac System Disk and then hit Return to boot up from that.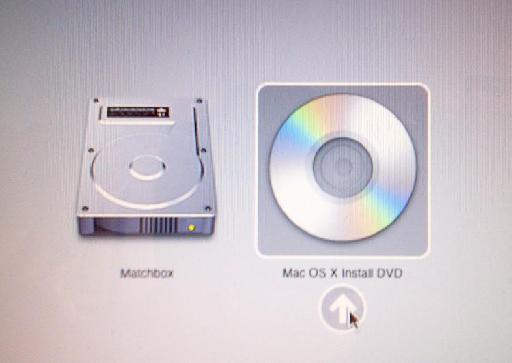 Depending on what operating system version you are on some dialog boxes will differ. Here is a screenshot of the startup from a 10.6 System Disc. Choose your language and click on the arrow on the bottom right to continue.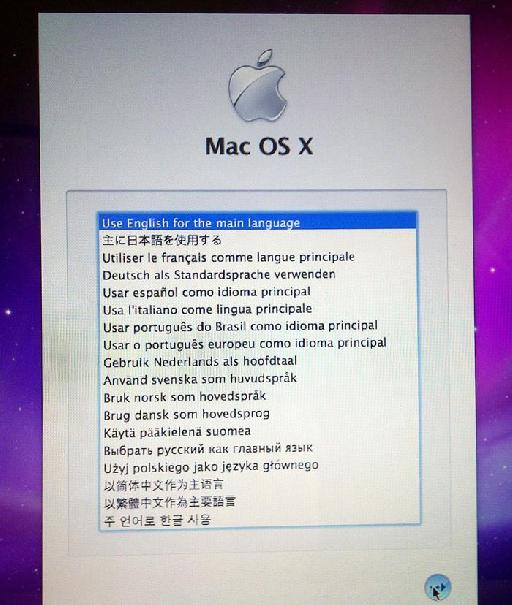 Next it will bring up the Installer Dialog box. But we do not wish to install the operating system; we wish to repair the system disk. You will now be able to see the Utilities menu on the top of the screen. Go to the Utilities Menu and choose Disk Utility.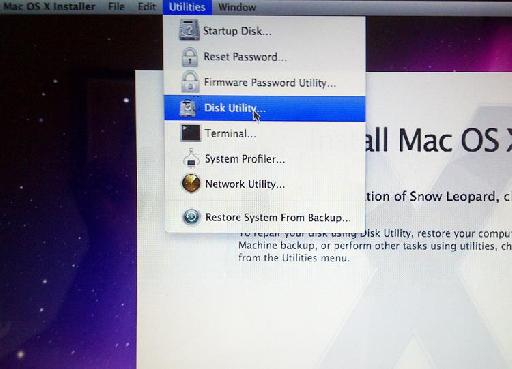 From Disk Utility choose your disk on the left, and then click on the Verify Disk button. This will check your System disk for any errors. This function dismounts your hard disk and check for the errors. When this is done, you can click on Repair Disk. This will repair any errors that were found when it verified the disc.
Beware though, at this point if there is a drastic problem with your hard disk, it may not be able to mount the Volume after the verify or repair. I stress the importance of backing up your system and data on a regular basis in case a scenario like this crops up. I will explain more about backups below. If for some reason the disc does not mount again (and you have done a backup before), then this will be the time to call your Mac technician.
07 - Hardware Diagnostic - Press C key on startup
If none of these above tips resolve your issue, then we can rule out that it is a software issue, and move onto what may be a hardware issue. On the system discs you got with your Mac there is an Apple Hardware Diagnostic application. Insert the system disk and then hold down the C key on startup. This will bring up the Apple Hardware Diagnostic application. You can run a scan on your Mac and check that all the Hardware is in working order. It will check everything from your Hard Disk, Memory, Graphics Card, CPU, etc... it could pick up that there is a RAM error with one of your RAM chips for example.
If it does find a serious problem, it may be time for you to call your Techie guy now. But lets move on, most often they are software errors not hardware ones.
08 - Onyx - Amazing Maintenance Tool
Onyx is an amazing Mac freeware maintenance tool. You can download it here.
If you shutdown your Mac a lot, it may miss times when the Apple maintenance tasks are run. They run in the background on a daily, weekly and monthly basis. Onyx allows you to go in and manually run these processes, and allows you to remove temporary files that may be slowing down your Mac. I mainly run the maintenance and cleaning processes. This normally improves slow performance issues on a Mac and sometimes resolves software issues that may be related to corrupt cache or temporary files.
When you launch Onyx it will first run a S.M.A.R.T scan of your Hard Disk (to check for any errors on the Hard Disk), then it will verify the disk. This may take a few minutes, so be patient. It may seem like your Mac freezes, but it is simply checking the disk before proceeding.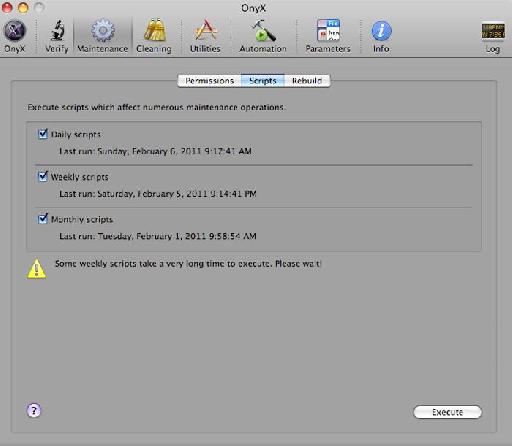 I execute the Permissions and Scripts tabs under the Maintenance Tab. And under the Cleaning Tab I usually execute the User and Internet Tabs. (For audio users make sure the Audio Units is un-ticked for the User Cleaning Tab, as this will delete your AU information and you might need to re-authorize your plugins after cleaning these files.)
I'd recommend getting into a habit of doing this on a weekly basis and this will definitely keep your Mac running in tip-top shape.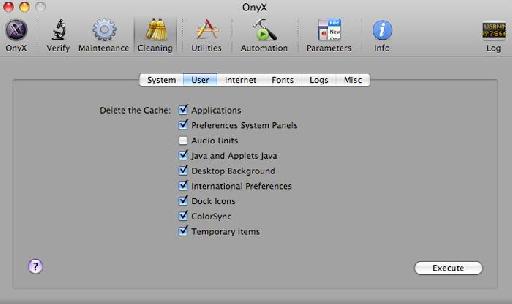 09 - Backups
I cannot stress how important backups are. Sometimes problems (both technical and user-based) are so bad, that all you can do is restore to a previous backup. Or if you do not have a backup, you will need to clean install your Mac.
Take a look at Tobias Escher's articles on backing up and Time Machine. Trust me it will be the best thing you have ever done, and you will thank yourself if something goes terribly wrong with your Mac and you need that data back. Restoring your Mac is so fast through Time Machine that you can have your Mac back up (sic) and running in an hour or so.
Well I hope this helps you resolves some of your Mac issues without having to pick up a phone and call for Tech Support, and wait for him/her to arrive. Go well, and remember to BACKUP!
If you wish to know more about your Mac, check out the Mac OS 10.6 101 and Mac OS 10.6 201 tutorials only at MacProVideo.