Want to run Windows on your Mac? Continue your journey with Hollin Jones as he explores VMWare Fusion in part 2 of 2 in this tutorial series.
In the first part of our look at installing Windows 8 under VMware Fusion 5, we saw that the process is actually pretty simple and quick thanks to some clever engineering by the guys at VMware. The same process works for earlier versions of Windows too, so you can install multiple virtual machines on your Mac as well as other operating systems like Linux. As we noted, running two OSes at once requires some decent modern hardware, but any recent Mac with at least two physical cores and 4 GB of RAM should be fine. As ever, the faster your Mac, the more cores and RAM you have, the easier your life will be. So once you're set up, let's look at how you can optimize and tweak your virtual machine for great performance and better integration.

Share your files
One of the best things about running Windows under virtualization is that you can easily share specific folders between OSes, letting you open Windows-only videos or documents from your Mac's hard drive without having to drag them into Windows. Although drag and drop is supported, it duplicates files so it uses more space. Go to Virtual Machine > Sharing > Sharing Settings and turn sharing on. Then manually add folders or click to share OS X folders like Downloads, Documents and so on. Log off to enable the changes, then back on again. Double-click the shared folder shortcut on your desktop to directly access the OS X folders from within Windows. By sharing only specific folders you maintain security between the two systems.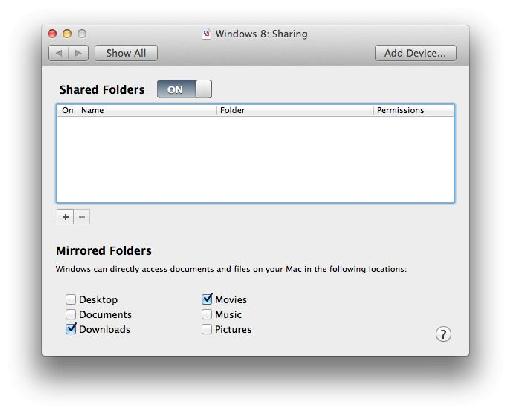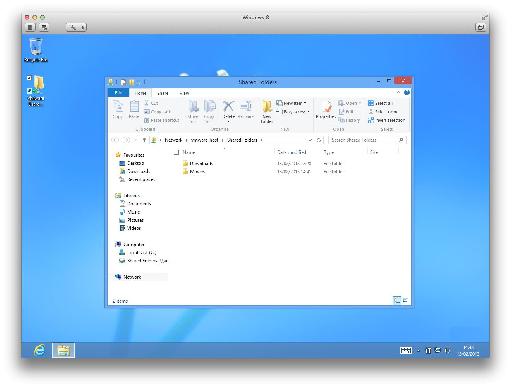 Share your Mac's hardware ports
Go to the Virtual Machine menu and you can choose to enable sharing of other devices and ports, like for example your Mac's card reader, iSight camera or IR receiver. These are off by default so as not to use resources unnecessarily, but can be easily enabled. Many connected USB devices like memory sticks or even audio and MIDI interfaces can be shared too, and will appear in this list when connected to your Mac. So if you need to record audio or MIDI into a PC-only app, it is possible. Latency can be an issue though, so it's maybe not ideal for day-to-day music making.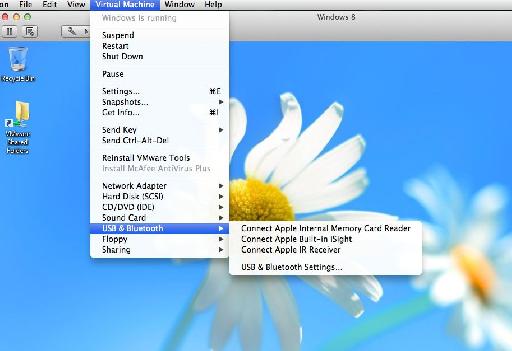 Use the Applications menu
Go into Settings > Applications Menu and choose to show the Windows menu in the OS X menu bar. Select specific apps to add to this menu by using the Plus button. Now look in the OS X menu bar and click on the Fusion icon. From here you can access any apps or tasks inside your virtual machine as well as tasks related to Fusion itself like taking snapshots or restarting. You can also search within a VM directly by typing into the search field in this menu. If you choose to show this menu even when Fusion isn't running, it will remain in the OS X menu bar and accessing items from it will automatically start your virtual machine.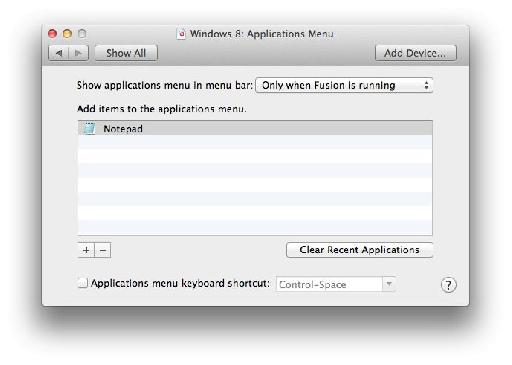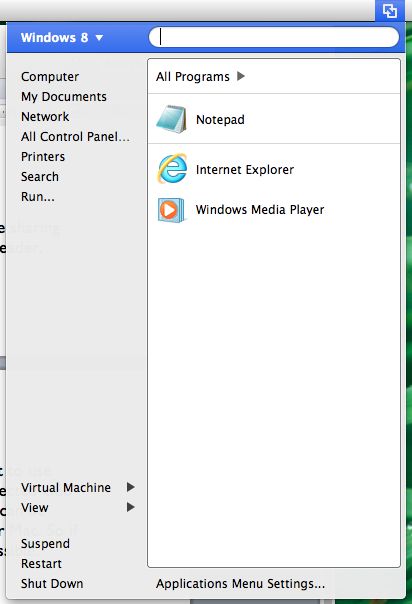 Tweak virtual hardware
To change the way Windows uses your Mac's hardware, you will need to shut down the virtual machine then go back into the Settings menu and locate the Processors and Memory section. Here you can choose to allocate more cores and RAM to Windows to improve performance. It's worth knowing that if you allocate all your cores you may impact on the background performance of OS X, though this should make Windows faster too. And be careful with the RAM. OS X likes plenty of its own so if you allocate more than half your physical RAM to Fusion, overall performance might suffer as your Mac thrashes its hard drive using virtual memory.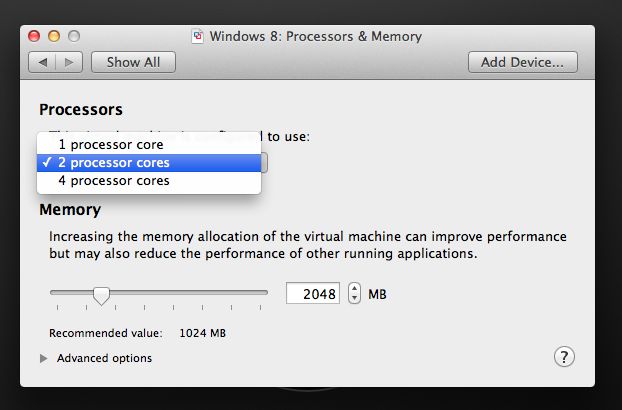 Clean up your virtual machine
With Windows powered off, go to the Settings > General section and you will see how big your machine's virtual hard drive is. You should also see how much space can be reclaimed, which is good to do once in a while. Click on the Clean Up Virtual Machine button and Fusion will delete temporary and redundant files and make more free space available. After running a virtual machine for a while you might find that quite a bit of space can be reclaimed, which is always helpful.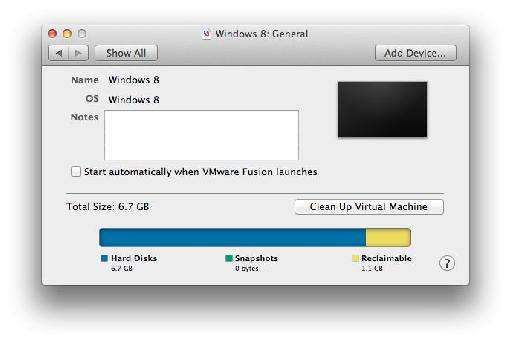 Add more virtual drives
One really useful feature is the ability to add more virtual drives to an existing virtual machine. In the Settings window, click on the Add Device button, then select New Hard Disk and click Add. Choose a name for the drive and a location '" it can be on an external hard drive, which gives you more flexibility '" and a capacity. You can also choose to pre-allocate the disk space, which means the whole space is reserved immediately, as opposed to being used gradually. This offers better performance but slightly less flexibility. You can also choose to split the disk image into 2 GB files. Once created, this new drive appears within Windows as a dedicated hard drive.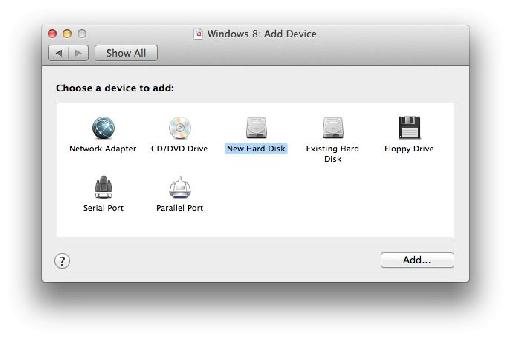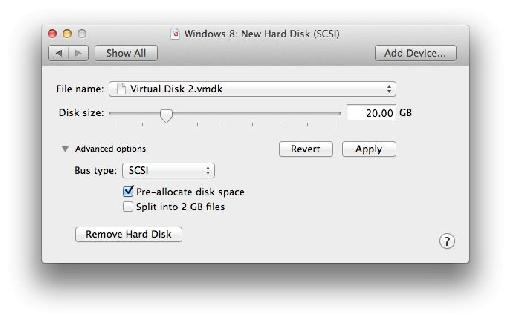 Take a Snapshot
When you are installing or uninstalling stuff from a virtual machine, you might be concerned about the potential and unforseen consequences. If you go to the Virtual Machine menu, you can choose to take a snapshot of the machine's current state, and this can be used to revert to an earlier state if anything goes wrong with a software update or other modification to Windows. Take as many as you like, though be aware that they use up disk space. They can be deleted at any point to free up space.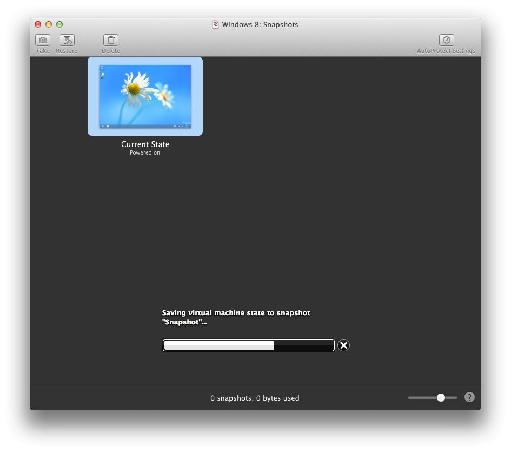 Migrate from a real PC to Fusion
If you have a physical PC and you want to move all its documents and data over to a virtual machine running on your Mac, you can do this using the Migration Assistant that can be found under the File menu in Fusion. This will guide you through the process. It's a great way to move to the Mac platform without completely abandoning Windows right away, and retaining access to the apps and files and folders you are used to, either temporarily or permanently.