Ever wonder how to use a multi-output Kontakt 5 drum patch in Bitwig Studio? Well wonder no longer as G. W. Childs is here to enlighten us all.
Bitwig's new advanced multi-out capabilities are are extremely cool and really get one's brain thinking questions like, 'What is possible?' When I asked myself this question, I thought it might be nice to save a drum patch, consisting of Kontakt 5, that I use all the time, with the basic effects, setup with multiple outputs, routed, and ready to go. This way, I don't have to set it up every time for every new session. Just drop in my basic kit, with the basic effects, with routing complete, and go. Follow me along in this tutorial, if you think this might be something handy for you as well.
Step 1 - Plug It IN...
I'll start off by adding in Kontakt as a VST Instrument within Bitwig. I'll drop in the 8x Output version of Kontakt 5, obviously for the 8 configured outputs NI provides with this version.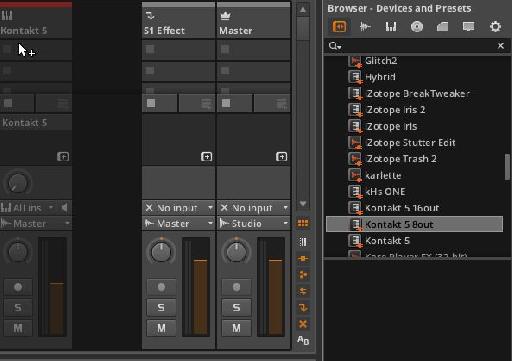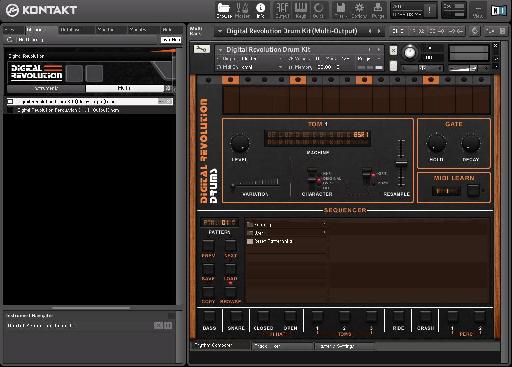 I have some drum patches from the Digital Revolution by Wave Alchemy, that are pre-configured for multi-out, and would make a great test subject. I'll go ahead and load up the Multi-Output version of the Digital Revolution Drum kit, which means that all major drums within the kit, like the kick, snare and hi-hat, are already assigned to multiple outputs. This is awesome, because with each drum already assigned an output, I'll be able to quickly and easily mix, drop in effects on individual drums, pan, tighten up, and so on. You know the drill!
Step 2 - Route It!
Okay, once my patch is loaded, in Bitwig, I'll press the Show Plug-In Multi-Out Chain Selector.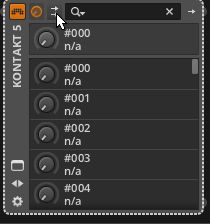 Once selected, Bitwig will usually notify you that this is a multi-output plug-in, and this is also where things get fun! I'll go ahead and press Add Missing Chains, which instantly reveals the supplied channels from Kontakt 5. Note: Many plug-ins with internal mixers of their own tend to send a stereo signal. If you're trying to get individual outputs from all your drums in to your Bitwig patch, I'd recommend switching those channels to mono, coming from your plug-in, if possible, to give you more channels for drums.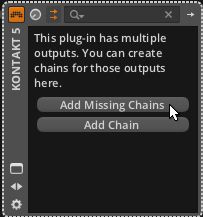 These channels are also accessible from the Mix window of Bitwig, as well. And, I might add that this is where we can start getting tricky, and having some fun with our plug-ins!
Step 3 - Process, Pan
Now, I'll begin my effects assault of this patch by dropping a compressor on the Kick Chain, labeled as Bass, in my session.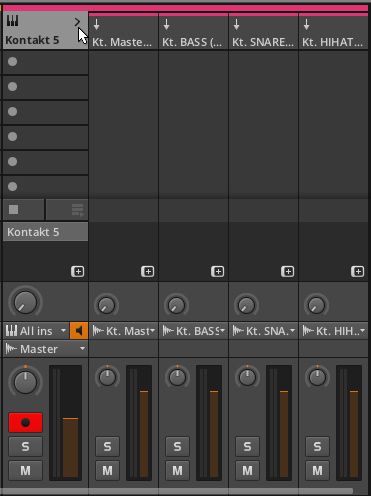 For my kick, or bass, I'll do a basic kick drum setting I use all the time consisting of a 2:1 Compression Ratio for consistency, a slightly boosted input for a little hum, and a slightly boosted output for a little bit of '˜hell yeah'. The main thing is, I get it punch. Then, I'll just toy with the Attack till I hear that nice click chiming through distinctly.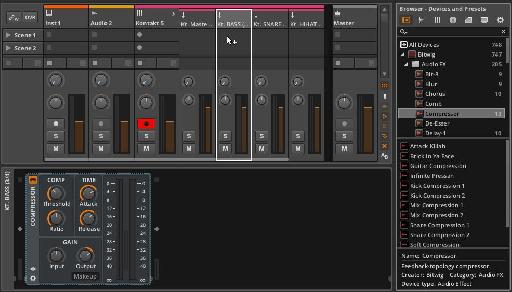 For the snare, I'll simply pan it, slightly to the right. I only usually want the kick center, along with the voice.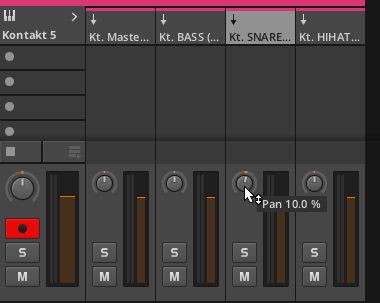 I'll pan the hi-hat to the left, slightly, as well. Though, I'll push it a little farther over. I don't want that high frequency to close to any potential voices that I may add later, in a session.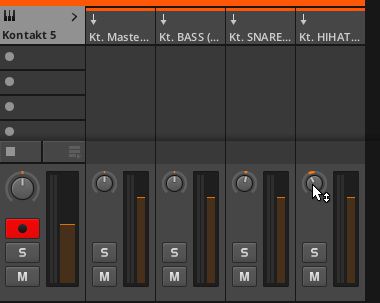 Step 4 - Save
Finally, I'll press the Show/Hide Presets and Macro Buttons, within Bitwig's faceplate for Kontakt 5.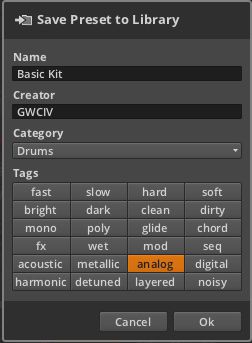 This will display the Save preset button! I'll go ahead and press this now, and enter the name '˜Basic Kit'. Now, when I need this, I won't have to go through all of these steps, up top anymore. Instead, I just load up '˜Basic Kit', and I'm ready to go. But, before I press the Ok button, you'll notice that I've set up the Category. And, I've even given it an Analog Tag, so that this kit will show up with all my other analog synth patches, drum kits, and so on.