While other DJ hardware is becoming more portable, Numark's 4TRAK combines sturdiness with maximum control over Traktor. Mo Volans puts this baby to the test!
With an ever-growing selection of Traktor based controllers coming onto the market, it certainly pays to be up to date with what's available. I've actually got around four Traktor controllers in the studio right now, so I thought it was time to review some of them.
Numark were kind enough to send me one of their 4Track controllers to test so in this review we'll be looking at this device in depth and checking out how well it competes with other Traktor oriented products.
First Impressions
From the second the 4Trak turned up, I knew it was going to be different from the numerous DJ controllers I'd used over the years. The main thing that gave it away was that four delivery guys had to carry it in, and it was in a box the size of a small country. OK, I may be exaggerating slightly but this thing is large and heavy.
I knew that the 4Trak would be substantial just from the pictures I had already seen. I was expecting metal casing and the solid construction we all expect from Numark but nothing quite prepared me for the tank like device that came out of the box.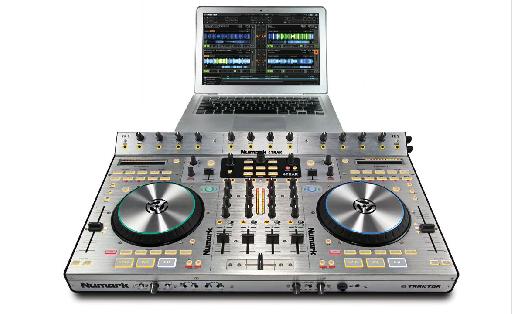 (Pic 1) The stock pictures prepared me for a device with solid build quality.
For those of you looking for a compact controller, this is not the product for you. The 4Trak will take up the majority of most desks and is around the size of two CDJ decks and a small club mixer. Of course the seasoned pro will be really happy with the expansive feel of the 4Trak, and I was certainly encouraged by it.
To give you an idea of the 4Traks size I've taken a quick shot of it stacked up against NI's S2 and S4 units. I always thought the S4 was pretty big, until now that is!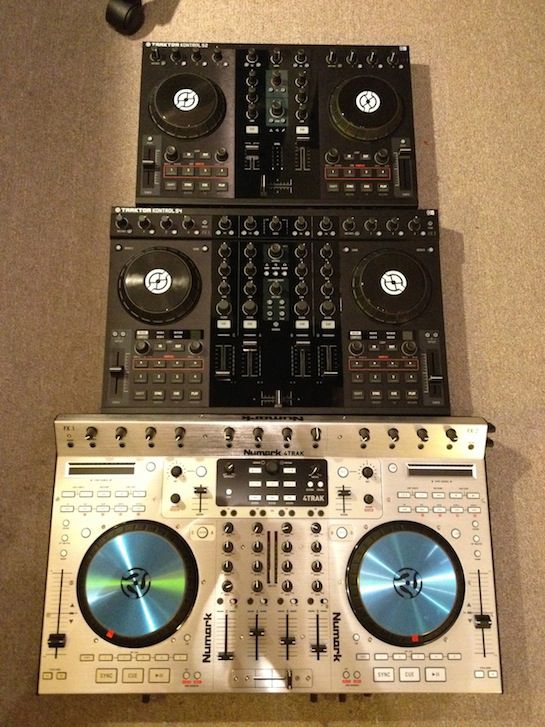 (Pic 1b) The 4Trak shot alongside the S2 and S4.
Build, Interface And Controls
As you've probably guessed by my first impressions, the build quality of the 4Trak is really second to none. This thing looks and feels like a piece of pro mixing hardware, certainly not a cheap MIDI controller.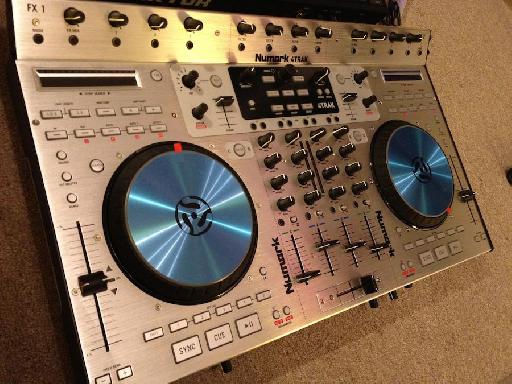 (Pic 2) Everything about this bad boy oozes quality workmanship.
Every knob is solid, the faders feel like those on high-end Numark mixers and the platters are simply the most solid I have ever used on a controller. Put all this together with features like a replaceable crossfader, full metal housing and oversized, brightly lit buttons and you've got yourself one serious bit of kit.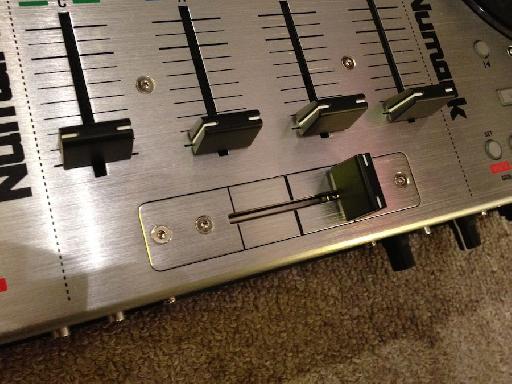 (Pic 2b) The replaceable fader is a nice touch for the pro DJ.
If you were to flight case the 4Trak and transport it between gigs, I've got no doubt that it would hold up to the rigors of the road without missing a beat. I could also see this being a really sound investment for club owners as it would be ideal for a permanently installed house mixer.
Numark really have gone to town with the interface and controls here as well. All the standard level controls and metering are here but then there are some awesome '˜extra' touches that might be a little more unexpected.
One of these features that caught my eye was during the unboxing. The 4Trak actually comes in two sections, obviously you have the main unit but this is accompanied by what looks like a console meter bridge.
In reality this is a dedicated effects and filter controller and connects to the main unit via USB. This gives you direct access to all the parameters in both of Traktor's main effects units. Although other controllers such as the NI S4 give you similar control, none do it with so much class.
Set Up And Installation
Simply put, set up was a breeze. I had no unexpected hitches or issues and the whole thing took me around 5 minutes. Although I do already have Traktor Pro 2.5 installed on my MacBook Pro here, add another five minutes to my time if you don't!
One thing I should warn you about from the get go is that, unlike it's NI counterparts, the 4Trak will not run on USB buss power. To be fair this wasn't really a surprise after seeing the amount of controls and features this thing has but it's certainly something you should be aware of if you plan on taking this on the road. You will need the power supply.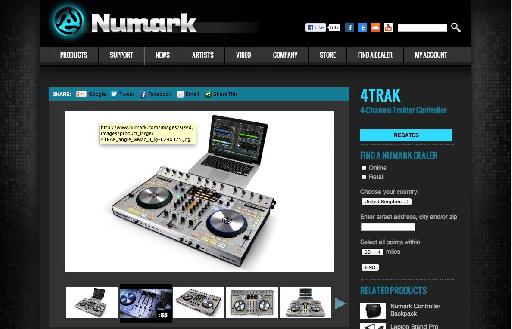 (Pic 3) A quick visit to the Numark site for the latest drivers revealed a very slick 4Trak mini-site.
After installing some drivers from the Numark site, all that needed to be done was install the 4Trak in Traktor as a new interface and it was then automatically selected as the default interface.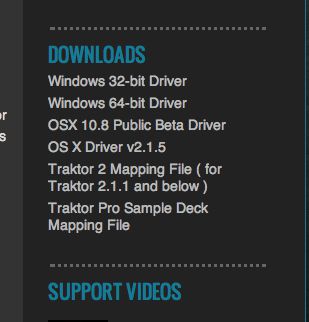 (Pic 3b) The Mountain Lion beta driver was the one for me.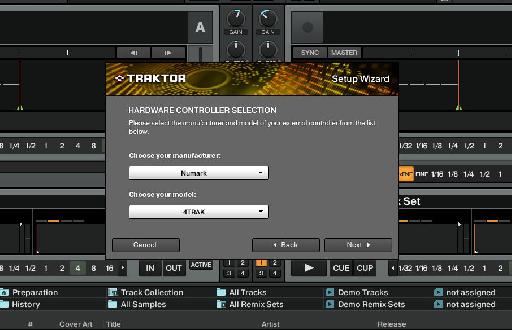 (Pic 3c) Installation past this point was a breeze.
Once installed, the whole thing lit up like a Christmas tree, clearly letting me know the process had been a success. Once set using the 4Trak was extremely intuitive, coming form a S2 and S4 the workflow was almost identical with a few extended controls available to me.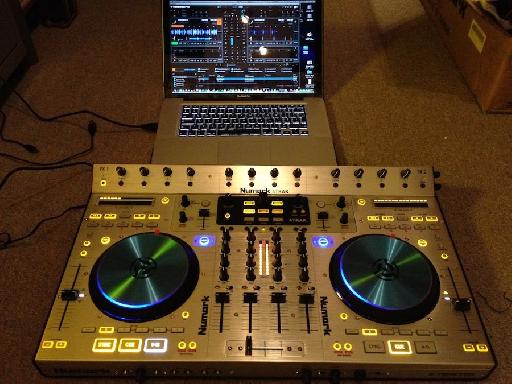 (Pic 3d) Some impressive lightning letting me know we are up and running!
All the usual EQ, level, cue and loop controls were where I expected them to be, but there were some nice additions like the touch sensitive '˜strip search' areas and the browser / master section in the upper section of the unit was just a breathe of fresh air.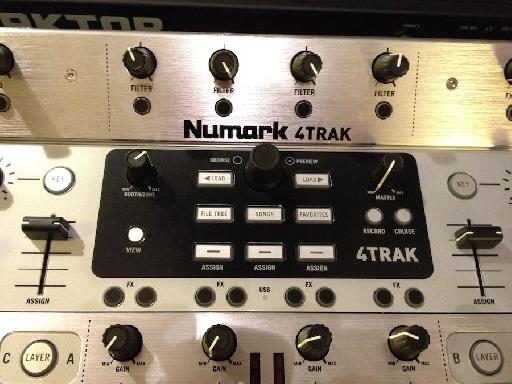 (Pic 3e) The Browser / Master section is really well laid out.
One thing I would of like to have seen here though are features like dedicated kill switches and access to FX units 3 and 4. These are features that long time NI users have been crying out for, so their omission might be a slight oversight on Numark's part.
Overall Quality And Conclusion
To sum up my short time with the 4Trak, I would go as far as to say this is probably the best dedicated software controller I have used to date. This is mainly down to the bulletproof build quality of the unit, which in turn makes it feel like '˜real' hardware.
That said, you have to remember that this isn't just a simple MIDI controller. It is after all a fully featured audio interface with inputs for 4 decks or CD players and hefty set of balanced outputs. All of these were tested and they sound superb!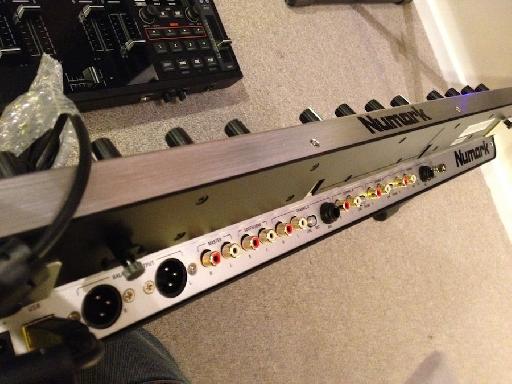 (Pic 4) Remember the 4Trak is a fully featured multi channel USB audio interface.
So if you want something extremely substantial, fully-featured and built like a tank, the 4Trak is the controller for you. If however portability is key, along with compact size and features like USB buss power, then you may have to look at something a little more modest to meet your needs. All in all though a truly superb piece of DJ gear from Numark.
Discover more about the Numark 4TRAK here.