Audio interface developer Cymatic Audio has announced the uTrack24 MADI Module, a user-installable MADI (Multichannel Audio Digital Interface) option card for the uTrack24 24-track recorder/interface.
GENNEP, NIEDERLANDE: Seit Sendungen im November 2014 begann, Cymatic Audios prämierten uTrack24 24-Spur-Recorder, Player und Schnittstelle hat mehr als bis zu seinem geschickten Designauftrag als Go-to-Lösung gelebt für alle, die in der Handhabung hoch Qualitätsaufzeichnungen oder Audiowiedergabe ohne Computer Einschränkungen. Tatsächlich zeichnet sie direkt auf USB-Medium in seiner übersichtlichen Frontplatte eingesteckt ist. Dort werden die 24 dreifarbige LEDs zeigen deutlich das Niveau von jedem der sein Namensvetter Kanäle während die LEDs lassen sich bequem als 24-Segment-Pegelanzeige für einen dieser Kanäle einzeln verwendet werden. Darüber hinaus zeigt ein großes LCD eindeutig alle weiteren wichtigen Informationen und ermöglicht eine schnelle und intuitive Bearbeitung von Parametern über eine endlose Push Encoder. Schließlich große beleuchtete Frontplatte positioniert Transportsteuerung mit deutlich machen problemlose Aufnahmen zu helfen und sind speziell auf die Überwindung alles andere als ideal Lichtbedingungen, die in der Regel mit der Bühne und hinter den Kulissen Betrieb verbunden sind, geeignet. Kein Wunder also, dass die uTrack24 erweist sich mit den vorgesehenen Benutzerbasis beliebt.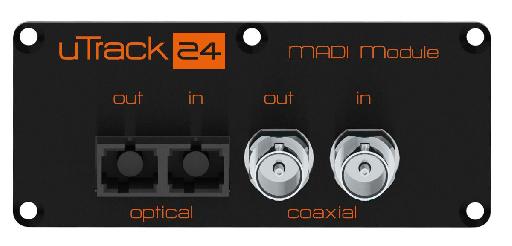 uTrack24 MADI hinten erschossen.
Besser noch, wird eine nahtlose Integration der uTrack24s Mehrkanal-Audio-I / O mit MADI-basierten Audio-Systeme schon bald Realität werden mit dem kommenden Release des uTrack24 MADI Module, die es ermöglichen, 24 separate Audiospuren aus der Ausgabe des MADI-ausgestattete aufnehmen Digitalkonsolen und Stageboxen; 24 Spuren uTrack24 Auslieferungs vorher aufgenommene ursprüngliche digitale Audio kann natürlich umgekehrt, um eine Digitalkonsolen Eingänge ausgegeben werden. In der Tat hat die Integration noch nie so einfach oder Verbindungen flexibler dank der uTrack24 MADI-Module an Bord optische und aus und (BNC) koaxial in und out-Anschlüsse. Schließen Sie einen uTrack24 MADI Modul ausgestattete uTrack 24 zu einem MADI ausgestatteten Digitalkonsole für fantasievolle 24-Kanal-Soundcheck-Wiedergabe oder beim Umgang mit hochwertigen 24-Kanal-Soundcheck-Aufnahmen mit der größten Leichtigkeit virtuellen beispiels und alle auf Knopfdruck eine beleuchtete Taste!


Cymatic Audio uTrack24.
Vor der Arbeit mit dem uTrack24 MADI Module müssen uTrack24 Benutzer zuerst zu aktualisieren ihr Gerät laden Sie die neueste Firmware-Update von einer eigenen Homepage (http://www.cymaticaudio.com/downloads) auf der Cymatic Audio-Website. Danach gibt es zuhauf technischen Vorteile noch weiter bei der Installation des uTrack24 MADI Module. In der Tat, es funktioniert mit verschiedenen MADI-Protokolle, Kanalzahlen und Abtastraten mit flexiblen Routing von 56/64 Quellkanäle zu 24 Aufnahme Ein- und flexible Weiterleitung von 24 Wiedergabe Ausgänge 56/64 Ausgänge, sowie die Möglichkeit Schleifenausgang der eingehenden MADI Signale; nachdenklich, können die uTrack24s 24 Analogausgänge (auf Standard-25-Pin D-Sub-Stecker) nach wie vor aktiv, während Sie die uTrack24 MADI Module Digitalausgänge. Und spricht von diesen digitalen Ausgängen, ist es erwähnenswert, dass Glasfaser / Koaxialkabel ermöglicht eine sehr lange Verkabelung läuft perfekt für den Umgang mit hochwertigen Aufnahmen und Audiowiedergabe bei größeren Veranstaltungen.

Alles in allem ist also die uTrack24 MADI Module sicherlich ein Kinderspiel für schwere Benutzer der uTrack24 24-Spur-Recorder, Player und Schnittstelle. Installieren Sie es einfach und lassen Sie sich überraschen auf alles, was MADI zu bieten hat, zu sein!

Die uTrack24 MADI Module werden Verschiffen werden im Sommer 2015 und zur Verfügung von Cymatic Audios kaufen globales Netzwerk von Händlern und Einzelhändlern mit projizierten Preise deutlich niedriger als 400,00 EUR / $ 400,00 USD.

Für weitere Informationen, besuchen Sie bitte die Homepage zu uTrack24 Produkt hier: http://www.cymaticaudio.com/products/utrack-24