New Behringer Overview Video Shows Patch Bay: Neutron Semi-Modular Paraphonic Analog Synth
Behringer have released a new short overview video for their recently announced Neutron semi-modular, paraphonic, analog synthesizer. This time we get to really see the patch bay and hear more sounds.
If you've been following Ask.Audio over the past couple of days you'll already know that Behringer threw out a surprise during NAMM 2018 by anouncing a new semi-modular, paraphonic analog synthesizer, Neutron.
The announcement was made by video from their YoutTube channel and we were not sleeping during NAMM so pushed this piece of news out there thanks to the eagle-eye of Michael Feather Black, who also provided some observations on possible features and spec. Now there's a new "overview" video from Behringer which shows off the large patch-bay on the Neutron amongst other things and gives us all a chance to hear more sounds that it can produce.
We've also learnd that Behringer are aiming to ship the Neutron end of April.
Some of the different stuff Michael and us have notied from this new video is the Oscillator Shape knob appears to morph between different waveforms. "Also the "mystery wave" kinda seems like a modulate-able sine wave or something". Notice, also, the paraphonic button is enagegd for this demo.
And here is a stiched together image of a close-up of the entire patch bay on the Behringer Neutron: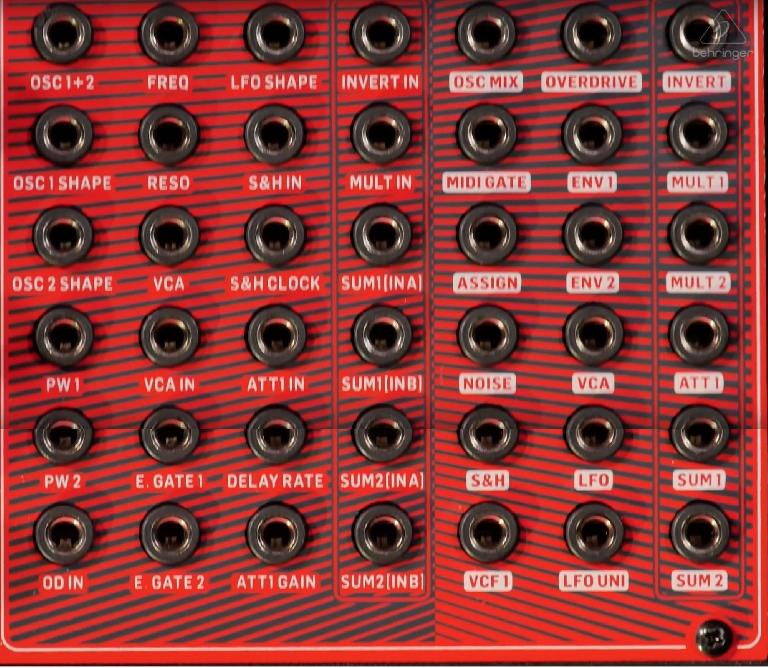 Here's a reminder of the suspected Neutron spec:
2 oscillators
5 waveforms with 4 standard waves and one that looks unique but we can't tell. Could be a pulse mod wave?
Oscillator Shape knob (morph between waves?)
Paraphonic button
The filter appears to be a multi-mode filter with a button that changes modes.
LFO with 5 waveforms and Key Sync
2 ADSR Envelopes
Noise
VCA "Bias" (amount? this appears to be the only knob for VCA excluding the ADSR envelope)
Overdrive effect with Drive, Tone, Level knobs
Delay effect with Rate, Repeats, Mix knobs
Sample & Hold with Rate, Glide
Slew Rate Limiter with Slew, Porta Time
2 Attenuator knobs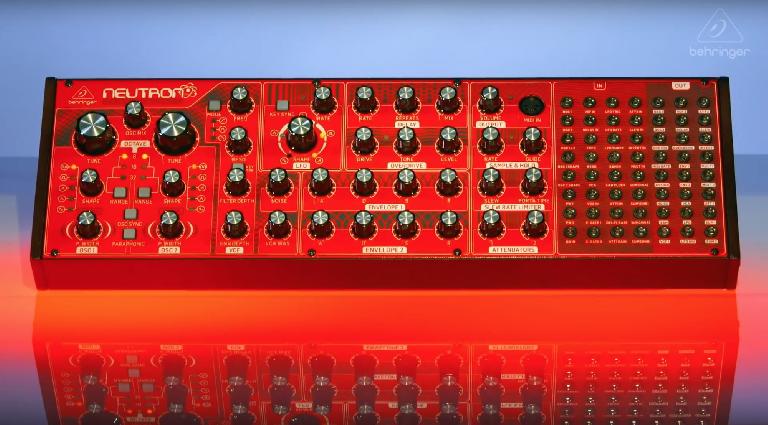 Reaction to Behringer Neutron has been mainly positive across the internet. This is not a clone synth or a re-make of a classic. It appears to be a unique design from Behringer and although no price or availablilty info has been announced, we'd expect it to become available during 2018... hopefully soon.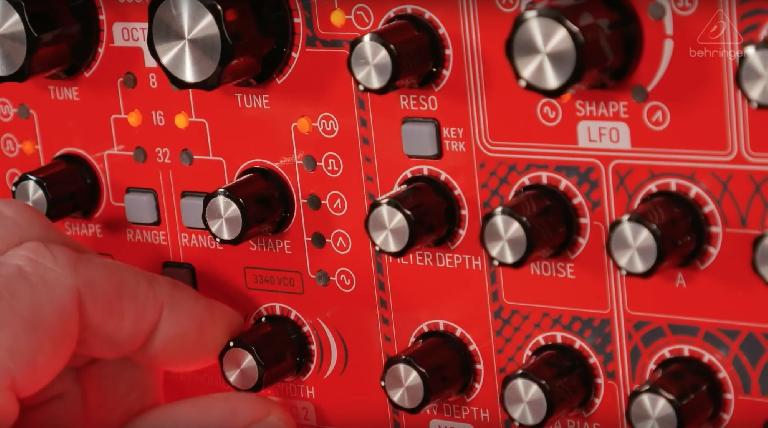 Stay tuned to Ask.Audio for more info on Behringer Neutron as and when we get it.
[Via: Michael Black Feather-email]
Price: TBA
Availability: Behringer are aiming to ship the Neutron end of April 2018.