Win a Neumann TLM 102 microphone (worth $700 US) in this MPV SongCraft Remix Contest! Simply log-in/sign-up for FREE, download stems, remix & submit before end of July 31st, 2013.
Es hora de ejercer esas neuronas remezcla y enloquecer con el tema exclusivo ", K (no) w" por Erin McKeown y Ben Sollee que fue escrita y producida de principio a fin en el nuevo MPV
Y, por supuesto, usted puede ganar un micrófono increíble 102 TLM (por valor de 699 dólares EE.UU.) por cortesía de Neumann!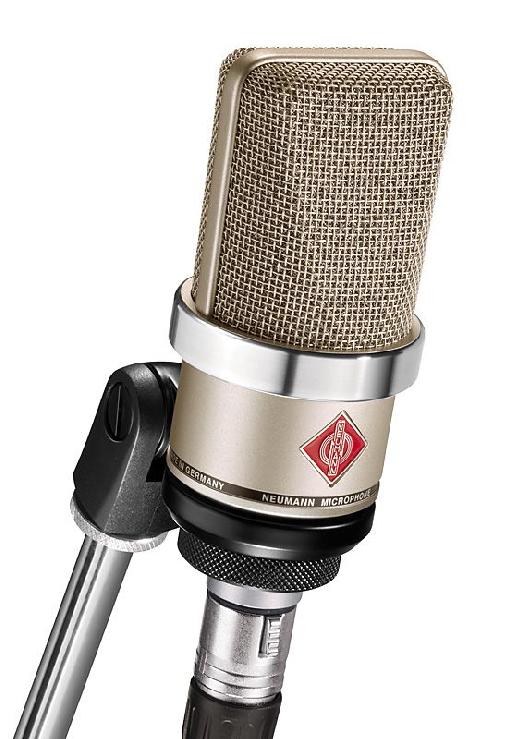 El Neumann TLM 102 micrófono (700 dólares EE.UU.) podría ser tuyo!
Check the video course and learn how the original version was produced in Dubway Studios, New York. Then download the stems and remix the same song. Can you make a better mix, or will you go left field and take it in a completely new direction altogether? The choice is yours!
Premios
There's fantastic prizes provided by our generous partner, Neumann, who create some of the most mind-blowing instrument and effect plug-ins period.
1er lugar:
2do lugar:
3er lugar:
Whether you win or not, here is your chance to share your musical excellence with the world!
Contest ends on Midnight PST, July 31, 2013. Results will be announced on The MPVHub shortly after! Good luck!
Cómo participar
1. Download the stems and get remixing!
2. Upload your finished remixes using the SoundCloud submissions box below. (You'll need a free SoundCloud account).
3. Listen to and vote for your favorite remix entries in the player below.
... and the artists will personally select the top 3 winners. Winners will be announced on (or soon after) July 31st, 2013!
Acerca del Tutorial songcraft
Dos cantantes / compositores establecidos se encuentran por primera vez. Tienen un día para componer una nueva melodía. Posible? ¡Por supuesto! Aprenda el arte de escribir canciones con Ben Sollee y Erin Mckeown a medida que exploran las profundidades de su creatividad y emergen con una nueva canción evocadora.

Ben Arthur, nuestro compositor en movimiento intrépido, y su equipo de audio / vídeo con talento de Dubway viajaron al festival SXSW en Austin, Texas, para documentar lo que los compositores hacen mejor: escribir canciones!
La tripulación Dubway redondeado primero el muy talentoso violonchelista / compositor / intérprete, Ben Sollee. A continuación, se discutían en el popular / rock extraordinaria cantante / compositor Erin McKeown. Entonces crearon un gorila, estudio de grabación de alta tecnología en un apartamento alquilado y el uso de Pro Tools y una colección de micrófonos de calidad documentado el proceso de dar a luz una nueva canción.
El proceso de composición es a la vez difícil, exigente ya menudo frustrante. Así que cuando se agrega la presión del tiempo a la mezcla, así, se convierte en francamente loco. Este curso está diseñado para darle una mirada al interior de la nave de la composición y las pruebas y tribulaciones de la creatividad en el microscopio musical. Mira como Erin y los dos Bens literalmente ponen sus cabezas juntas para afrontar el reto. Usted va a aprender mucho acerca de las canciones, la colaboración y la grabación en menos, las situaciones no deseables estudio!
Por lo tanto, sentarse y ver este curso docu-reality canciones y aprender la técnica y el arte de dar a luz y grabar una canción ... todo dentro de unas horas!
Vea este uno-de-uno-bueno por supuesto video:
https://www.macprovideo.com/tutorial/songcraft-presents-songwriting-with-ben-sollee-and-erin-mckeown

Acerca de

The TLM 102 is impressive in terms of sound: In the interior is a newly developed large-diaphragm capsule (cardioid) with a maximum sound pressure level of 144 dB, which permits the recording of percussion, drums, amps and other very loud sound sources, for example. Instruments that are not especially loud also benefit from the very fast transient response of the TLM 102. However, its most important applications are in the realm of vocals and speech; a slight boost above 6 kHz provides for excellent presence of the voice in the overall mix. Up to 6 kHz, the frequency response is extremely linear, ensuring minimal coloration and a clearly defined bass range. The capsule has an elastic suspension for the suppression of structure-borne noise. A pop screen integrated into the grille serves to suppress plosives in vocal and speech recording.




Due to its price and flexible field of application, the TLM 102 is ideal for the home recording and project studio sector, as well as for the broadcasting area, especially when clear lines of sight to the speakers are a priority.




The TLM 102 is available in black and nickel; a stand mount is included.
Descubra más aquí:
Acerca de

macProVideo.com

is a high-tech, online video education community specializing in everything music from recording, mixing and music theory to expert training on world's leading audio software including Logic Pro, Pro Tools, Ableton Live, Native Instruments, Reason, Cubase, and more! Our entire library is available online, 24/7 so you learn what you want, when you want.

macProVideo.com.

What would you like to learn today?
Términos y Condiciones
Los trabajos deben ser presentados a la SoundCloud Dropbox arriba. Usted necesitará una cuenta de SoundCloud libre de participar. Aconsejamos que las pistas presentadas se debe establecer en "público". Si lo desea, la opción de descarga se puede desactivar.
La fecha límite para inscripciones es medianoche, PST el 31 de julio,
Los ganadores serán seleccionados por Erin McKeown y Ben Sollee y / o equipo de Dubway Studio. La decisión de los jueces es final.
No hay alternativas en efectivo pueden ser ofrecidos para los ganadores.
Todas las marcas y logotipos están protegidos. Todos los derechos del productor y el propietario de la obra grabada son reservados.
Los participantes deben garantiza que sus entradas son obra original y no infringen la propiedad intelectual y la privacidad de un tercero. Usted es libre de utilizar los sonidos que fueron creados por usted y / o regalías parte que presenta loops.The gratuita es totalmente responsable por el uso de cualquier contenido "sin declarar". Contenido "No compensada 'se define como un archivo de ejemplo, bucle o audio que no ha creado, o que usted no posee el copyright de.
Los participantes aceptan que sus inscripciones se pueden utilizar, sin derechos adicionales que se solicitan, en cualquier curso de vídeo serie songcraft asociada creado por macProVideo.com, AskVideo.com y cualquiera de sus socios para la distribución en línea y descarga.
Los gastos de envío serán pagados por macProVideo y Dubway Studios. Gravámenes fiscales o aduaneras locales deben ser pagados por el ganador del premio.
Todos los participantes en este concurso, se considerará que han aceptado las reglas y términos y condiciones.
Now we're done with the legal speak… Good luck creating amazing remixes!